Definition
CICS (Customer Information Control System)
CICS (Customer Information Control System) is an online transaction processing (OLTP) program from IBM that, together with the COBOL programming language, has formed over the past several decades the most common set of tools for building customer transaction applications in the world of large enterprise mainframe computing. A great number of the legacy applications still in use are COBOL/CICS applications. Using the application programming interface (API) provided by CICS, a programmer can write programs that communicate with online users and read from or write to customer and other records (orders, inventory figures, customer data, and so forth) in a database (usually referred to as "data sets") using CICS facilities rather than IBM's access methods directly. Like other transaction managers, CICS can ensure that transactions are completed and, if not, undo partly completed transactions so that the integrity of data records is maintained.

Download this free guide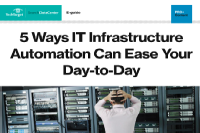 Free Guide: 5 Ways IT Infrastructure Automation Can Ease Your Day-to-Day
For IT admins, the maintenance of networking, storage and compute is an overwhelming task -- especially as data center technology becomes more complex. Fortunately, automation can help ease the burden of tedious tasks, but how exactly? Our expert explains 5 ways IT infrastructure automation lessens the load for data center teams.
IBM markets or supports a CICS product for OS/390, UNIX, and Intel PC operating systems. Some of IBM's customers use IBM's Transaction Server to handle e-business transactions from Internet users and forward these to a mainframe server that accesses an existing CICS order and inventory database.
Continue Reading About CICS (Customer Information Control System)
Dig Deeper on Linux servers