Virtual server backup software, best practices for the data center
The best way to learn about server virtualization backup is to try evaluation versions of software to make sure it works with your infrastructure.
The best way to handle backup in an increasingly virtual data center may lie with one of several virtual server backup software packages.
While inroads with server virtualization have been significant, most companies are still running in a mixed environment where physical servers and virtual servers coexist. Success will largely be a matter of selecting the proper tools. Understanding backup concepts and the differences between physical server and virtual server backups allows you to better evaluate specific backup tools and their features.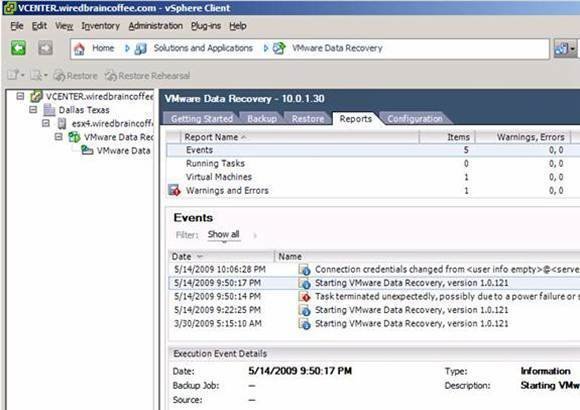 VMware Data Recovery
Examples of virtual server backup tools
VMware API Data Protection (VADP): This is the replacement for VMware Consolidated Backup (VCB). Not a backup tool itself, VADP is a framework for data protection. Just about every virtualization backup tool that used to back up vSphere environments now uses VADP. It is available at no charge in every version of vSphere except the free edition.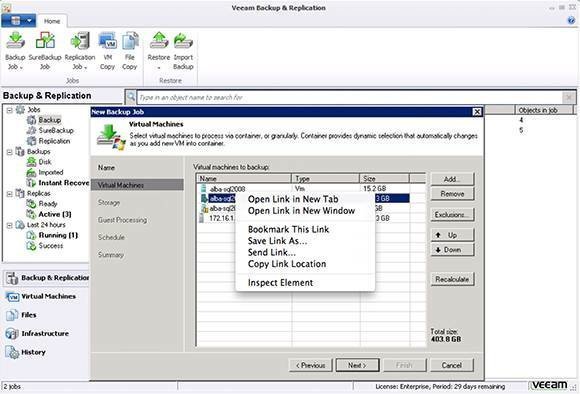 Veeam Backup and Replication
VMware Data Recovery (VDR): VMware's Data Recovery is a vSphere backup and recovery tool that's available free with all versions of vSphere starting with Essentials Plus. It uses VADP and offers deduplication and compression. VDR, however, is limited. It's able to back up a maximum of 100 virtual machines and to only a 2 TB data repository. VDR lacks features like replication and scalability and doesn't compete well with other virtualization backup tools.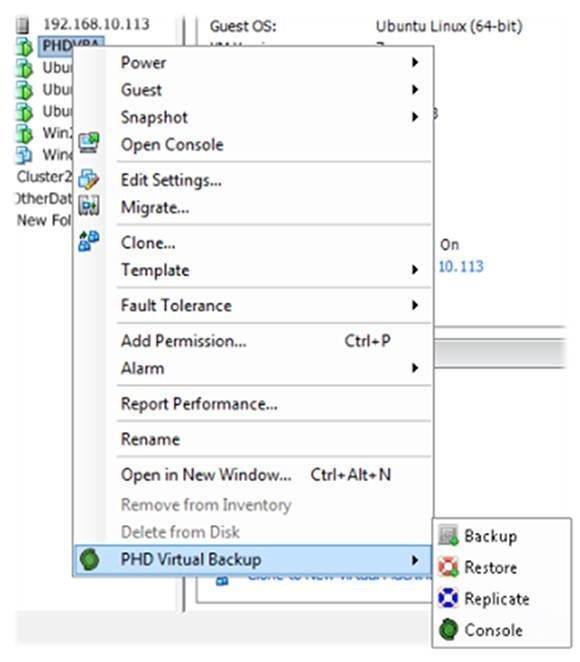 PHD Virtual Backup and Replication
Veeam Backup & Replication: Veeam is one of the greatest innovators in virtualization backup, and Veeam backup includes replication, automated testing of virtual machines in scripted lab environments, instant recovery, VSS, file-level recovery, on-demand sandbox and item-level recovery. In version 5.0, Veeam added the ability to back up Hyper-V virtual machines.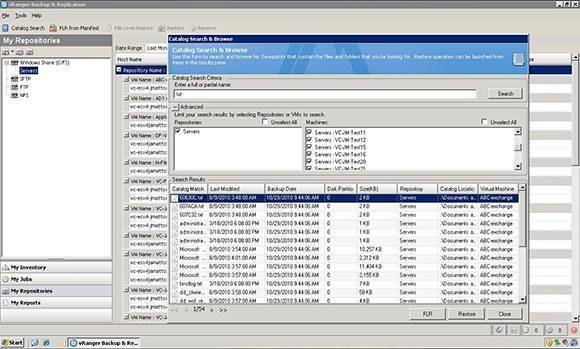 Quest vRanger
PHD Virtual Backup and Replication. Formerly known as esXpress, PHD backup offers replication, vSphere client integration, deduplication, instant file-level recovery, VSS and Exchange item-level recovery. What makes PHD unique is its architecture; it is deployed as a virtual machine on each VMware ESXi server. The company offers a new version that will back up Citrix XenServer.
Quest vRanger: One of the oldest virtualization-specific backup tools is vRanger -- formerly known as Vizioncore's vRanger. It comes in three editions and includes a virtual-appliance deployment, VSS, scalability, deduplication and other features.
Most traditional backup tools use agents have been modified recently to perform better back up virtual infrastructures.
These tools are able to back up both physical and virtual servers, and they have the potential to write to tape as well. One example of a traditional backup tool that also understands virtualization is Symantec's V-Ray.
Another product that offers flexibility is Dell's AppAssure. This tool uses a "smart agent" in each server (physical or virtual), but that agent is actually a disk driver that tracks changed blocks. Thus, like change-block tracking to back up virtual machines, AppAssure backs up changed blocks on physical and virtual machines (no matter which hypervisor or even cloud they are running on).
Best practices for using virtual server backup software
With such a confusing assortment of backup products for the physical and virtual infrastructure, how do you choose and how should you implement backup as efficiently as possible? Here are some best practices for data center backup:
Know your plan for the future: What is your consolidation rate today, and when do you anticipate being 100% virtualized? If you plan to maintain a mix of physical and virtual for the foreseeable future, then plan on having a quality backup tool for both sides of the infrastructure. If, though, you plan to have 100% virtualization in the next six months, then you are safe selecting the best virtualization backup tool for the job.
Test the tools: Not all tools are created equal, but just about every tool offers a free evaluation for you to try in your own lab environment. Put these tools through their paces and see if they are a good fit.
Know the features: Apart from being able to back up and restore a VM, there are other features that distinguish one backup tool from another. For instance, Veeam Backup has automated verification of backup data, virtual labs and multi-hypervisor backup. These features make a huge difference in your backup experience, flexibility and value.
Get data off-site: Whether you do it via tape, portable media or replication, make sure your backup data is off-site in the event of a disaster.
Virtualization server backup software is a powerful and efficient technology that can make life for a virtualization admin much easier.
Testing and learning about virtualization backups is the best place to start. Try the evaluation versions of the various tools to ensure that you select the right backup tool for your company's infrastructure.
ABOUT THE AUTHOR:
David Davis is a virtualization evangelist at TrainSignal.com, the global leader in video training for IT pros. He holds several certifications including VCP, VCAP-DCA and CCIE #9369. He has been awarded the VMware vExpert award three years running. Davis has spoken at major conferences like VMworld and written hundreds of articles for websites and print publications, mostly around virtualization. He has authored 10+ video-training courses at TrainSignal including vSphere 5, vSphere Troubleshooting, and vCloud Director Essentials. His website is VMwareVideos.com. You can follow him on Twitter or connect with him on LinkedIn.