Using Zabbix for open source network management
Proactive monitoring and other advanced features have contributed to the growing popularity of Zabbix as an open source network-management tool.
There was a day when Simple Network Management Protocol-based network monitoring and management was the domain of expensive proprietary solutions. Not anymore! Nagios has proven itself useful for many systems admins, and Zabbix serves as a solid open source network-management tool as well. This article explains what Zabbix can do.
With Zabbix, open source monitoring is based on communication with an agent -- software that is installed on the devices you want to monitor. At the moment, native agents exist for all platforms. If an agent is installed, you can get the maximum information out of the monitored device. Agentless monitoring is another alternative. With agentless monitoring, Zabbix can connect to common services, such as HTTP, FTP or Secure Socket Shell (SSH), to see if they are available, or it can use Simple Network Management Protocol (SNMP). Since SNMP is a widely used network monitoring service, you will at least be able to get information about the monitored device, especially if the device comes with a Management Information Base (MIB) that defines which functionality of the device can be managed.
To do its job, Zabbix needs to discover what is on the network. It does this automatically, based on IP range, the administrator selection of services and the SNMP management protocol. This auto-discovery feature is important, as it helps administrators to automatically build a Zabbix environment, which is scalable to many thousands of nodes.
Advanced features for open source network management
Monitoring is just one aspect of Zabbix, which offers many useful solutions, such as proactive monitoring, advanced visualization and alerting. It's worth it to note that all of these solutions must be fine-tuned to work in your particular environment; they won't work out of the box.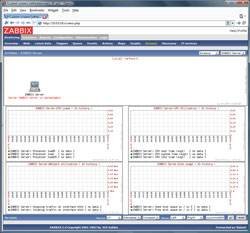 With proactive monitoring, if a certain threshold is exceeded, most likely action should be taken automatically. Zabbix allows you to configure this via automatic execution of remote commands or automatic Intelligent Platform Management Interface (IPMI) commands. In the latter solution, the IPMI management standard is used to communicate to the hardware of the monitored device. As more data center hardware is built to support IMPI, it becomes a more useful feature.
Another important Zabbix feature is the advanced visualization options. You can represent your complete IT infrastructure in a graphical map. From that graphical map, you can locate problems easily and zoom in to problematic nodes to connect to a node and fix the problem. Zabbix also has a dashboard that makes it easy to find out the current state of the monitored devices.
A feature that network and systems administrators will appreciate is the set of tools that are grouped in the alerting category. Zabbix offers many methods of notifying users, such as email and Systems Management Server. Configuring alerts is as simple as enabling the required module and making it clear when Zabbix should react to an event. This last part of the configuration is extremely important to set up, because a lot of system administrators don't read automatically generated emails if they get too many unsolicited messages.
Open source network management with professional support
As previously mentioned, Zabbix is a complete open source solution. However, it's an open source solution that has lots of options for professional support. Of course you are welcome to work with the free help you can get from the Internet. There are, however, professional support bundles ranging from Bronze (limited and slow response), to Enterprise, where you can get 24/7 support and a guaranteed response time of four hours. Apart from the support, there are also training courses available, including a three-day "Zabbix-certified specialist" course and a two-day "Zabbix for large environments" course. From a business perspective, Zabbix has everything you'd expect from an enterprise-management system.
The popularity of Zabbix has grown in the last few years, and there's a good reason for that. Zabbix is a versatile open source network-management solution that you can get for free and also have the option of buying additional support. With its ability to manage virtually everything through the many monitoring agents available, Zabbix is a solid product for open source network management.
About the expert: Sander van Vugt is an independent trainer and consultant living in the Netherlands. Van Vugt is an expert in Linux high availability, virtualization and performance and has completed several projects that implement all three. He is also the writer of various Linux-related books, such as Beginning the Linux Command Line, Beginning Ubuntu Server Administrationand Pro Ubuntu Server Administration.