Uncomplicated server updates with the Spacewalk Linux management tool
Linux server management software helps refine patching and organization. Choose the Spacewalk Linux management tool or enterprise-grade options.
When you have more than a few Linux servers in the data center, manual management is no longer an option. Check out Linux server management options such as Spacewalk to administer patch enrollment and updates.
The Spacewalk Linux management tool is an open source project heavily supported by Red Hat, one of its founders. Spacewalk manages Fedora, Red Hat, CentOS, SUSE and Debian Linux servers.
Red Hat offers the Satellite enterprise-level supported management solution for Red Hat and Solaris, based on Spacewalk. SUSE has also created Linux server management software based on the Spacewalk project; SUSE Manager can be used on Red Hat as well as SUSE servers.
What you can do on a Spacewalk
Spacewalk manages software content updates for the Linux distributions used by a data center, all within the security of the firewall. Without a management utility, each server would need to contact the update server over the corporate internet, introducing a security risk to the server.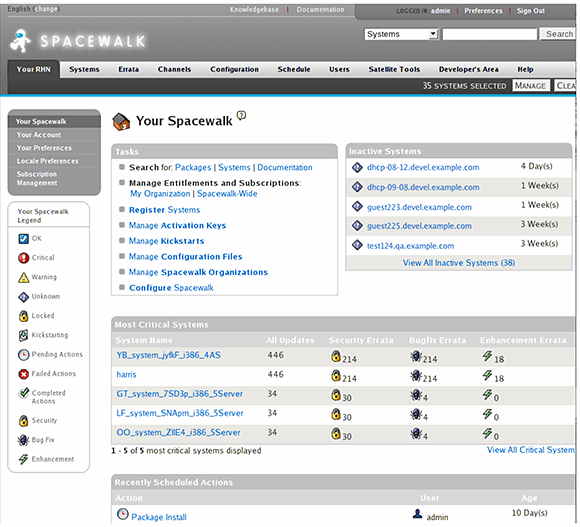 Figure 1. The Spacewalk Linux management interface provides an overview of registered systems and their current state.
It's easy to set up staging within Spacewalk or a derived environment, which means that patches can go through different stages of testing and pre-production before actually being deployed to servers. Spacewalk provides an overview of all the servers it manages and their current states (see Figure 1).
Spacewalk also handles complex, multisite management situations where proxies communicate with a management server. You can tailor management tasks to be site-specific.
Spacewalk does more than deploy patches to Linux servers. Via its installed agent, Spacewalk performs hardware and software inventories of managed Linux systems. Combine inventory reports with package management, and updates can be tailored to only deploy to servers with a specific version of the software installed, for example, or specific hardware pieces. The Linux administrator can also create groups in Spacewalk and deploy specific patches only to servers in a given group.
Administrators can automatically provision virtual machines (VMs) with Spacewalk's "kickstart" feature. Spacewalk lets administrators manage and deploy custom configuration files to these VMs. The tool also includes limited monitoring options, but monitoring is better achieved via a dedicated product from Nagios or Zabbix.
If you're comfortable administering Linux servers with an open source product that lacks enterprise-level support, choose Spacewalk. It is stable and it handles a broad range of Linux distributions. If you're running a Red Hat shop that requires enterprise-level support and primarily operates Red Hat servers, Red Hat Satellite is the obvious first choice. For IT professionals with SUSE and Red Hat mixed in a corporate environment, SUSE Manager is probably the best Linux management option.
About the author:
Sander van Vugt is an independent trainer and consultant based in the Netherlands. He is an expert in Linux high availability, virtualization and performance. He has authored many books on Linux topics, including Beginning the Linux Command Line, Beginning Ubuntu LTS Server Administration and Pro Ubuntu Server Administration.