kantver - Fotolia
Today's top IT skills extend far beyond the data center
Microservices, virtualization, cloud, and other shifts in IT mean traditional deep technical skills are fading from importance. Broad expertise and communication are now the top IT skills.
The shift to virtualization and cloud computing has forced IT teams to become more agile, collaborative and skilled in data analytics. The top IT skills are bimodal -- meaning that you can combine traditional IT with the ability to deploy and maintain data center resources in the future.
The term bimodal, originally coined by Gartner, is "a way to deal with agile development, but the concept has expanded greatly since then," said Daryl Plummer, a managing vice president at the market research firm.
And agile data centers are just beginning. Currently, 45% of CIOs state they have an agile mode of operation; Gartner expects that number to grow to 75% of IT organizations by 2017.
What bimodal means
The two groups in bimodal IT operate in an antithetical manner, which affects both staffing needs and skills.
The traditional team manages resources in a controlled fashion, typically in a local data center with owned equipment. Provisioning and implementing new system resources is a manually intensive process that takes months, sometimes years. System integrity and security are paramount. Business processes are well defined and carefully followed. Order and structure are key.
Traditional enterprise software is mainly monolithic; the application was largely self-contained, and clear boundary lines exist among different technologies. IT pros focused on one area, such as networking, and develop deep skills for it.
With agile IT, resources increasingly sit in the cloud. Hardware is smarter, lessening manual intervention. In some cases, business unit employees provision their own data center infrastructure. IT is still responsible for security, but they no longer mandate what systems are in place or how employees work with data. IT's goal is to deliver new software updates quickly. Prototyping is encouraged; the development team may fire off a handful of iterative changes in just a few days. The process targets continuous improvement, meaning business processes are constantly rewritten.
A new list of top IT skills
Risk taking and innovation are now more valued in the workforce, pushing the traditional IT types to reexamine the data center skills they offer. IT pros who are aware of the change can ensure they have the skills to be successful in the transition to an agile workplace.
"In digital business, you must change your relationship with risk," Plummer said. Don't mitigate risk, he said, embrace it as a conscious leadership decision. "Focus, so you can see what risks are worth taking. Accepting risk is okay; ignoring risk is tragic."
Current enterprise software systems are connected in spaghetti fashion. Software achieves agility through modularity. Microservices break programs down into small logical units. Standardized interfaces enable developers to mix and match software components. IT teams need surface-level skills in a number of areas rather than deep knowledge in one particular technology.
Converged and hyper-converged infrastructures, where servers, storage and network connections are prepackaged often with virtualization and management software, enable data center staff to focus on these broad IT skills rather than hands-on technical and command-line interface expertise.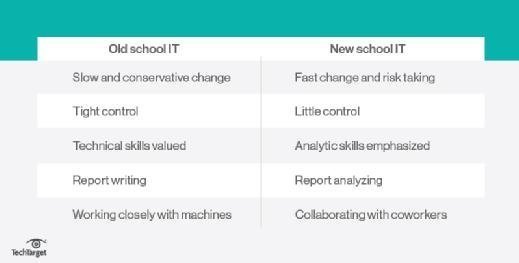 Talk it out
In the agile IT model, IT pros need new skills to wade through complex contracts and service-level agreements that outline expectations with cloud service providers. They need to understand legalese and cost structures as they relate to use.
IT pros also must interact with people, not machines. The traditional rigid, hierarchical organization where duties were siloed is giving way to flat, loosely connected organizational structures that encourage self-organization into multidimensional teams. Consequently, data center pros who spend hours siloed in front of a screen troubleshooting code are disappearing. The IT team now works with more high-level reports, often focusing on big data and data analytics projects. The International Institute for Analytics found that organizations are adding titles like chief data officer and chief analytics officer to the boardroom. In some cases, big data from within the company helps IT executives better manage personnel.
There's a need now to be consensus builders. On a list of seven skills needed for a career in IT, the educational institution Kaplan listed "communication" second. Communication includes explaining issues as well as delegating tasks, according to Kaplan, in a manner that keeps the IT team efficient.
Dig Deeper on Data Center jobs and staffing and professional development