kantver - Fotolia
Get started
Bring yourself up to speed with our introductory content.
SUSE YaST takes guesswork out of Linux administration
In an open-source world, it's hard for one Linux feature to make a difference in the distribution. So, why is YaST so important?
SUSE's YaST integrated management interface is not just about software, it's about making SLES an accessible Linux distribution on which software can be configured without administrators needing a deep understanding of all the components.
Linux competitor Red Hat's focus is to provide reliable open source software, but that doesn't necessarily mean that the software is easy to use. It tries to provide good tools that do what they're told. In Red Hat Enterprise Linux 7, almost all old utilities are retired and administrators work from the command line.
On SUSE Linux Enterprise Server (SLES), the approach is different. SUSE relies on Yet another Setup Tool (YaST), which it develops with each version, through its current status in SLES 12.
Having an accessible management utility is important in a domain where technique evolves quickly. The integrated management tool saves admins from having to acquire new skills to work with each newly introduced feature.
Among the use cases for SUSE YaST are environments with a mix of server operating systems, where the admins who manage systems have only a shallow understanding of Unix and Linux programming.
The bad old days
In early versions of SUSE, YaST corrupted some manually created configurations. Linux veterans have plenty of horror stories about how YaST corrupted all of their work by just overwriting the manually modified configuration files. However, the days of YaST altering configurations without warning are long gone.
In recent versions of SLES, YaST picks up the current version of the underlying configuration files and shows manually adjusted modifications. This change in its approach almost completely removes the risk of accidental damage.
Move your YaST
Even for experienced Linux admins, YaST is a helpful tool for getting things done. Some services consist of multiple configuration files that need to be tied together. Admins don't have to figure out which configuration files are involved because YaST offers a generic interface and applies modifications to all relevant files, as seen in Figure 1. This lets them build complex configurations without mistakes.
Advanced admins can start out with an easy setup from the configuration files, then fine-tune settings directly in the files without creating any conflicts in the configuration.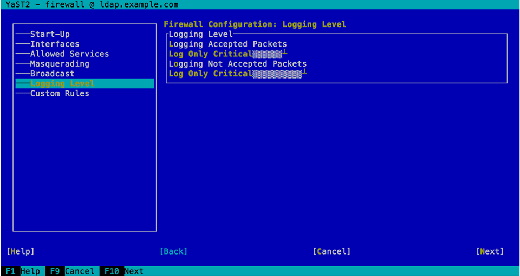 Using SuSE YaST doesn't mean that administrators have to boot their server in a graphical mode. Although there is a reliable graphical version of YaST, there's also a text-based version that is 100% compatible. It has the same software and interface, but the text version works smoothly over remote secure shell sessions.
About the author:
Sander van Vugt is an independent trainer and consultant based in the Netherlands. He is an expert in Linux high availability, virtualization and performance. He has authored many books on Linux topics, including Beginning the Linux Command Line, Beginning Ubuntu LTS Server Administration and Pro Ubuntu Server Administration.