Problem solve
Get help with specific problems with your technologies, process and projects.
Red Hat Network tour
Ken Milberg provides a tour of RHN4, points out its best features and gives some configuration advice in this tip.
Typically, people use Red Hat Network to download patches using the errata updates. I use it often, and I can tell you that it can do a lot more than that.
I've used Red Hat Network successfully in the past, so I was happy to get my hands on a demo of Red Hat Network 4, which is in the process of being released. Before I drill down into RHN4, I have to say RHN4's new features are cool, particularly the ones that enable you to manage Unix-based Solaris servers and monitor systems more effectively.
In this tip, I review the overall features of Red Hat Network 4, describing its different types of configuration and architecture and the improvements in the new release. To illustrate some points, I use sample screenshots, courtesy of Red Hat, from an older version, Satellite, but these features work the same as in the new release.
Red Hat Network basics
Historically, Red Hat Network has been a systems management tool that allows for the proactive management of your Red Hat Linux systems. It helps provide you updates and services to make your systems more current, secure and reliable. The application is designed to inform when updates become available, but does not actually do anything unless you kick off the up2date program. Essentially, it allows IT shops to deploy, patch, monitor and configure their systems.
The update module comes with every Red Hat subscription, and allows you to manage single systems, while giving you the ability to download patches and provides for auto-updates. By default, Red Hat Enterprise Linux systems are configured to check in with Red Hat Network every four hours, though customers can change this as needed for their environment. Here is an example of what I do quite often on my systems.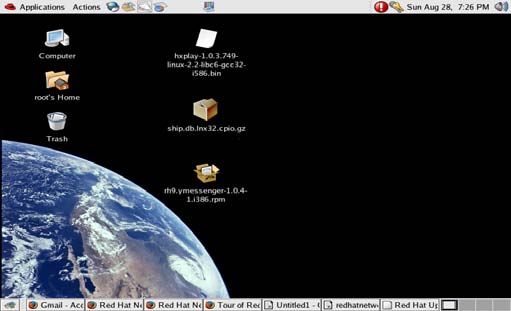 In the top right hand corner of your system GUI, you will see the red exclamation mark, which means that there are updates that are available for your system. When you click on that exclamation point, you will then see the update section.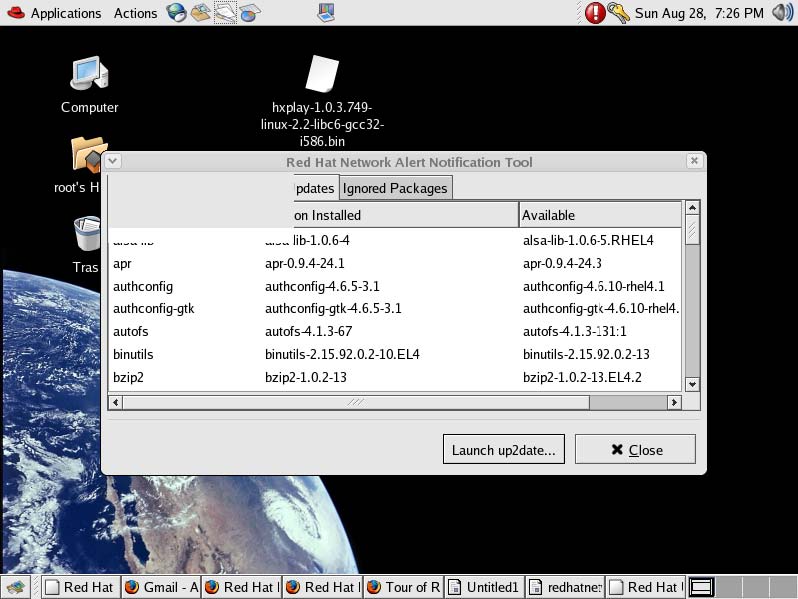 This is where you launch the up2date program, which starts the process to download a new patch or RPM. As you move forward through the process, you can choose whichever patches you would like to download. In this case, I chose telnet: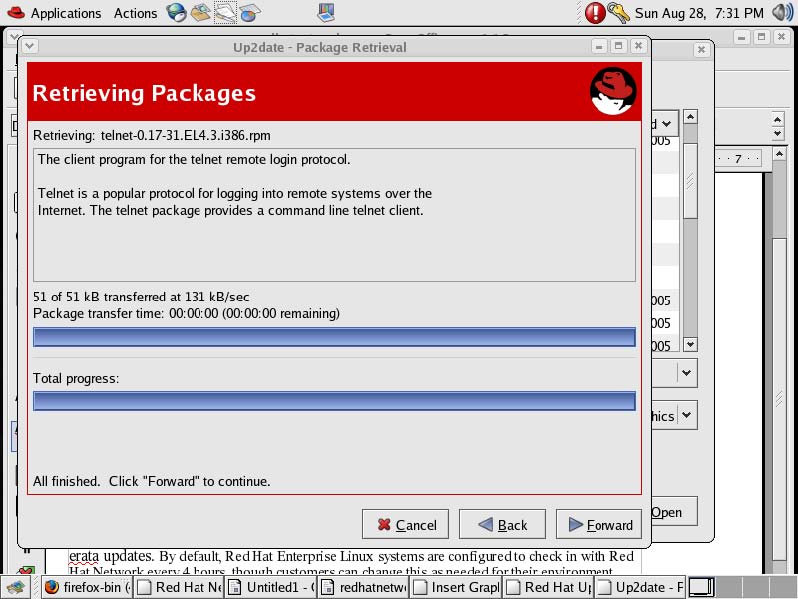 The process is very straightforward and efficient.
Beyond patch management
Newer versions of Red Hat network (version 4 is almost ready to be released) are not your father's Red-Hat network. In addition to patch management, there is so much more to it. The latest release has two important new features: the monitoring module, which can be used to track the performance of the Linux system and the applications that run on it, and also support for the management of Solaris Systems. Let's see Sun come up with management systems to support Red Hat Linux!
With Red Hat Network, there are four types of service modules: update, management, provisioning and monitoring. Customers can purchase whichever modules they need, which are called entitlements. We have already seen the update module.
The management module is the service entitlement, which allows you to manage your entire Red-Hat -- and now Solaris -- infrastructure. It features roles-based grouping, administration for policies and permissions, and scheduled actions. The Satellite server provides for third-party channels, local package caching and off-network capability. The provisioning module lets you manage the lifecycle of your Linux infrastructure by featuring bare-metal OS provisioning to help you deploy your servers. It also has features such as multi-state rollback and configuration management, including kickstart tools. The monitoring module allows one to enhance the overall availability of your servers by allowing you to monitor your servers. This includes the use of probes and reporting capabilities.
There are two types of architectural configurations. One is host based, and the other satellite based, for large environments. The host-based model uses a back-end database hosted by Red Hat and made available through the Internet. This is the best product for a small environment. Satellite is the enterprise-class systems management platform from Red Hat, which provides for complete lifecycle management. With Red Hat Satellite, one can manage thousands of Red Hat Enterprise Linux systems and in the process improve security, manageability and administrative overhead. This server would be placed on the customer's local area network and configured for each customer.
Let's see a real tour of the Red Hat Satellite.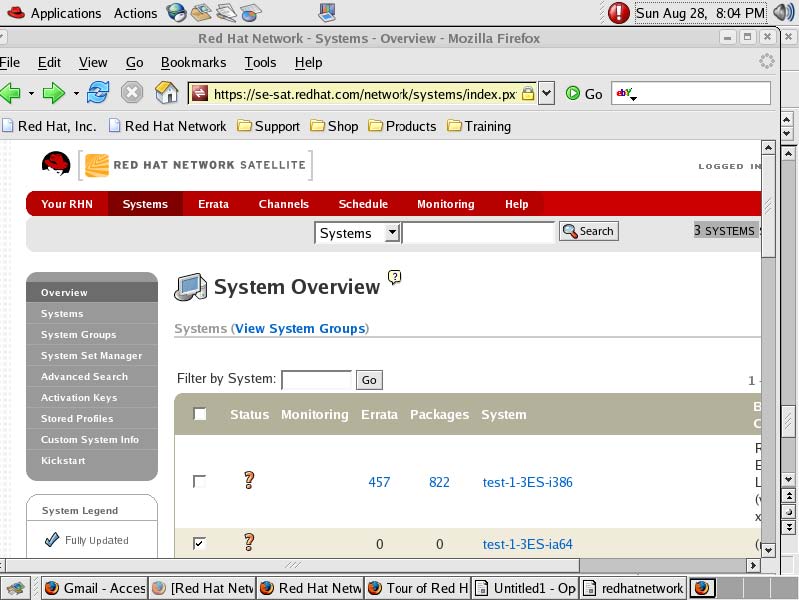 Assuming you have the Red Hat Network Satellite System running, after logging in to your system from your browser, click on "systems" to find a complete listing of all the systems available to you.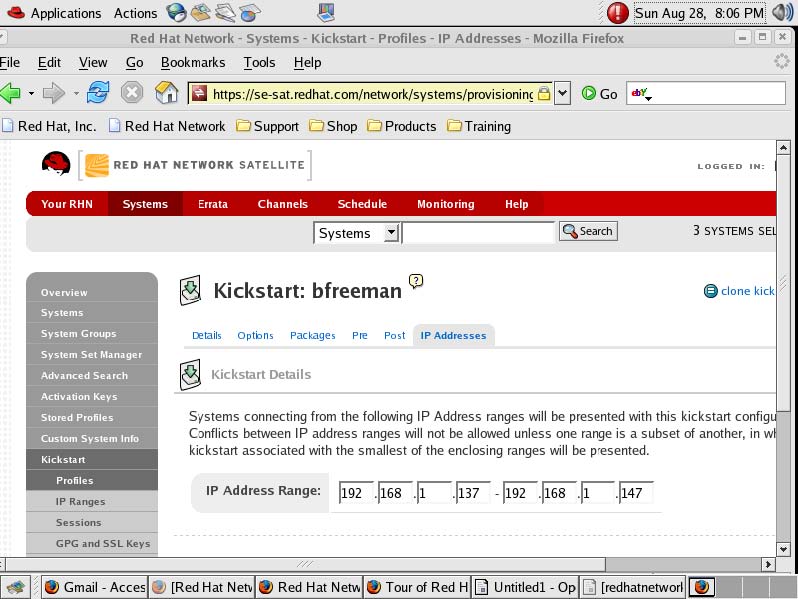 One of my favorite features is Kickstart. After clicking on Kickstart, one can now see the packages, IP options and IP address information that can be set for deploying Red Hat systems. Kickstart automates the installation of Red Hat Systems. It creates a configuration file which contain responses to questions asked during an installation. Once this file is created, it can be saved on the Red Hat Network, or on a boot disk. Red Hat network provides the ability to remotely reprovision systems, which save you the trouble of needing a boot disk at each and every system.
The probe area is also very helpful. After identifying systems which need monitoring functionality, you can create probes for your system. These will allow you to monitor network and/or applications. Many built-in probes are already available, including probes for Oracle and Apache. Click on "monitoring," select "probe suites" and you'll see all the probes that are currently created. If you select "create new probe suite," you are now ready to create your probe.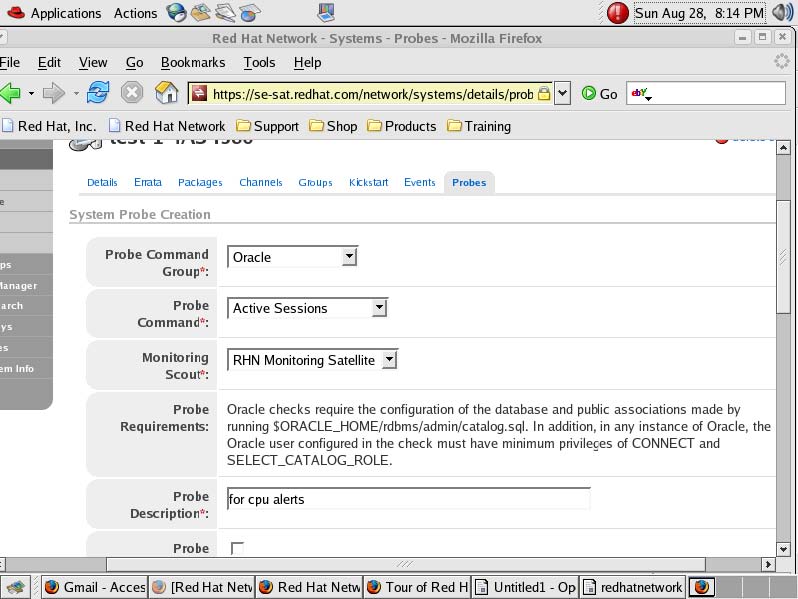 I created this probe (for CPU alerts) to help monitor active sessions on our Oracle server to make sure we were not getting to close to any limits. After you click "create new probe," you can see it on your list of probes. From here you can further set your warning and critical thresholds.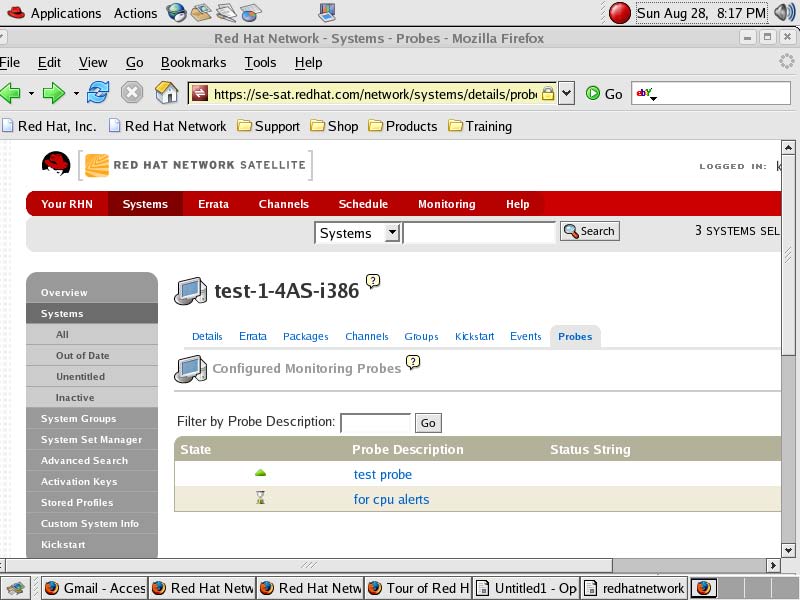 Overall, I'm happy with Red Hat Network 4, and I'm going to use it often. In the next release, however, I hope that Red Hat will also offer support of HP and IBM Unix-flavored systems. For more information, check out this RHN4 page.