OpenOffice Base: Converting data and files from Access
Consider switching to OpenOffice's Base, an open source alternative to proprietary Microsoft Access. In this tip, an expert tells how to convert Access files to Base and discusses some helpful hints for working with Base.
OpenOffice's Base tool provides an open source alternative to proprietary Microsoft Access. But if you need to...
Continue Reading This Article
Enjoy this article as well as all of our content, including E-Guides, news, tips and more.
use both, it's nice to be able to move data back and forth between applications.
In this tip, OpenOffice expert and instructor Solveig Haugland explains how to convert Access files to OpenOffice. She also describes a workaround for changing field orders and discusses how to group items in OpenOffice.
How can you convert Microsoft Access files to OpenOffice Base?
Haugland: You can connect to an Access file in OpenOffice.org. Choose File > New > Database, choose to connect to an existing database, choose Access as the format, and click Next.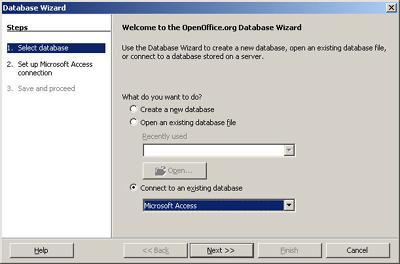 In the next window, specify the location of the Access database and follow the wizard through the rest of the windows. Save the database. The name you use will show up in lists of databases, so you can get to the data in the Access database.
Alternately, if you want the data in Access to be in a true OpenOffice.org Base database, then follow the instructions in this article.
How can users group items in OpenOffice's Base the way they did in Microsoft Access?
Haugland: Openoffice.org reports don't offer a lot of control. You can group, but forcing page breaks must be done in the resulting document. You can do it manually with Insert > Break. You can modify the style applied to the subgroup so that it always starts on a new page, or you can modify the table properties (reports are generated in tables).
If you do this using styles, you can save time with each additional report. Create a template with the styles and then import those styles into each generated report. In the generated report, choose Format > Styles and Formatting, click and hold down on the far right icon and choose Load Styles. In the window that appears, select all the checkboxes, then click From File and select the document containing the styles.
How can users change the field order after a database has been created in Base?
Haugland: I haven't found a way to do this well. If you haven't put the data in yet, then you can just right-click on the table name and choose Edit and retype the names and data types in design view. However, if you do this once data has been entered, everything is undone once you save and the table goes back to the way it was.
You might consider making a view or query of the table with the fields in the order you want. Or export the table to a spreadsheet, rearrange the data in the spreadsheet, then bring the spreadsheet back into the database as a new table and delete the old one.
How do you create electronic signatures in OpenOffice?
Solveig Haugland: If you want to create a signature that you can just insert into any OpenOffice document, you should use AutoText.
Write the signature as you want it, with or without a graphic. Select it all, and choose Edit > AutoText. Select a category, name the signature and give it a shortcut. Then, click and hold down on the Autotext button and choose New.

To insert the signature, type the shortcut followed by F3.
If you choose File > Send > Document as Email or the other email options under File > Send, then your email options will take over and whatever signature you use for email will be included.