Problem solve
Get help with specific problems with your technologies, process and projects.
Managing Red Hat Enterprise Linux network settings using NetworkManager
Red Hat Enterprise Linux includes a graphical network management application called NetworkManager that can be used to set network connections instead of using the command line.
In Red Hat Enterprise Linux, you'll find NetworkManager as the default solution to manage network connections. It functions almost the same as system-config-network, but with a graphical display. After performing an installation of Red Hat Enterprise Linux, the system will get the network configuration from a DHCP server on one of the connected network devices, but additional configuration is often required.
On the graphical desktop, you'll find the NetworkManager icon in the system tray, in the upper right corner of the desktop. Use a left click to manage the current networks that are available for your environment. You can connect to wireless networks or to connect and disconnect from the wired network. You can also use it to connect to a VPN, a hidden wireless network, or to create a new Wireless network connection.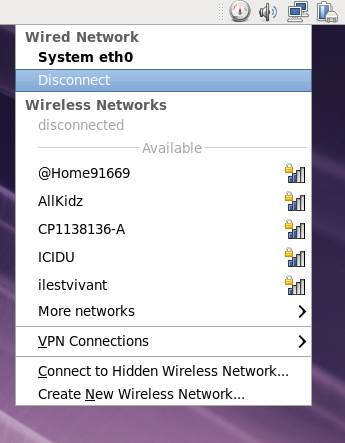 Left-click the NetworkManager icon to see available networks.
For network connection management, right-click the mouse on the NetworkManager icon. This opens a menu that allows you to enable or disable the wireless and wired networks, show connection information and edit current connections. If you're not too sure which network you're currently using, the Connection Information option opens a window with the current network settings, allowing you to verify the current network configuration.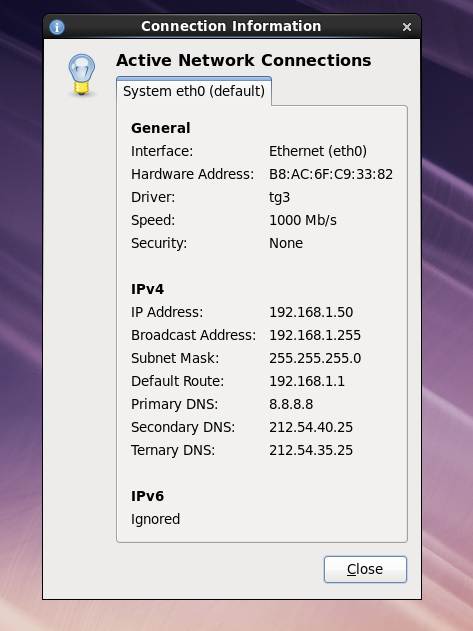 Select Connection Information to see your current network configuration
To change your network configuration, you can use Edit Connections, which also shows after right-clicking the NetworkManager icon. This opens the Network Connections window, showing all available options on five tabs. For server environments the Wired tab shows all detected network cards . You can then select the connection you want to modify and click Edit to get access to the relevant settings.
Once you are in the edit network card menu, make sure that "Connect automatically" is selected (this is not the default). The Wired tab shows useful properties such as the MAC address, and the maximum transfer unit (MTU). The latter is important if you want to maximize performance of your network and increase the default packet size. For example, if your server needs to send jumbo frames over the selected network card, you can set the MTU size to 9000 bytes. But you should only do this if your switch is configured accordingly.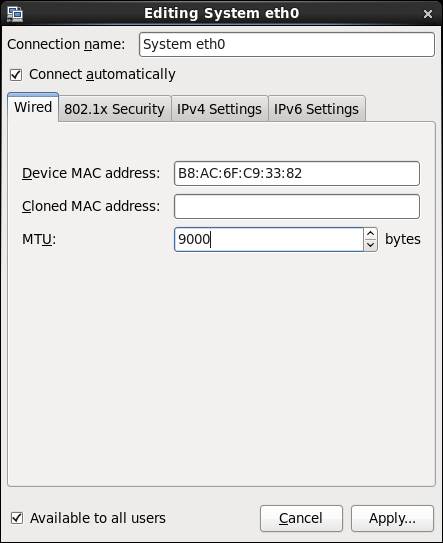 If your switch supports it, you can much increase the network performance by changing the MTU setting for your network card.
By default, a network card will be configured to use DHCP, but it is preferable for servers to use a fixed IP address. To set this, select IPv4 Settings and make sure the "Method" is set to Manual. Then click Add to define the required IP address configuration and click Apply to write this configuration to your server.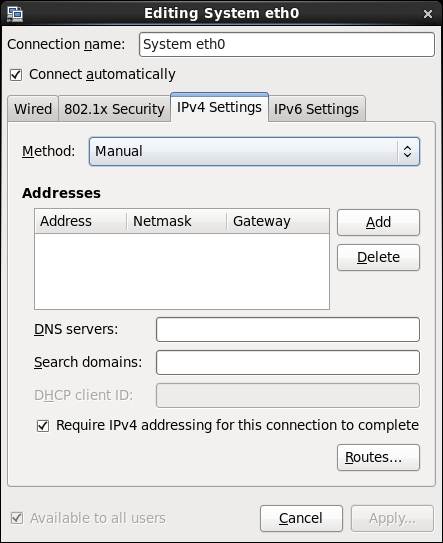 Change the method to Manual to set the IP address configuration for a network card manually.
When managing a Linux server, it is always important to know where the configuration is stored. The network configuration also is written to a configuration file: /etc/sysconfig/network-scripts/ifcfg-eth0 and a similar configuration file exists for all network cards that are configured on your server. If you open this file, you can see the settings configured in this tip via the graphical interface. You can also go directly into this file to change advanced settings such as NIC teaming. These and other parameters can't be changed using NetworkManager.