Problem solve
Get help with specific problems with your technologies, process and projects.
Is SUSE Linux Enterprise 11 worth the upgrade?
SUSE Linux Enterprise 11 has been released with a few new features that may make upgrading attractive. Find out what's new in the Enterprise Server and Desktop editions, and learn whether or not the features make the upgrade worthwhile for your company.
Recently, Novell released version 11 of its SUSE Linux Enterprise (SLE). SLE consists of three parts, the Server (SLES), the desktop (SLED) and a product called Real Time (SLERT), developed to handle especially financial transactions in real time. In this article you'll read if the features in the new versions are important enough to consider an upgrade.
Features in SUSE Linux Enterprise Server 11
The most important novelties in SLES 11 are focused around high availability. SLES 11 includes the Pacemaker stack, which basically is the next version of the already included Heartbeat HA clustering software. In Pacemaker, the core component, the Cluster Resource Manager (CRM) has been completely rewritten and the graphical management utility has been replaced. One improvement that I appreciated is that the management interface is better organized in this release. You'll notice this especially when managing a cluster that has many resources, as the view to see all elements in the cluster is more logical.
Another improvement that has to do with HA Clustering, is a graphical tool that makes creating a distributed replicated block device (DRBD) easier. Such a device offers RAID 1 redundancy over the network and can be a core component in a cheap open source software based SAN solution. The software was already there, but new in SLES 11 is the graphical management utility in SUSE's YaST tool. This makes it easier to set up a DRBD, even if not much has changed with the actual function.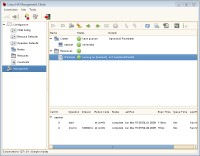 Click on image for larger version
The Heartbeat graphical management tool offers an overview that is a major improvement compared to the old version.
The third improvement that I consider important is the improved Oracle Cluster File System (OCFS) 2 stack. The Oracle Cluster File System (OCFS) has been around since SLES 10. But, in SLES 10 there were some stability issues. The good news is that in SLES 11 these issues have been fixed. OCFS2 is the foundation for the solution that Novell is positioning as the High Availability Storage Infrastructure, an open source infrastructure alternative to VMware ESX that gives high availability for virtual machines.
In earlier versions of SLES, the HA clustering components were included in the operating system. Perhaps the most important change in SLES 11, is that they now are in the High Availability Extension pack. Basically, that means that the software that earlier was available for free, now has to be paid for. With this move, Novell follows Red Hat, which also has its HA cluster software available for purchase only. The software however still is open source and that means that you can also get the HA software for free (at the moment they are not available from the opensuse.org site, but I predict this will be fixed shortly).
Apart from the software in the HA Extension pack, there are no real major changes in SLES 11. The interface has changed and now looks like the OpenSUSE 11 interface, and also the Mono stack (the open source alternative for Microsoft's .NET platform) is now in an optional extension pack. This means that SLES offers full support if you want to run .NET applications on it -- important for everyone who wants to do that. For the rest, most of the software components are still the same. The most obvious other changes are mainly in appearance. For instance, the YaST disk management utility has been completely redesigned to make working with disks and partitions easier, which is a major advantage for the administrator. But, it's not a reason to perform the upgrade. There are other changes also, but these do not make the upgrade worth it in my opinion.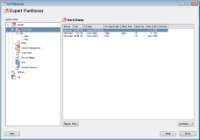 Click on image for larger version
The SLES partitioner was completely redesigned.
Features in SUSE Linux Enterprise Desktop 11
What is true for SLES, is also true for SLED 11. Apart from the new looks and new versions of most software components, there are no real major changes. There is however one new component -- in my opinion still under development, but interesting anyway -- the Policy Builder. This software component makes it possible to give users additional permissions while working with a program. It all looks like AppArmor, where a profile can be created that defines exactly what an application can do, with the difference that in this Policy Builder you can grant certain possibilities to certain users only. The software is tied to the graphical user interface at the moment, so you don't need it from a shell environment. If however most of your work is from the GUI and you were looking for a solution to grant additional permissions to users, then this is the solution.
Upgrade the Linux way
A major release number, suggests that there are major changes. In SLE 11, this is not the case. SLE 11 is the evolution of SLE 10 sp2. Some new features are added, most are just new versions of existing software. As Novell says, SLE 11 is the evolution of Linux. It does contain some interesting new features. If you need the new features, you will upgrade. If you don't need the new features, you can stay on SLE 10 until the end of its life cycle in 2013. In fact, it's like a new Linux kernel release. You'll upgrade if you need the new stuff, you don't if the old one is doing everything you need. SUSE Linux is a mature operating system, you can't expect any major new features that give you a compelling reason to upgrade immediately. It is however the next generation of SUSE Linux Enterprise, which in recent years has proven to be a success in the datacenter. If you're new to SUSE Linux Enterprise, SLE 11 gives an offering that is even better than its predecessor SLE 10. If you already run SLE 10, you'll upgrade some day. But there's no need to do that in a hurry.
ABOUT THE AUTHOR: Sander van Vugt is an author and independent technical trainer, specializing in Linux since 1994. Vugt is also a technical consultant for high-availability (HA) clustering and performance optimization, as well as an expert on SLED 10 administration.