Evaluate
Weigh the pros and cons of technologies, products and projects you are considering.
How to use OpenOffice 2.0's database tool, Part 2
OpenOffice expert Solveig Haugland walks users through the process of creating a database and entry forms to conveniently configurate data entry.
Let's continue our tour of the basic features in OpenOffice 2.0's new database tool. If you need a refresher on getting started at any time when reading the tips below, just go back to part 1. Creating a data entry form is a good third step in getting started with the database tool. If you've used the form AutoPilot in OpenOffice 1.x, you'll find the 2.0 wizard to be pretty familiar.
In the main database configuration window, just click the Forms icon on the left. You'll get a couple options and again, I'm going to go with the Wizard option.
Here's the first window of the form-creation Wizard. Just slap them into the Fields In Form list the way you did in the table-creation wizard. And again, be sure to put them in the right order once you've selected them, using the up/down arrow icons. It's a bit of a pain to change them later, not only to move fields around but because you need to change the tab order, too.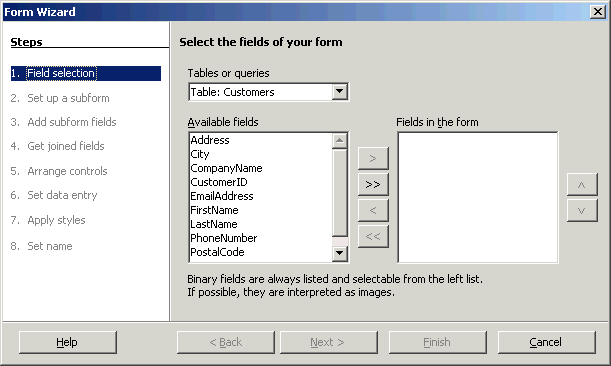 I'm skipping subforms and relations for now, so clicking Next brings us to the Arrange Controls window. This is simple; just pick the one you like, and the form document will change to show you the effect.
Click Next. In the Set Data Entry window, be sure you set what you want. Usually you'll prefer to leave it as shown, as wide-open as possible, to start off with.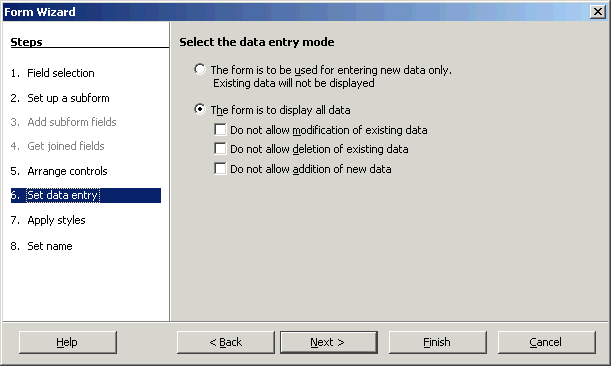 Tip: If you're setting this for a database based upon a spreadsheet, don't expect data entry. Also don't select the top entry or you're likely to crash.
Click Next. The Apply Styles window is another one where you just select the style you like, and you get a preview in the window.
Finally, you name the form. This begs the question: Where is the form stored? Good question; it's a bit mysterious. They're not stored with the name you give them. I just searched my machine for any file containing the word badger. (I figured it was unique, that's what I named my test form.) Nothing turned up. But you can always get to the form through the database configuration window; just double-click it to bring it up for data entry.
A finished form looks something like this.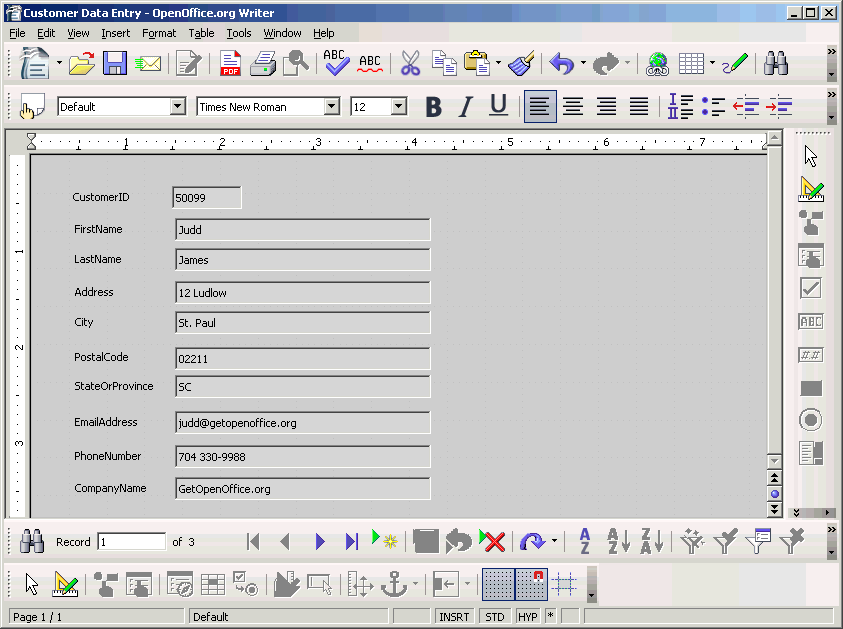 So, you've got a form. It's not quite time to rest yet. I've got a few tips on how you do the entry. It's just like 1.x, but since 1.x forms were a little more work to deal with, I'm assuming fewer people used them.
Step 4: Entering data using the data entry form
First, make sure you can enter data. The toolbar with the Record X of Y field at the bottom of the work area is very important. Without it, you're not going to be able to enter data very well. If it's not showing, choose View > Toolbars > Form Navigation, or enlarge your OpenOffice.org window and hunt around for it.

The form has existing data in it. To change it, just type the new information, and click the Save Record icon in the Form Navigation toolbar.

One way to enter a new record is just to use the VCR arrow icons to go to the end of the existing records. The fields will blank out.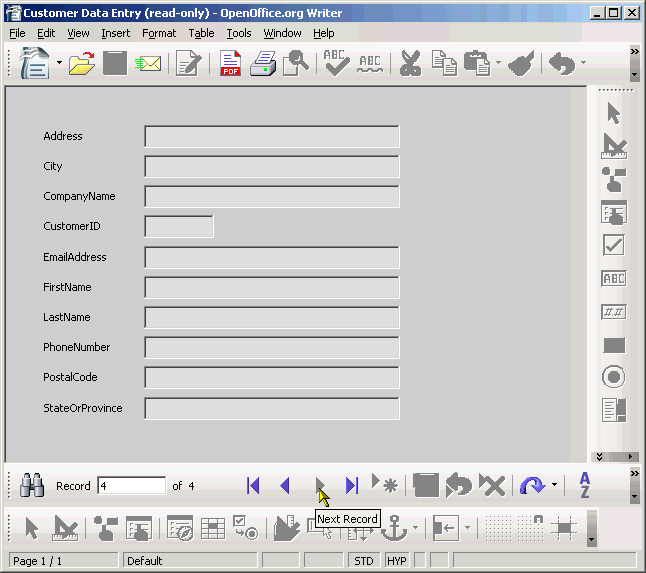 Type your new data, and again, click the Save Record icon.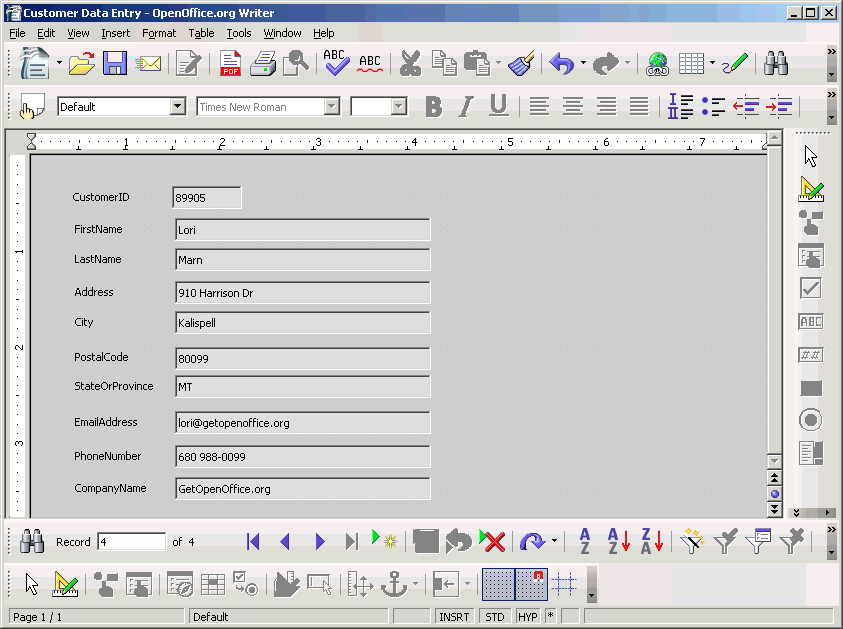 Alternately, click the New Record icon.

You'll get blank fields. Type your data and click the Save Record icon. The new record will still be the last in the database, but you didn't have to go to the end. Granted, it's really easy, and you just click the button to go to the end.
Summing up
That's the simple approach to the OpenOffice.org 2.0 database tool. I skipped several issues like multi-user forms, relations, queries and reports, and much more; but you can do a lot with just what I showed here. The wizards are pretty straightforward and a good combination of easy and helpful without being overpowering and condescending. I would just advise reading every window thoroughly and not skipping any of them until you know exactly what you want and what each provides.
To go back to part one, just click here.
Solveig Haugland has worked as a technical writer, course developer, instructor and author in the high-tech industry for twelve years, including six years at Microsoft Great Plains, three years at Sun, and year at BEA. Currently, Solveig is a StarOffice and OpenOffice.org instructor, author, and freelance technical writer. She is also co-author, with Floyd Jones, of three how-to books: Staroffice 5.2 Companion, Staroffice 6.0 Office Suite Companion, and OpenOffice.Org 1.0 Resource Kit, published by Prentice Hall PTR. For more tips on working in OpenOffice, visit Solveig's OpenOffice blog.