Sergey Nivens - Fotolia
How to correctly install SUSE Manager the first time
Make sure your SUSE Manager installation goes smoothly by following this step-by-step walkthrough.
SUSE Manager gives a Linux server administrator patch staging and management capabilities. Organization and preparedness help when starting a SUSE Manager deployment. Here's how to install SUSE Manager.
To start your SUSE Manager installation, go to SUSE Customer Center and verify that you have access to registration keys for SUSE Manager, as well as SUSE Linux Enterprise Server (SLES). You also need the SUSE Manager mirror credentials. The SUSE Manager registration key must be assigned to the same account that has the keys to use SLES.
If you want to try out SUSE Manager, request a 60-day evaluation license and use that for installation. Make sure you also have licenses, evaluation or otherwise, available for the SLES servers you want to manage with the tool.
Go to https://scc.suse.com and log in with your SUSE account settings to bring up an overview of the products that are registered with your account. Next, download the SUSE Manager installation ISO from suse.com. Ensure the physical or virtual system on which you want to run the tool meets at least the following hardware specifications: 4 GB of RAM, 100 GB hard disk and 2 cores or better processor.
Installing SUSE Manager
With the right hardware and licenses in place, boot from the SUSE Manager installation disk. From the menu, select Install/Restore SUSE-Manager-Server.
As SUSE Manager is an appliance that needs access to the system's entire hard disk, the installer will first ask if you want to destroy all data on /dev/sda. Confirm this to start the installation and load the SUSE Manager Server software.
The remaining steps of the installation are guided. These include the language and keyboard settings, license agreement and password selection for the root user. It also involves changing the network configuration; you must activate the Change button to get access to the options that allow you to change the address configuration for the network card on your server (see Figure 1).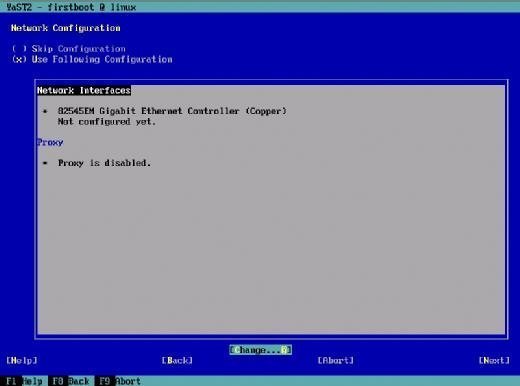 Once you've completed these steps, you'll select a time zone then set NTP time synchronization. It's a good idea to enter the name or address of the server you want to synchronize with and test if the server is responding. If it is, you have confirmation that the network is working as configured. If the server does not respond, stop here and troubleshoot.
You must register at the Customer Center Configuration screen (see Figure 2), unless you want to fetch patches from a subscription management tool server. It might take a while for the installation module to contact the registration server.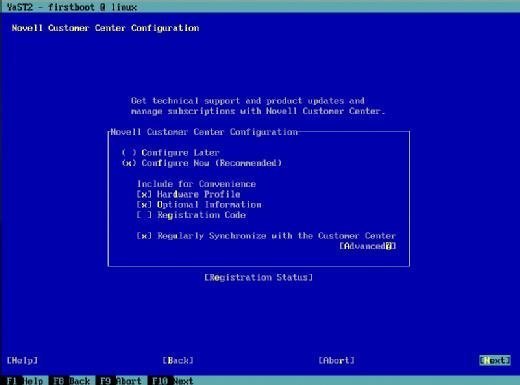 You will need to manually click Continue to keep the installation going through this section. When the text browser screen appears (see Figure 3), enter the email address used while registering SUSE Manager, as well as the activation code. To enter text, you have to select a field and press Enter. After submitting the text you want to use, press Enter again. After inputting all required information, press Enter.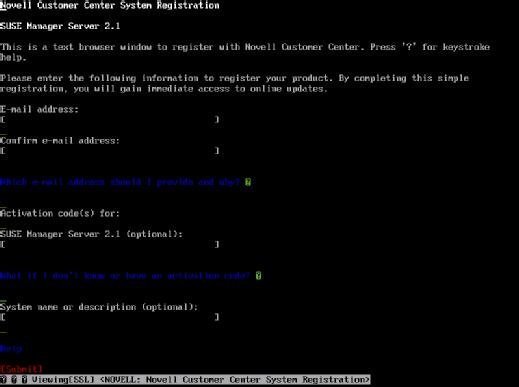 Successful verification brings up a screen (see Figure 4) for you to quit (enter Q) or confirm (enter Y). Update repositories are now configured and the SUSE Manager installation is finalized. The registration key is confirmed accepted by another screen stating configuration was successful.
If at this point the registration fails, you can complete the installation and perform a manual registration. To register manually, use the command:
suse_register -n --no-hw-data -a regcode-sles=<YOURCODE> -a regcode-sms=<YOUR-SMGR-REGCODE> -a [email protected] -L /root/suse_register.log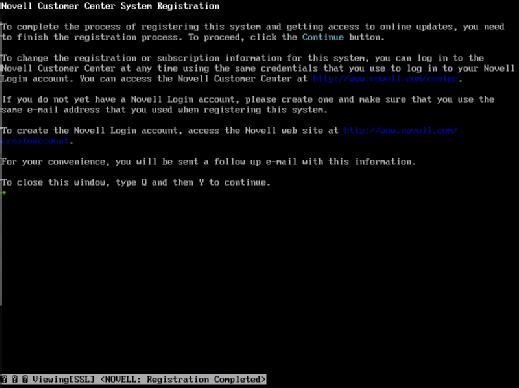 With the primary phase of the installation completed, you'll get access to a login prompt. Log in as the root user with the password that you've provided earlier in the setup procedure and enter yast2 susemanager_setup to start the second phase of the setup process.
On this first screen, you have a choice between setting up SUSE Manager from scratch and migrating from a Spacewalk or Satellite management tool server. It requires the administrator's email address for notification messages. This address will be associated with the secure socket layer (SSL) certificate created in the next step. If there is a service location protocol (SLP) server in your network, you may choose to register SUSE Manager with SLP; however, currently SLP registration by clients is not supported by SUSE.
The configuration module creates an SSL certificate. Use the SSL certification if you want to configure access to a proxy or establish secure management connections from a browser. The certificate will by default be self-signed, as it is for internal use only. Provide all information that is requested in this step.
SUSE Manager keeps track of patches and organizes staging on Red Hat Enterprise Linux as well as SUSE Linux Enterprise Server. Learn how this management tool works in a diverse Linux data center.
The default method to configure database access (see Figure 5) uses an embedded database. To set up an embedded database, enter the name of a database user, as well as a secure password. The password needs a minimum of seven characters, cannot contain any special characters and may not be based on a dictionary word. If you want to use either an external postgres database or an Oracle database, enter the database SID, hostname, port and protocol needed to access it. The example presented here demonstrates connection to a local database only.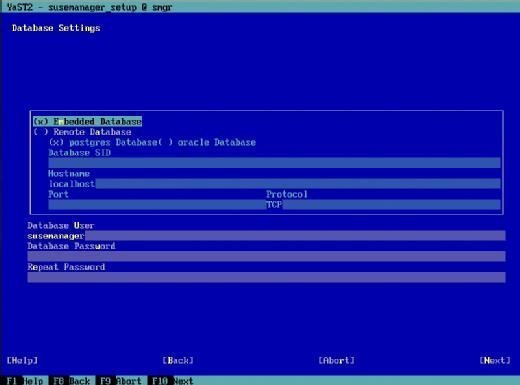 After configuring database access, enter your NCC mirror credentials. This is the username and password that you looked up prior to installation and configuration -- on NCC, select My Products, My Mirror Credentials. Enter your mirror credentials user name, the associated password as well as the email address associated to your account. This will take a few minutes (approximately five) and the base SUSE Manager system will be ready.
A setup completed window displays two important pieces of information: first is the command mgr-ncc-sync that you need to run to start the synchronization. The second part is the URL to the SUSE Manager management interface where you can log in to start administering SUSE Manager.
Type mgr-ncc-sync to start synchronizing repository information. At this point, you can connect to the Web interface to start managing servers.