sommai - Fotolia
Choose the right IT operating model for the business
Enterprise IT organizations face operating model transitions as they work to meet cost and execution demands of the business. This could mean an on-premises, cloud or outsourced IT model.
There's no universal way to operate an IT platform. Some companies invest in a fully owned data center, while others host everything in the public cloud -- and there are various options in between.
­The right IT operating model for an organization depends on its needs, goals and existing investments.
Buy into IT
Not everything belongs in the cloud. For example, if your organization has a lot of custom proprietary applications running across a variety of hardware and operating systems, then owning the IT environment should be most efficient. It would be difficult to replace, for example, a mainframe application running alongside IBM System i servers and a collection of Unix applications with equivalent diversity and processing abilities in the cloud.
IT organizations don't lease as often as they should, as leases offer distinct benefits. An organization has to allocate money upfront to buy IT hardware. If new hardware costs $3 million, that capital must be available to spend immediately. By leasing the hardware, the company can convert capital cost into operating cost, spread over a period of time. For example, the organization can spend $1 million per year in operating expenses over a three-year leasing deal for the same IT platform. BNP Paribas Leasing Solutions and GE Capital are big players in this space, and most IT equipment vendors also offer a leasing-style arrangement through the finance arms of their companies.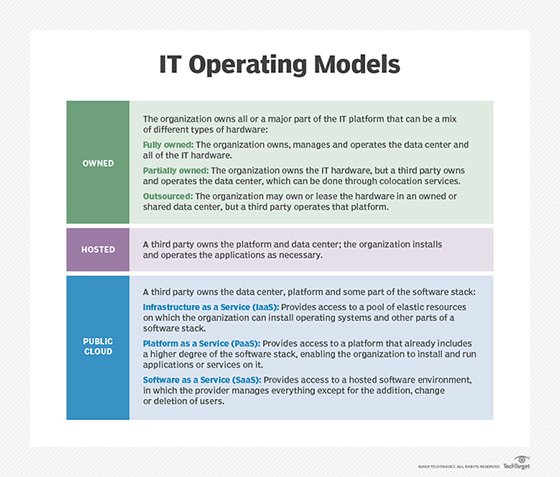 Outsourcing as an IT operating model
If you have little technical skill within your organization, an outsourced IT operating model may prove tempting. External, skilled IT pros will look after your specific needs. However, a software as a service (SaaS) model can save money and provide greater flexibility than outsourcing IT support. SaaS offers a fully managed, cost-predictable platform that eliminates many choices for the IT organization, including the specific hardware, system admins, power usage and real estate. The SaaS pricing model is subscription-based, setting from month to month exactly what the costs will be. In most cases, a SaaS model leads to considerable savings over in-house application management for an organization that is less technically capable.
For many organizations, the IT platform ends up as a hybrid, with a mix of operating models. Custom, in-house applications still run on dedicated hardware in an owned or colocated data center facility, while new functionality is brought in from the public cloud as required.
The hybrid IT operating model, however, introduces some problems.
If there is a need for interaction between the various parts of the overall IT platform, the organization, rather than the public cloud provider, is generally responsible for integration. Some IT vendors, such as Cisco and Dell, provide certified applications running on platforms along with fully tested connectors, which are separate pieces of code that act as a translator between different programs. This creates a dedicated means of integrating data and the business logic between various applications.
For many organizations, the IT platform ends up as a hybrid, with a mix of operating models.
Other platforms, like the customer relationship management SaaS product Salesforce, set up an environment where third parties can provide additional services to link an on-premises application to public cloud services, or data connections that enable on-premises data stores to interact with the cloud service. Salesforce has many connectors so users can directly plug in. This is a slight risk with cloud, but the abstraction involved means that vendors can update their applications without having to change everything else connected to them.
Businesses should be aware of possible performance issues when adopting a new IT operating model. Many organizations have issues with performance on the local area network (LAN), and a hybrid platform that uses public cloud needs to go over the wide area network (WAN). To ensure performance is maintained, organizations will need intelligent WAN/LAN monitoring tools such as those from CA Technologies, AppDynamics, Dynatrace and SolarWinds. Identification and remediation of root cause requires far more intelligence when you go hybrid than a typical on-premises approach. The right monitoring tool can make all the difference.
The portability and flexibility of the platform is another concern when outsourcing elements of IT. It is too easy to back an organization into a dead end where any sized change requires big changes to the platform. Ensure that it is possible -- and easy -- for IT workloads to move across parts of the overall platform. As existing on-premises workloads come up for review, it may be possible to move them directly onto another part of the platform, or at least for the data to move so that the organization can layer a more modern application on top of it. Again, the right tooling will make a difference. BMC, CA Technologies, RightScale and other vendors offer mixed cloud management tools that can move an organization in the right direction.
The illusion of a clean break
As with a lot of technology, a new approach rarely replaces everything that has come before it. This is the case with virtualization and cloud computing. Even though these approaches have a major effect on how organizations procure, implement and manage their IT platforms, there are plenty of examples where older-style approaches, such as client-server farms, will remain for the foreseeable future.
For some organizations, the choice of IT platform will come down to how much can be moved onto a more modern, flexible, non-owned platform where high levels of control are maintained. For other businesses, this choice will come down to a lack of technical skills pushing them in the direction of a more externally managed SaaS-style platform. Others will worry about the future, and will find themselves unwilling to invest in owning IT hardware in an owned data center facility. Most likely, they will seek a flexible partner that can take some aspects of that risk away.
Plan for your IT operating model to be some mix between different platforms and tool up accordingly.
Next Steps
How to land your next IT operations job
Learn how the digital operating modeltook over in 2015

Where can companies reduce costs in data center labs?
Dig Deeper on Colocation, hosting and outsourcing management