Problem solve
Get help with specific problems with your technologies, process and projects.
ASHRAE considerations for data centers
Design Considerations for Datacom Equipment Centers


As a member of SearchDataCenter.com, you're entitled to a complimentary copy of Chapter 9 of Design Considerations for Datacom Equipment Centers written and published by ASHRAE. This chapter, " Acoustical Noise Emissions," will help solidify a comprehensive data center strategy and ensure that your project runs efficiently and smoothly.
Continue Reading This Article
Enjoy this article as well as all of our content, including E-Guides, news, tips and more.
---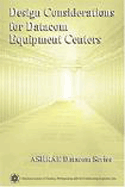 Book description:

The issue of sound in data centers is usually overlooked. Typically, data center managers are more concerned with how much heat their equipment is pumping out and not how much sound their machines are making. While it may seem like a secondary issue, noise emission in the data center can be just as crippling as high temperatures. Overheated servers may cause hardware problems but auditory problems can cause workers to lose productivity, which can be just as damaging to any company.
Chapter 9 of Design Considerations for Datacom Equipment Centers, presented exclusively for SearchDataCenter members, provides an important overview of acoustical considerations, as well as providing advice and resources for data center managers, which will keep data centers running quietly and smoothly.
>> Read Chapter 9: "Acoustical Noise Emissions" now.
>> Want to learn more about Design Considerations for Datacom Equipment Centers ? Buy the book from ASHRAE.
About SearchDataCenter.com

SearchDataCenter.com is THE online information resource for the latest data center news, tech tips, expert advice, and more -- both on our site and via our e-mail newsletters.
With the goal of making your job easier and helping you solve the challenges you face, SearchDataCenter.com is the most comprehensive resource for data center managers on the web – covering the topics you care most about: server technology, systems management, power and cooling demands, and data center project management.
Stay informed on data center technologies and industry analysis with SearchDataCenter.com so that you can successfully evaluate and make strategic business decisions in the corporate data center.

---
Dig Deeper on Data center design and facilities