Linux-friendly databases make it big
This Special Report looks at some of the most popular database products that are available to use alongside both Linux and proprietary systems.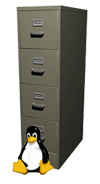 The enterprise data center is a zoo -- so tame it by inviting the Linux penguin, Sleepycat, or MySQL dolphin to be your database. But which open source and Linux-friendly databases make the most sense for today's enterprises? This Special Report is your guide to the current crop of enterprise-ready open source and proprietary databases for Linux. You'll hear from MySQL CEO Marten Mickos, CA VP Tony Gaughan and other database experts. In addition, Mike Sheffey, CEO of migration tools vendor Versora, offers tips for migrating from Microsoft SQL Server to MySQL. Then, our library of links will take you to more information, term definitions and expert advice.
Entrepreneurs turn to open source DBMS vendors
The use of open source database management systems is rising rapidly. One research firm expects the industry to reach $1 billion by 2008.
Commercial database vendors embrace open source
IBM, Oracle, Sybase and other proprietary database vendors have responded to the interest in Linux by ramping up support for the platform.
IBM's new A-Z database strategy: Ascential, Apache & Zend
The proverbial needle in the heterogeneous IT haystack will soon be easier to find for users of IBM's DB2 database.
A Berkeley DB primer
How is open source Berkeley DB different from other databases? Sleepycat Software Inc. CEO Mike Olson offers his view.
Sleepycat CEO talks Microsoft open source tactics
Just what would happen if Microsoft decided to embrace open source? The outspoken CEO of Sleepycat Software Inc. weighs in.
Seeds of open source Ingres continue to grow
It's been about nine months since Computer Associates' Ingres database set sail on open source waters, and so far the journey's been relatively smooth. So, what's next? One CA honcho says it's time for Ingres to assume more of a mission-critical role in the enterprise.
MySQL ends long delays for traffic admin
The Matanuska Telephone Association cut the amount of time it takes to generate traffic reports from several minutes to just seconds by switching to MySQL.
MySQL 5 to open once-closed doors
MySQL CEO Marten Mickos says the upcoming MySQL 5 database incorporates new features that enterprise users have been craving.
PostgreSQL's Berkus: Open source will rule the database
PostgreSQL core developer Josh Berkus believes that open source databases will soon be the rule, not the exception. He explains why in this exclusive interview.
Oracle retains database pole position
New research from IDC has Oracle retaining its number one spot in the DBMS market, but threats to its current position are mounting.
Database 10g update to feature more automation
If Oracle has its way, the vast majority of database management functions will soon be fully automated.
OpenOffice 2.0 to break down walls to adoption
New database functionality in OpenOffice 2.0 should go a long way toward helping the open source productivity suite gain acceptance with smaller organizations.
DATABASE MIGRATION TIP SERIES
Migration prep, part 1: When to switch from MS SQL to MySQL
Mike Sheffey, CEO of migration tools vendor Versora kicks off our series on SQL Server migration by explaining when the time is right to migrate from Microsoft SQL Server to MySQL -- and when it isn't.
Migration prep, part 2: Comparing MySQL and MS SQL Server
Microsoft SQL Server has features that can't be found in MySQL 4, according to Mike Sheffey, CEO of migration tool vendor Versora. But that situation is probably temporary. In our second installment on migrating to MySQL, Sheffey explains what you need to know about those differences.
Migration prep, part 3: Manual migration from MS SQL Server to MySQL
It's no small feat to manually migrate an enterprise from Microsoft SQL Server to MySQL, but it can be done. Here, Mike Sheffey, CEO of Versora, gives step-by-step instructions for two manual tasks: moving the data structure and the data itself.
Migration prep, part 4: Automating migration to MySQL
Versora CEO Mike Sheffey gives a detailed explanation of how his company's product automates the process of migrating to MySQL.
ARTICLES, CASE STUDIES, WHITE PAPERS AND MORE