Manage
Learn to apply best practices and optimize your operations.
Cloud, hyper-convergence ring in data center industry trends for 2017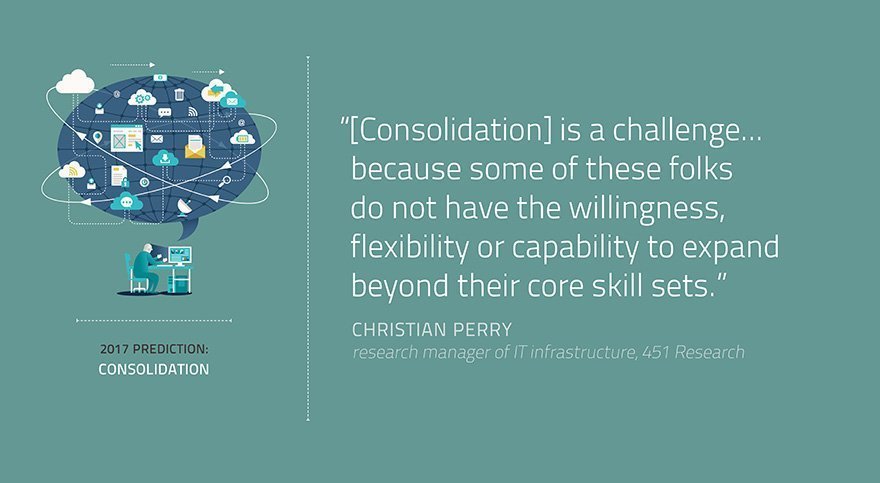 An efficient, streamlined data center has been long sought-after by IT organizations. That goal will continue to top IT's wish lists in 2017, and it's reflected, most recently, in the prioritization of hyper-converged infrastructure and data center consolidation.
As virtualization and software-defined capabilities improve, the push to consolidate IT environments -- including facilities, the infrastructure components they host and the number of IT vendors within them -- will become one of the biggest data center industry trends next year, said Sophia Vargas, an infrastructure and operations analyst at Forrester Research.
To move toward consolidation, organizations must take a holistic view of their application portfolio and ask themselves what they need, what they can get rid of and what can be moved into cloud, Vargas said. This means consolidation can be the first step toward cloud adoption, as well.
Another way to advance a data center consolidation strategy is to adopt both hyper-converged and software-defined technologies, which are often linked.
"In the last three to four years, converged infrastructure has helped organizations approach the software-defined nirvana, because, inherently, those systems are software-defined," said Christian Perry, a research manager of IT infrastructure at 451 Research.
Hyper-convergence exemplifies that shift toward software-defined data centers, where standardization becomes key to make environments more predictable and, thus, more manageable, Perry said.
There are two elements to this standardization: adoption of standards, so IT teams can manage all infrastructure components under a single umbrella, and standardization on the infrastructure itself. The latter will be a focus for IT because it increases both operational and staff efficiency, which consequently reduces cost, Perry said.
With that, organizational structures will shift, and, in particular, IT roles will flatten.
"The increasing amount of software-defined and cloud embedded in services means that IT operations folks need to learn more coding, infrastructure code and automation capabilities that they didn't necessarily have before," Vargas said.
That means a data center consolidation strategy will include a decrease in specialized IT roles, such as server, storage and network administrators, and increased demand for generalized IT staff that can handle new technologies, such as software-defined infrastructure. This prompts a further shift in the relationships and interactions between users and developers and their infrastructure and operations teams.
"That's a challenge for some organizations, because some of these folks do not have the willingness, flexibility or capability to expand beyond their core skill sets," Perry said. "However, there is a whole host of other folks who will gladly accept more responsibility across the IT ecosystem, and those folks will become very valuable."
View All Photo Stories