Manage
Learn to apply best practices and optimize your operations.
Undock your data center management strategy with mobile apps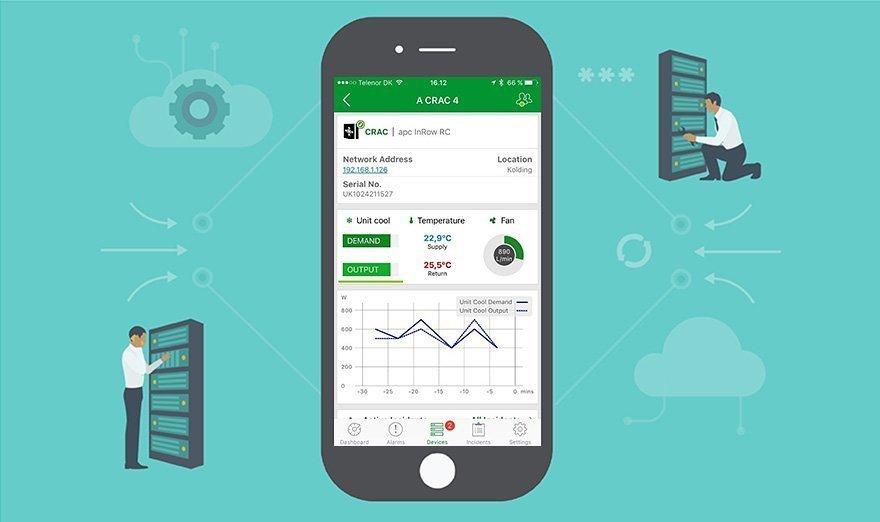 Visual Editor:
Sarah Evans
A system administrator's job description doesn't just include monitoring infrastructure with servers and networks, but aspects of the physical facilities, as well. A lack of monitoring in this regard can lead to wasted power resources, hotspots or, even worse, an outage or a fire. Monitoring apps are a practical way to prevent a data center disaster -- but for management teams, there's a fine line between being able to troubleshoot around the clock and waking up at 2 a.m. for a noncritical issue that could've waited until tomorrow.
Mobile apps can be a helpful tool to stay apprised on potential data center facility issues and to receive alerts on a device that admins likely have nearby at all times, whether at work or at home.
"Within the management umbrella, I see apps ... already being used for system health monitoring and real-time alert management -- especially during nonworking hours," said Sophia Vargas, an analyst focusing on infrastructure and operations at Forrester Research.
For example, StruxureOn, a new digital service from Schneider Electric that comes with a mobile app for iOS and Android, offers real-time visibility into key data center metrics, such as server performance and temperature. To detect and solve issues in the data center, admins can use features, such as mobile IT notifications and incident tracking. To get the app, organizations need to download the StruxureOn Gateway onto a dedicated server running a Windows 64-bit operating system.
For smaller facilities and edge data centers, Emerson Network Power released iCOM CMS, an app that assists with thermal management. Smaller environments, such as edge data centers, often have unique cooling challenges, such as lack of reliability, physical building constraints and limited cooling capacity. This makes remote data center facility management especially important.
SynapSense, an app built for both iPhone and Android, addresses cooling issues by giving admins direct access to environmental information. Admins can hone in on a rack level and use live imaging to identify developing hotspots in the data center.
While most IT teams want to be alerted instantly for critical issues, it can be frustrating to receive alerts for those that aren't. With the Premium version of StruxureOn, admins can use the app alongside Schneider Electric's Service Bureau, a 24/7 remote monitoring service. If nobody on a data center team is marked as being on duty in the app, the Bureau calls the first person listed on users' availability list. But admins can set alarm thresholds to ensure they only receive IT notifications and phone calls for critical events.
"When you're sleeping at 2 in the morning, the chances of you hearing a little blip on your phone from an email can be sketchy," said a data center administrator for a university and StruxureOn user, who requested anonymity. "To be able to relax a little bit at night, or when you go out with friends, not having to worry about missing an email because you know you'll get a phone call -- that is huge for me."
With iCOM CMS, admins can also assign alarm troubleshooting tasks and manage an alarm workflow.
View All Photo Stories