Manage
Learn to apply best practices and optimize your operations.
Undock your data center management strategy with mobile apps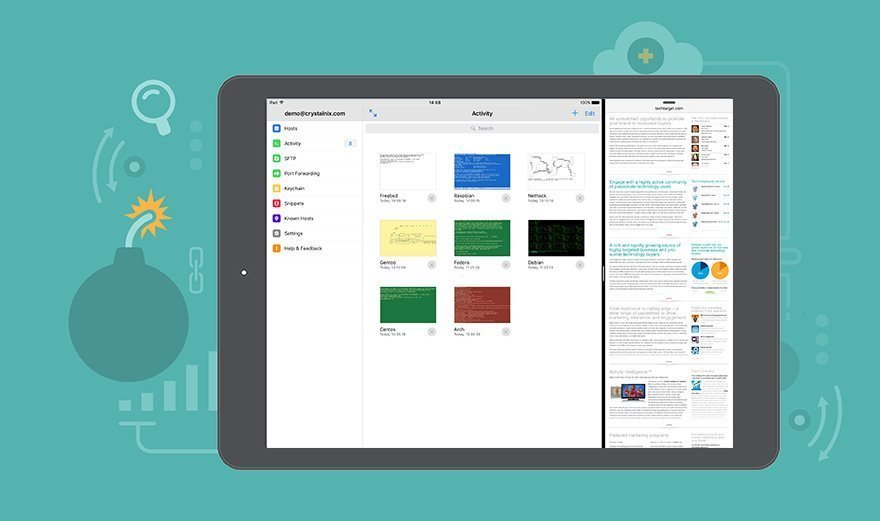 Visual Editor:
Sarah Evans
Systems administrators have long used Secure Shell, or SSH, to securely connect to remote IT systems through encryption, authentication and other means. Today, the ability to access SSH on a smartphone allows IT teams to maximize those benefits.
As the internet of things (IoT) initiates a massive influx of data into a data center, security becomes an even higher priority. It's important to use end-to-end encryption to minimize IoT security threats, as well as integrated key management functions. Fortunately, a mobile SSH terminal can help provide these features.
Free terminal client apps for Android, such as JuiceSSH and ConnectBot, can manage multiple SSH sessions and create secure tunnels for remote management.
Serverauditor is a mobile SSH terminal that can support a Bluetooth keyboard, and it offers shortcuts for typing commands. Available on iPhone and Android, the app allows for synchronization across all devices and includes an SSH configuration utility. While some SSH terminal-emulator apps require an IP address, username and password every time, admins only have to enter it once with Serverauditor, which stores that information to save time in crucial moments, said Hayden James, a Linux systems analyst who uses the app.
For sys admins, the ability to access an SSH terminal on the fly can bring peace of mind.
"Two years ago, I would have my laptop locked in the truck," James said. Today, "I know that if something comes up -- even if it's going to be tedious, with a bunch of long commands, cutting and pasting -- I know it can complete all of it though Serverauditor without a laptop."
Security, in general, can be a major concern for data center management via a mobile device, especially for making critical changes, said Jennifer Cooke, research director of IDC's data center trends and strategies.
Nevertheless, "the benefits of being able to control remotely are needed more and more as we get to edge sites," she said. "Even though the security risk may be high, there will also be tools to counteract that."
A mobile SSH terminal can offer pin authentication, the ability for users to save important existing encryption keys and other security features to help offset those risks.
View All Photo Stories