Manage
Learn to apply best practices and optimize your operations.
Undock your data center management strategy with mobile apps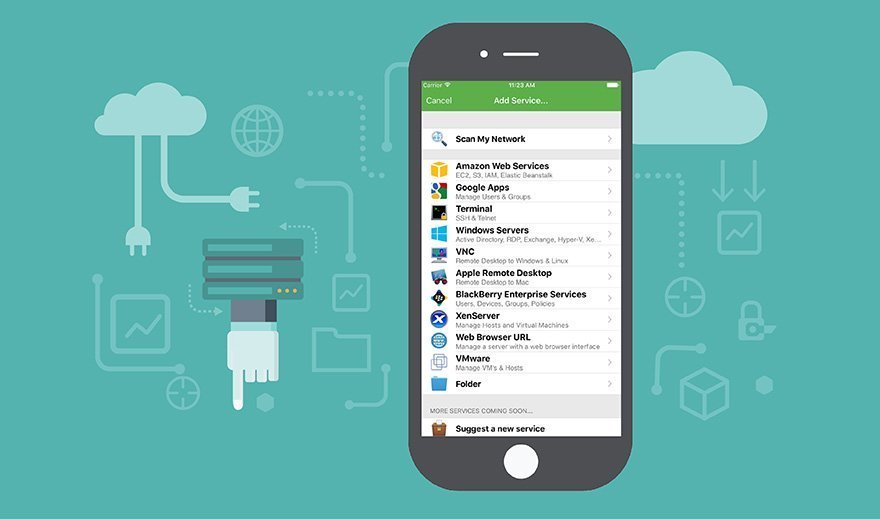 Visual Editor:
Sarah Evans
Most enterprise IT teams are tasked with managing a mishmash of different technologies, often from different vendors. Windows Server, VMware, converged systems and public cloud services, such as those from Amazon Web Services, may all come into play.
Infrastructure-as-a-service revenues have grown more than 40% each year since 2011, according to Gartner, and will continue to grow more than 25% each year through 2019 -- at which point the majority of VMs running in an enterprise will be provided from an IaaS vendor.
Faced with managing an increasingly diverse IT environment of cloud, virtualization, software-defined components and a number of other technologies, data center admins need tools that can help them monitor and manage resources no matter where they reside.
Numerous mobile apps can help simplify this new norm of hybrid IT management. For example, ITmanager.net, a smartphone app for iOS, Android and BlackBerry, acts as a single, on-the-go management console for VMware products, including vCenter servers and ESXi hypervisors; Windows systems, such as Hyper-V and Exchange; and public cloud services, including Amazon Web Services Elastic Cloud Compute (EC2), AWS Simple Storage Service, AWS Elastic Beanstalk and Google Apps.
The app's hybrid monitoring and alert capabilities allow admins "to know when a server goes offline," said Don Burrows, a systems administrator at Associates in Women's Health, a women's healthcare organization based in Wichita, Kan. Uptime is especially important for high-risk businesses, such as medical practices, he said.
Admins can also use ITmanager.net to stay abreast of connectivity issues and to pinpoint their source.
"I visualize being at your kid's birthday party or a soccer game, and you get that call from a client and their Exchange server is down," said Stewart Loucks, a senior account manager at Dallas Network Services, a provider of managed network services in Dallas. "We can pull up the app and log services from the app without having to log into the server, and see maybe that the transport service for the Exchange server isn't running."
Still, there are a few features on IT pros' wish list for the app, such as the ability to manage SMPP aliases.
"I got a call the other day that someone needed a new alias created for something external that they were posting," said Jared Brodsky, CTO of Greater Talent Network Inc., a public speakers bureau in New York. "That was one of the things through the app that I could not do without having to go through a normal desktop session."
In addition to ITmanager.net, other mobile apps aimed at hybrid IT management include Site24x7 from Zoho Corp., an iOS and Android app that provides monitoring features for Windows and Linux servers, VMware virtual machines, AWS EC2 instances and Docker containers, as well as Dynatrace's smartphone app for monitoring application performance and health.
View All Photo Stories