Evaluate
Weigh the pros and cons of technologies, products and projects you are considering.
Impact Awards honor best IT products, companies of 2016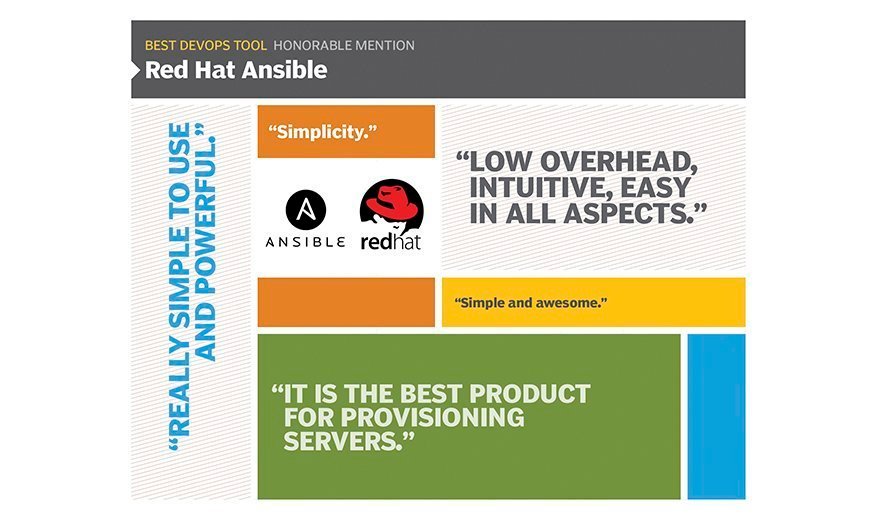 Designer:
Linda Koury/TechTarget
When it comes to DevOps tools, Modern Infrastructure readers value simplicity -- and that's what they say they get with Ansible, automation and configuration management software acquired by Red Hat in November. Readers describe Ansible as "low overhead," "intuitive," and "easy in all aspects" including learning, configuration, deployment, use and maintenance. The learning curve "is far smaller than [competitors] Chef/Puppet," one reader said.
Another big piece of Ansible's simplicity is that it eschews agents, and relies on SSH for communication instead, said Walid Shaari, an infrastructure architect for a Saudi oil company that voted for Ansible. "It capitalizes on something that already exists," he said. Other benefits include code that is human readable, and the ease with which it's possible to create hierarchies and add to inventories. Like voters, Shaari also called out the vibrant Ansible community, which counts over a thousand committers. When it comes to community engagement, "the only competitor to Ansible right now is Docker, when you think about it."
View All Photo Stories