Evaluate
Weigh the pros and cons of technologies, products and projects you are considering.
Impact Awards honor best IT products, companies of 2016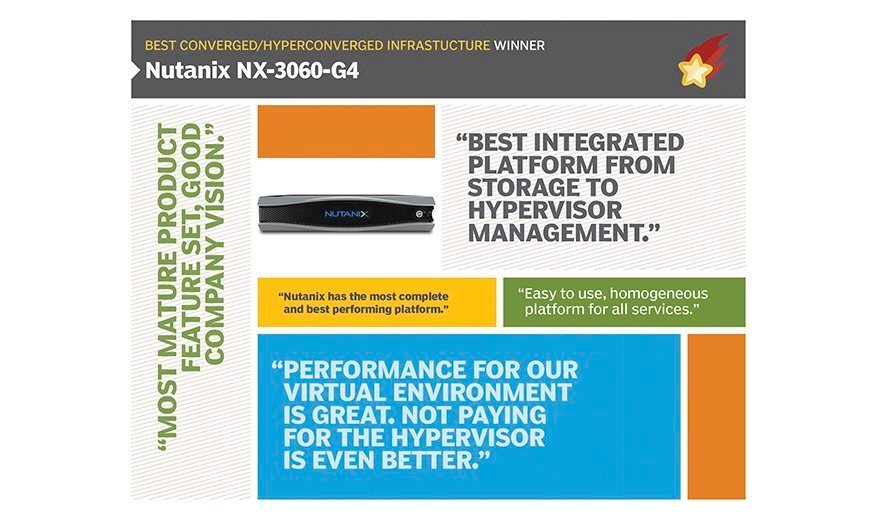 Designer:
Linda Koury/TechTarget
An easy-to-use management interface and growing name recognition garnered Nutanix its second win for Modern Infrastructure's Best Converged and Hyper-Converged Infrastructure Product Impact Award in a row.
The Nutanix hyper-converged offering comprises scalable data center compute, storage and networking hardware with the Prism management interface and a choice of Nutanix Acropolis, VMware vSphere or Microsoft Hyper-V hypervisors.
"We liked the idea of VMs running close to compute and memory, with clustered aggregated storage," said Joe Aiello, staff engineer in Global Labs at Shoretel, which adopted Nutanix 20 months ago. Aiello runs traditional infrastructure -- storage from NetApp, Nimble Storage and EMC and servers from Dell and HP, among other products -- in addition to hyper-converged infrastructure.
"I like the Prism interface from Nutanix," Aiello said, because he doesn't need to go into the command line to manage his systems. Prism "One-Click" management covers software upgrades, capacity trend analysis and planning and troubleshooting of storage, compute and virtualization layers in the Nutanix computing platform. Aiello said that hyper-converged infrastructure lets companies do more on those platforms without hiring a roster of individuals with deep technical specializations.
Nutanix's native hypervisor Acropolis is based on Linux KVM, and offers an alternative to vSphere and Hyper-V virtualization. Acropolis touts increased security, self-healing capabilities based on SaltStack systems and configuration management, and VM management for enterprise data centers. Aiello uses both Acropolis and vSphere on his Nutanix hyper-converged boxes.
"Acropolis has great potential," he noted, and is in use for his own infrastructure rather than for shared resources until it develops more. But vSphere is baked in, he said, and Acropolis doesn't have role-based access that's needed for shared resources.
View All Photo Stories