Evaluate
Weigh the pros and cons of technologies, products and projects you are considering.
Impact Awards honor best IT products, companies of 2016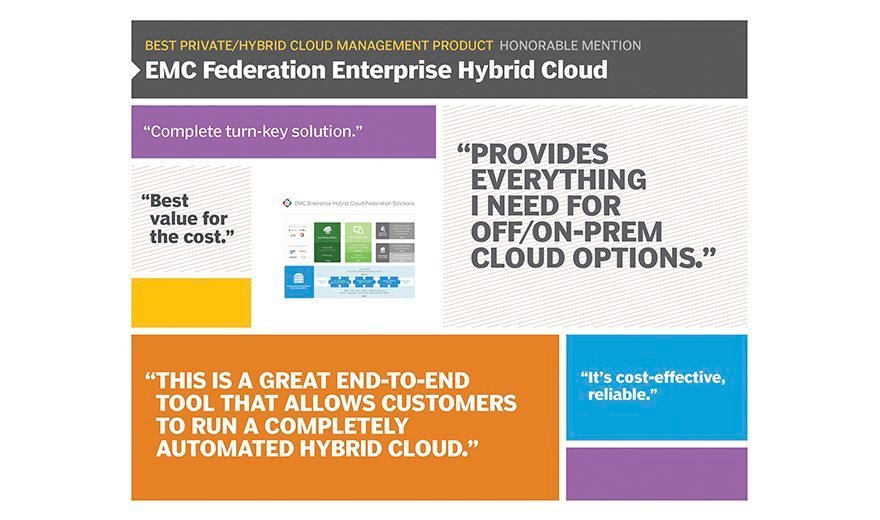 Designer:
Linda Koury/TechTarget
If a company is looking for a top-to-bottom new hybrid cloud deployment -- from hardware to software and public cloud integration -- they can find no more comprehensive platform than the EMC Federation Enterprise Hybrid Cloud. This collection of top-notch hardware from EMC and VCE hardware along with VMware software and cloud services represent the industry's most comprehensive hybrid cloud platform. EMC claims its EMC Federation Enterprise Hybrid Cloud can be installed from scratch in just 28 days.
Voters agreed the EMC Federation Enterprise Hybrid Cloud offered a complete package of proven products. One voter put it simply, saying, "it's a well-engineered solution from best of breed products that I'm familiar with."
The package enables advanced automation options and the ability to offer customers a self-service portal -- an option missing among some hybrid cloud platforms. EMC also gives customers several choices and add-on options, and can be sized to fit an organization's needs, from 1,000 to 10,000 virtual machines.
View All Photo Stories