News
Stay informed about the latest enterprise technology news and product updates.
Iceland's data center opportunities and challenges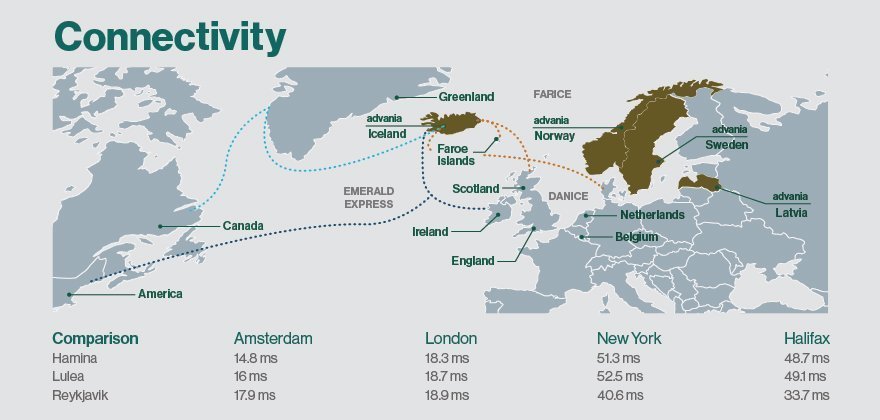 Source:
Association of Data Centers in Iceland
Data center connectivity from Iceland to the rest of the world is provided by undersea transatlantic cables, one between Iceland and Greenland, which then links to North America, another, called FARICE, that links Iceland to the Faroe Islands and the U.K., and a third, DANICE, that runs between Iceland and Denmark.
Meanwhile, there is no direct transatlantic cable link between Iceland and North America; traffic has to go through either London or Greenland. One-way network latency between Iceland and New York averages 51 milliseconds, which is on a par with Hamina, Finland (51.3 ms) and Luleå, Sweden (52.5 ms), but may be unacceptable for prospective data center users with workloads that demand high bandwidth or low latency.
A new transatlantic cable between the United States and Ireland has been on the table for years, originally dubbed the Emerald Express project. The cable project has most recently been taken over by AquaComms, which reported in May it secured $300 million in financing for the cable, now called America Europe Connect (AEConnect). AEConnect is scheduled to be ready for service in December 2015.
Icelandic data center operators are counting on an extension of AEConnect to Iceland being built.
In the meantime, generally Iceland is suited to customers with low bandwidth requirements but high processing needs (i.e., HPC), a niche market.
Still, Verne Global's Cantrell said he felt Iceland's existing data center connectivity is enough to lay the foundation for a strong business.
One Verne Global customer, for example, has a private connection to Toronto via the Greenland cable that works well for its needs.
"There is interest in building [the new] cable but the business model doesn't require that in order to be successful," Cantrell said.
Further down the road, there is also the potential concern of an influx of demand should the cable extension be built and Iceland's marketing efforts be successful. In other words, is a grid designed for the steady power demands of aluminum smelters prepared to handle the fluctuating needs of modern data centers? Only time will tell.
Photo: This map shows the undersea cable connectivity between Iceland and the U.S. and Europe.
View All Photo Stories