News
Stay informed about the latest enterprise technology news and product updates.
Iceland's data center opportunities and challenges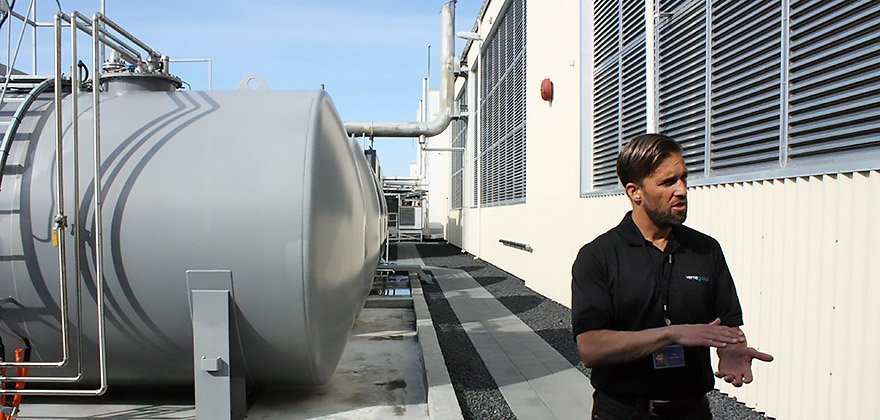 Verne Global, founded in 2007, first developed data center real estate in Iceland in 2012. Since then its 45-acre campus has been filled halfway with one 100,000 square foot data center structure and a new $98 million construction project.
That first space, now fully occupied, was a set of modular components prefabricated in England by Colt Technology Services Group Limited. Now, Verne is moving on to a new phase in which the building is done by Verne and materials are produced locally, according to its CTO Tate Cantrell (pictured above with Verne's diesel backup generators).
The initial data center offered by Verne has direct free-air cooling. This provides an affordable and efficient means of cooling the data center, though it has also had some unforeseen consequences, such as the need for nets hung over the vents where outside air is vacuumed in to keep the occasional winter snowfall from accumulating inside the data center. The newer space will use indirect evaporative cooling. In either case, the spaces are ISO 27001 certified and offer what Verne Global reports as Tier III levels of redundancy including diesel backup generators in a 2N configuration and 24/7 staff watching over the 100 megawatt facilities.
Verne has also landed the biggest-name Icelandic data center tenant to date in BMW, which moved HPC processing associated with its i3 electric vehicle from Munich to Iceland three years ago. Verne's data centers in Iceland are also home to cloud players GreenQloud, Planet Labs Inc., and Datapipe.
BMW was primarily interested in Iceland for its renewable energy, Cantrell said, after it made a commitment that the entire set of raw materials and production for the i3 would be based on renewable resources. Verne also has some distinct advantages over other data center real estate on the island with its own electrical substation on campus, along with the termination points for both of the undersea cables that link Iceland to Europe.
"The core common element [among customers] is power," Cantrell said. The market rate is currently $0.04 per kilowatt-hour, and Verne is "doing better than market rate."
HPC is also a huge area for Verne Global, Cantrell said.
While it's unlikely Iceland will attract a Web-scale player, Verne data centers could also be a good choice for smaller components of hyperscale data centers distributed internationally, Cantrell said. Large Web-scale companies with data center power requirements in the three-digit-megawatts will build their own facilities, but Verne could host 2, 3 and 5 megawatt app component installations.
Photo: Verne Global uses diesel generators for backup in its Icelandic data center, courting high-reliability workloads.
View All Photo Stories