Evaluate
Weigh the pros and cons of technologies, products and projects you are considering.
Data center companies to watch in 2015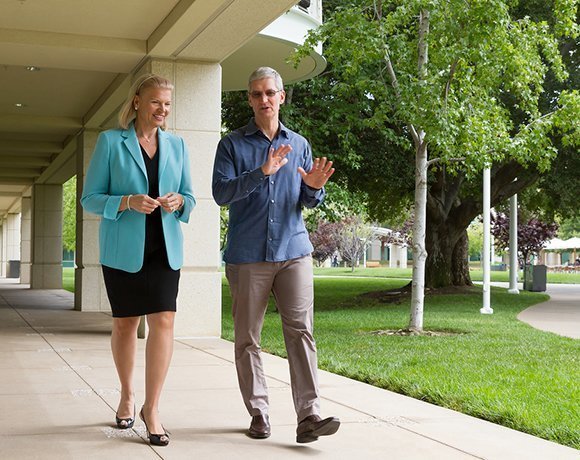 The IBM-Apple alliance, called IBM MobileFirst for iOS, is one to watch with guarded optimism in 2015. This unlikely couple may deliver something interesting, but how big a bite of the Big Blue Apple corporate users should take remains to be seen.
While the companies only delivered a disappointing 10 of a promised 100 applications by the end of 2014, some like what they see so far.
"It will be important for (Apple and IBM) to get people to not think about these devices as general-purpose PC substitutes, but more as very specific applications that can add value," said Ezra Gottheil, an analyst with Technology Business Research Inc. in Hampton, N.H.
IBM's competitive advantage lies in the overall design of the new applications and the way they can be integrated into users' respective businesses, Gottheil said. For a relatively small investment in the devices, IT organizations can enhance not just the value of their data locked up in a variety of data stores across the enterprise, but also enhance the value of the people using the devices.
"[IBM-Apple] can approach upper management with this portable, interactive device that can be given to a range of employees who don't have two feet on the floor or two hands on a keyboard, but can still tap into back-end analytics to gain greater insights about what is happening with the business," Gottheil said.
Other observers note many end-user organizations aren't looking to build the same functions (like location modules or "click to SMS" modules, etc.) over and over in their own mobile apps.
Part of the allure is creating applications that contain many basic functionalities but also leave room for individual customization, said Maribel Lopez, analyst with Lopez Research in San Francisco. She said the Apple-IBM iOS apps aren't going to appear in an Apple App Store because of the level of customization and competitive advantage in a tailored app.
"Anywhere from 5 to 15% of the app is in that zone of the competitive nature, and that's something you're never going to be able to pick up in an app store," Lopez said. "Apple and IBM can create things that would be in an enterprise app store that would be interesting, useful, but not strategic."
What could give the new iOS-based applications a boost in 2015 is the new IBM mainframe announced in mid-January. The new System z13 is highly tuned to handle mobile transactions originating from devices exactly like Apple's iPhones and iPads, capable of processing 2.5 billion transactions a day.
The inclusion of voice technology could help if IBM successfully incorporates Watson into the upcoming applications; it could hurt if they don't, and Microsoft or other competitors incorporate Cortana into customer and enterprise resource management products and Windows 10. Apple might further evolve Siri to work with its business offerings.
Read more:
What we get from the IBM-Apple collaboration
Above: Apple CEO Tim Cook and IBM CEO Ginni Rometty discuss collaboration.
View All Photo Stories