Evaluate
Weigh the pros and cons of technologies, products and projects you are considering.
Announcing the 2015 Impact Awards winners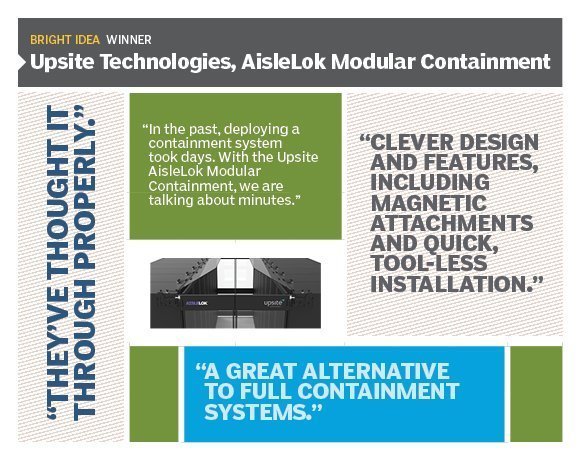 If your organization has a data center, chances are good you spend a lot of energy keeping it cool. That drives some IT operations off to a colocation provider or the cloud and others to cooling upgrades, which can be a huge effort. Unless you go modular.
Modern Infrastructure readers selected Upsite Technologies AisleLok Modular Containment for this year's Bright Idea Award, which recognizes a brand-new technology product.
The idea behind containment is to keep the cold air pumped in by a data center cooling system separate from the hot air exhausted by servers. That prevents hot and cold air from mixing so that the cooling systems don't have to work as hard. Most data centers that use containment were designed for it from the get-go. And for those that weren't, it's a difficult and expensive retrofit.
Not so with Upsite Technology's AisleLok Modular Containment system. According to readers, this after-market containment system looks like it's a breeze to set up. AisleLok's secret sauce is its "clever design and features, including magnetic attachments and quick, tool-less installation," wrote one reader. It is applied on a per-rack basis, and can be easily moved and reused in different parts of the data center. The containment it provides helps lower data center temperatures by as much as 20 degrees Fahrenheit, the company claims.
Get the scoop on cooling containment:
More about the winner
Good, better and best containment options
Read about dangers in the hot aisle
What you need to know about fire safety
View All Photo Stories