Evaluate
Weigh the pros and cons of technologies, products and projects you are considering.
Announcing the 2015 Impact Awards winners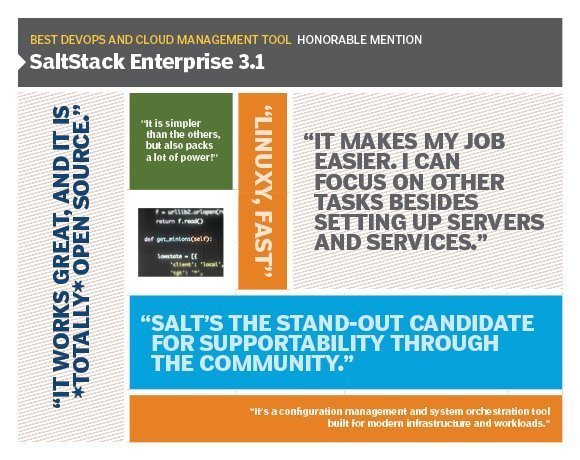 SaltStack Enterprise 3.1 received an Honorable Mention for the best DevOps and cloud management Impact Award, thanks to ease of use.
When some IT pros first try configuration management, things don't always go well. "I tried [other cloud management tools] but I couldn't get them up and running," said one reader, especially ones based on general-purpose programming languages.
SaltStack uses Python, a high-level programming language beloved by systems administrators. SaltStack also works well in Linux and Windows environments -- a must for enterprise shops.
Compared with other cloud management tools, "Salt's the stand-out candidate for supportability through the community." And while it's new, the open source community around Salt is large and active, readers said.
It's also "simpler than the others, but packs a lot of power," said one voter. And another noted that it's "Linux-y and fast."
Read more about the honorable mention winner
View All Photo Stories