Evaluate
Weigh the pros and cons of technologies, products and projects you are considering.
Announcing the 2015 Impact Awards winners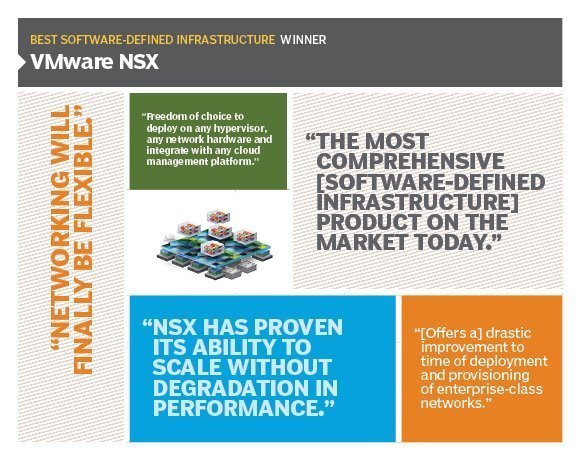 Congratulations to VMware on its NSX software, which beat out a diverse field of products to win the Modern Infrastructure Impact Award for software-defined infrastructure.
The challenge with a category for "software-defined" products is that there are so many competing -- or perhaps confused -- views about what the term really means. For their purposes, judges determined that "software-defined" should mean enabling an application to control its own resources.
NSX's software-defined networking (SDN) abstracts both the control plane and data plane, allowing users to more easily create flexible, agile system deployments. It works in much the same way that server virtualization abstracts processing power. VMware NSX reduces the time to deploy complex multi-tiered networks by removing manual configuration tasks and applying security and network services to virtual machines via policies. With VMware SDN in place, the underlying physical network is a simple packet-forwarding backplane and administrators create, provision and manage logical networks atop it.
"VMware NSX comes in with perhaps the canonical example of 'virtualized' software-defined infrastructure. In fact, NSX appears to be a key, if not the key, enabler to making productive use of any kind of VMware-based cloud implementation," one judge said.
Read more about software-defined everything:
More about the winner
Anything and everything under software's rule
What SDN means for networks
SDN and the change in storage
Read about software-defined and the cloud
View All Photo Stories