Evaluate
Weigh the pros and cons of technologies, products and projects you are considering.
Announcing the 2015 Impact Awards winners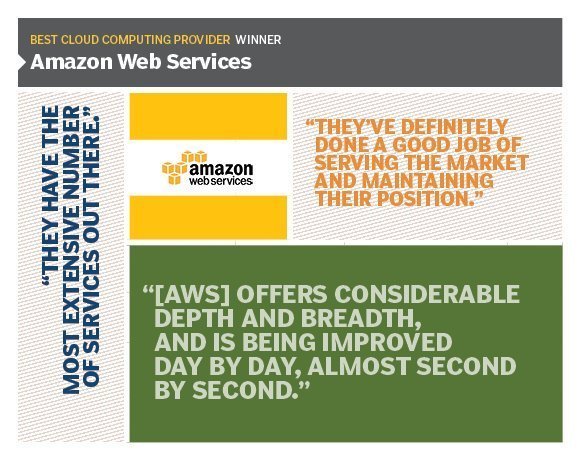 Amazon Web Services is virtually synonymous with public cloud, which voters recognized with the Modern Infrastructure Impact Award for best cloud computing provider.
While mega vendors Google and Microsoft continue to make tremendous strides in garnering potential customer attention and bolstering product portfolios, Amazon cloud computing on AWS remains one step ahead of the competition and doesn't appear ready to loosen its stranglehold on the market any time soon.
Far from resting on its laurels, Amazon estimated it released 500 new services for AWS in 2014 alone. Impact Awards voters cited this range of services, relative low cost and ability to deliver on promises as reasons for choosing AWS cloud computing. They used terms like "best" and "the standard" to describe its offering.
Many of the features that AWS competitors release with great fanfare have been available from Amazon for years, and the platform has an unrivaled set of partners in its public cloud ecosystem.
Read more about public cloud computing companies:
Learn about AWS, Google and Azure cloud storage offerings
AWS vs. Google for big data projects
PaaS features from the major cloud providers
View All Photo Stories