Evaluate
Weigh the pros and cons of technologies, products and projects you are considering.
Announcing the 2015 Impact Awards winners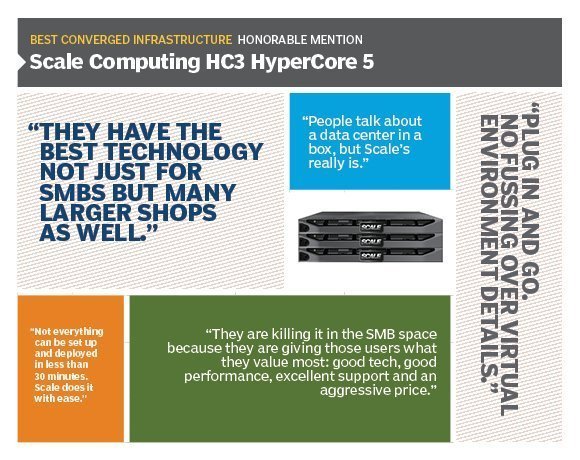 Scale Computing wins an Honorable Mention in the Impact Awards' best converged infrastructure category.
Most converged infrastructure vendors chase the big bucks in the enterprise, but Scale Computing makes no apologies about its laser focus on small to medium-sized businesses (SMBs). Judging from user and expert feedback, Scale Computing's dedication appears to have paid off.
"So many solutions are enterprise focused but Scale is just the opposite, and there's something to be admired in that," said one expert. "They have the best technology, not just for SMBs, but many larger shops as well. People talk about a data center in a box, but Scale's really is."
Scale Computing HC3 HyperCore v5 also wins rave reviews for its price/performance and technical support.
"They are killing it in the SMB space because they are giving those users what they value most: good tech, good performance, excellent support and an aggressive price. It's almost a no-brainer for SMB these days," wrote one reader.
Others noted its speedy installation: "Not everything can be set up and deployed in less than 30 minutes. Scale does it with ease," one voter said.
Read more about the honorable mention winner
View All Photo Stories