Evaluate
Weigh the pros and cons of technologies, products and projects you are considering.
Announcing the 2015 Impact Awards winners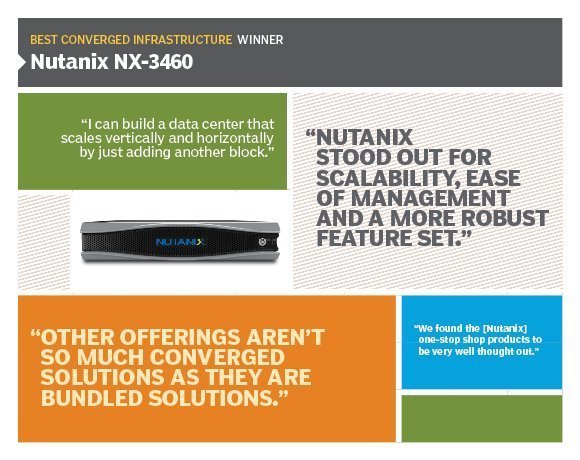 IT organizations crave lower priced, seamlessly integrated server platforms purchased from and supported by a single vendor. Of all the competitors, Nutanix NX-3460 is the preferred choice by Modern Infrastructure readers and the Impact Awards panel of judges for best converged infrastructure product.
Nutanix converged infrastructure brings virtualized servers together with storage and networking under one management platform for enterprise IT workloads. The Nutanix NX-3460 is a four-node deployment of the NX-3060. Each node runs with Dual Intel Ivy Bridge E5-2680v2 processors, two 400 GB solid-state drives and four 1 TB hard disk drives for storage, up to 512 GB of configurable memory and network ports for 1 or 10 Gigabit Ethernet or 10/100 BASE-T networking.
Voters valued the true integration of the compute, storage and networking tiers, coupled with the product's building block design, over all else. The latter capability gives first-time users the option of testing CI with smaller deployments before committing to full-blown, large cluster installations.
"We found the [Nutanix] one-stop shop products to be very well thought out. I like that I can build a data center that scales vertically and horizontally by just adding another block," said one reader.
Read more about converged infrastructures:
Who won top honors in 2013
Vendor options for CI
Read about the market of CI offerings
View All Photo Stories