kantver - Fotolia
Micro data centers garner macro hype and little latency
As Gartner stresses edge and micro data centers, IT pros explore potential use cases. But a saturated market and other concerns can make the decision to adopt a difficult one.
LAS VEGAS -- The large growth data in many organizations is piquing IT interest in edge computing.
Continue Reading This Article
Enjoy this article as well as all of our content, including E-Guides, news, tips and more.
Edge computing is a process that places data processing closer to the data sources and its end users to reduce latency, and micro data centers are one way to achieve that. Micro data centers, also called edge data centers, are typically modular devices that house all infrastructure elements, from servers and storage to uninterruptible power supply and cooling. As data centers receive a flood information from IoT devices, the two concepts took center stage for IT pros at Gartner's data center conference last week in Las Vegas.
"As we start to have billions things that are expecting instantaneous response and generating 4k video, the traffic is such that it doesn't make sense to take all that and shove it into a centralized cloud," said Bob Gill, a research vice president at Gartner.
Gill compared the importance edge to the effect that U.S. president Dwight D. Eisenhower's highway system had on declining communities in the Midwest. Towns that were otherwise defunct commerce could easily connect to cities with more promise. Similarly, organizations can place a micro data center in whichever location will maximize its value: an office, warehouse, factory floor or colocation facility.
"If you build the infrastructure based only on the centralized cloud models, data centers and colocation facilities without thinking about the edge, we're going to find ourselves in three to four years with suboptimal infrastructure," Gill said.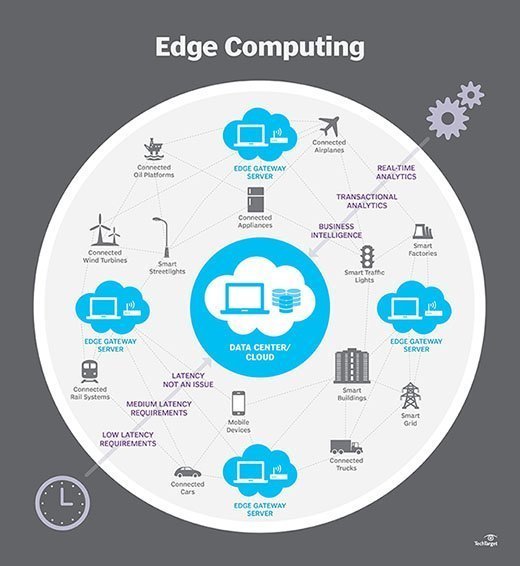 A growing market
The market for micro data centers is still small, but it's growing quickly. By 2021, 25% of enterprise organizations will have deployed a micro data center, according to Gartner.
If you build the infrastructure based only on the centralized cloud models ... we're going to find ourselves in three to four years with suboptimal infrastructure.

Bob Gillresearch vice president, Gartner
Some organizations are ahead of the edge computing game. Frank Barrett, IT operations director for Spartan Motors in Charlotte, Mich., inherited multiple data centers from a company acquisition. Now, the company has two primary data centers in Michigan and Indiana, and three smaller, micro data centers in Nebraska. All of the data centers currently have traditional hub-and-spoke networking infrastructure, but Barrett is considering improving the networks to better support the company's edge data centers. He is currently in the process of moving to one provider for all of the company's services, as well as updating switches, routers and firewalls throughout the enterprise.
"Latency is a killer," Barrett said. "We've got a lot of legacy systems that people in different locations need access to. It can be a nightmare for those remote locations, regardless of how much bandwidth I throw between sites."
Other organizations interested in adopting this technology have a choice between three types of micro data center providers. Infrastructure providers offer a one-stop shop with a single vendor for all hardware. Facilities specialists are often hardware-agnostic and provide a range of modular options, but they may require separate hardware. Regional providers are highly focused in a given region, providing strong local customer service. But a smaller business base can lead to less stability for those providers, with a higher risk of acquisitions and mergers, said Jeffrey Hewitt, a research vice president at Gartner.
Edge's forecast: Cloudy?
Experts are divided on what the proliferation of edge computing means for the future of cloud.
"As the center of gravity for data moves out of the data center, out of the cloud, and onto the edge, the edge will become the place where the data gets processed," Bowers said. In other words, the edge will eat the cloud.
But others assert that edge and cloud are natural allies, not enemies. Although today's centralized cloud model doesn't mesh well with edge computing, forward-thinking cloud providers are finding a way for the two concepts to coexist. Microsoft Azure's IoT suite and Amazon Web Services' Greengrass offer improved compute capabilities for embedded IoT devices.
"Edge doesn't compete with cloud," Gill said. "It completes cloud."
One data center engineer at an audit company for retail and healthcare services is interested in the facilities provider approach because his company has a dedicated, in-house IT team to handle the other aspects of a data center. The engineer requested anonymity because he wasn't authorized to speak to the media.
"With the facilities [option], you can install whatever you want," he said. "Most offices have a main distribution facility, so they already have a circuit coming in, cooling in place and security. We don't need any of that; it'd just be a dedicated rack for the micro data center."
Micro data centers, not micro problems
Since micro data centers are often in a different physical location than a company's traditional data center, IT needs to ensure that the equipment is secure, reliable and able to operate without constant repairs, said Daniel Bowers, a research director at Gartner. Industrial edge data centers in particular need to ruggedize the equipment so that it can withstand elements such as excessive vibrations and dust.
The distributed nature of micro data centers means that management is another concern, said Steven Carlini, senior director of data center global solutions at Schneider Electric, an energy management provider based in France.
"You don't want to dispatch service to thousands of sites; you want the notifications that you get to be very specific," he said. "Hopefully you can resolve an issue without sending someone on site."
Vendor lock-in is a concern, particularly with all-in-one providers such as Dell EMC, HPE and Hitachi. It's important to choose the right vendor from the start, which can be overwhelming due to an oversaturated market. The reality is that micro data centers have been around for years. At last year's conference, Schneider Electric and HPE unveiled the HPE Micro Datacenter, but Schneider Electric has offered micro data centers for at least three years prior, for instance. This year, the company Micro Data Center Xpress, which allows customers or partners to configure IT equipment before installing the system.
Hewitt recommends a four-step process to choose a micro data center vendor: Identify the requirements, score the vendors based on strengths and weaknesses, use those to create a shortlist and negotiate a contract with at least two comparable vendors.
Dig Deeper on Enterprise data storage strategies