alphaspirit - Fotolia
CA Technologies strategy pivots to embrace cloud, devops
With its own digital transformation underway, CA Technologies wants to lead legacy mainframe software users into the world of cloud computing and agile development.
Like many contemporaries that flourished selling mainframe software in the 1980s, CA Technologies has faced a harsh...
Continue Reading This Article
Enjoy this article as well as all of our content, including E-Guides, news, tips and more.
reality the past few years. It must radically transform its 41-year-old business to produce technologies that modern IT shops care about, or be relegated to the history books.
The results of CA Technologies' strategy shift are sweeping changes. The company has revamped its senior management team, developed or acquired several cloud-based open source and agile technologies, and sold off or dropped almost half the products for markets in which it competed just five years ago. Its goal is to create a corporate culture that -- like the technologies on which it is now focused -- is agile, open and more democratic.
Can this legacy elephant learn to dance?
One of CA's biggest challenges is to manage the breadth of its portfolio. The company's wide array of older, on-premises, mainframe-based applications still accounts for the majority of its revenues, along with the mushrooming number of cloud-based applications and development tools.
"It is so hard to execute effectively when you are delivering products on so many different fronts," said Melinda Ballou, research director at IDC.
While the company is positioned for a turnaround, execution has been slow. For the fiscal year that ended March 31, CA's overall revenues were flat at $4.03 billion, compared with the year before. Mainframe-related revenues fell slightly to $2.18 billion, but monies derived from enterprise products, which includes all nonmainframe offerings, rose 5% to $1.55 billion.
How do you redirect a company with more than half its revenue tied to a mainframes market that is flat to shrinking? "As much as we loved that market, and despite the fact it was strategic to our largest customers, no amount of innovation was going to grow it at 5% each year. We were in too many slow-growth markets," said Jacob Lamm, CA's head of corporate strategy and development.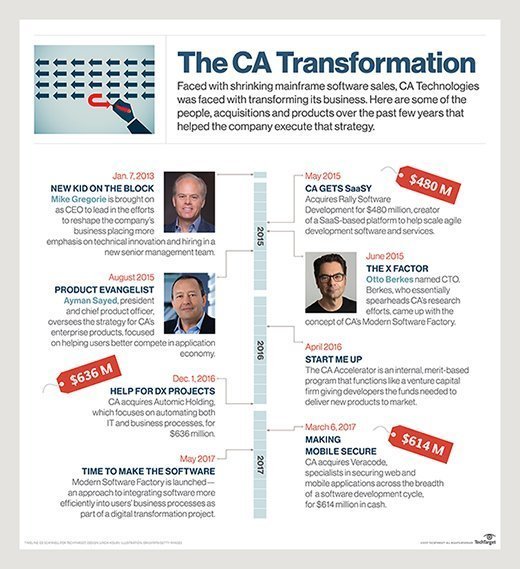 Despite this slow start, some analysts feel CA Technologies' strategy is on a good path.
"You have seen a lot of companies [attempt transformations] that get stuck and can't move forward," said Judith Hurwitz, president of Hurwitz & Associates in Needham, Mass. "But a few can hold on to their core assets and purchase the right technologies for the next generation of products. I think they [CA] have done a decent job with that."
CA is undergoing the same transformation as many of its corporate customers, as it weans itself off legacy systems and adopts new more agile platforms and tools. CA executives hope this might help build credibility in the eyes of customers and momentum for its newer products.
"There is nothing stronger than pitching something that shows a customer you are in the same boat as they are. It demonstrates you have a deeper appreciation for what they are going through," said Ayman Sayed, CA's co-president and chief products officer.
Moreover, CA Technologies' strategy wraps its portfolio of agile, DevOps and security products around its software development cycle, with a blueprint in hopes to offer a better overall software development environment. CA will also offer technical support through the planning, building, testing and deployment stages to get customers more familiar with some of these newer technologies.
One IT professional with a technology services company who worked with CA as part of a digital transformation project said CA's training and technical services helped speed his company's transition to improve its overall operations' performance and agility.
"We used CA's tools and training to get there, although we educated ourselves and helped effect our own transformation," he said. "But they were instrumental in the education and training part of all that."
Since May 2015, CA has made several acquisitions to establish a stronger presence in the security, automation, agile and DevOps markets. Veracode specializes in development security operations. Automic Software has technology to automate various business processes. Rally is a project portfolio management package to better compete in the agile and DevOps markets. And BlazeMeter is an open source SaaS-based performance-testing tool.
These acquisitions are steps in the right direction, but CA must reconcile some acquired technologies against its existing products. For instance, the company must better leverage Rally's lighter-weight project portfolio management offering against its higher-end CA Project Portfolio Management (CA PPM) product.
"CA has tended to push the agile aspects of its DevOps products, but it does have a large customer base of companies that require a higher level of governance and deeper project portfolio management already built into its CA PPM product," IDC's Ballou said. "They need to strike a better balance from the perspective of lifecycle management, PPM and agile."
In-house programs bypass legacy culture, development
Complementing CA Technologies' strategy of acquisitions is its internal development efforts, at its core the Modern Software Factory and the CA Accelerator, launched last May and in April 2016, respectively.
The brainchild of company CTO Otto Berkes, the Modern Software Factory is a technology hub designed to help users with a variety of digital transformation projects. Essentially, it helps users steer clear of traditional Waterfall development processes, offering them a suite of development tools for test data management, security and automation technologies to speed application creation and deployment.
Enterprises are finding they can't deliver software as quickly as they need or want to.

Otto BerkesCTO, CA Technologies
"Enterprises are finding they can't deliver software as quickly as they need or want to," Berkes said. "Users are so used to the back-office approach to internal development that when they need to deliver software at high velocities to external users, their methodologies get turned on its head. Velocity is key to success in this applications economy."
The Accelerator program creates the environment and mentality of a startup, where internal developers, nondevelopers and customers alike can brainstorm ideas and build cloud-based products, Berkes said. Like the Modern Software Factory, it also aims to sidestep the typically long process to develop legacy applications.
"Literally anyone can submit an idea where they didn't have to put together a 40-page presentation," he said. "We wanted to create something democratic."
Some analysts see the Modern Software Factory and CA Accelerator as evidence the company is committed to fundamentally changing both its technology strategies and its corporate culture.
"They want to ensure the entire organization is more collaborative and reduce the competition inside," said Eveline Oehrlich, vice president and research director at Forrester Research.
"Before, there was lots of competition among the product teams fighting for resources and for who would be the lead on a particular portfolio. Now, there appears to be more comradery."
Ed Scannell is a senior executive editor with TechTarget. Contact him at [email protected].