Fotolia
Data center acquisitions can cause price and services upheaval
Enterprises that rent racks inside one of the many data centers that have changed hands in 2017 should carefully evaluate changes to connectivity options, service and prices.
Enterprises that rent space in one of the many data centers under new ownership this year need to keep an eye out...
Continue Reading This Article
Enjoy this article as well as all of our content, including E-Guides, news, tips and more.
for changes in support and prices, among other things.
Already in 2017, more than 150 data centers have been subject to merger or acquisition activity, and represent more than 650 megawatts of power. The total value of just the seven largest deals exceeds $15 billion.
Eventually, all these data center acquisitions could bring down prices, but it won't happen right away, said John Heiderscheidt, chief compliance officer at MDI Access, a contracting firm that focuses on data centers in Alsip, Ill. Larger companies may not be as flexible with prices as some smaller providers, he said.
Moreover, in many of the largest data center acquisitions in 2017, the operators -- including Digital Realty Trust, Equinix Inc. and ViaWest, Inc. -- host major cloud providers whose capacity far exceeds that of most enterprise customers, which helps steer the data center company's priorities.
"You are their best friend until you sign the SLA and lease and then you are just a number," he said.
Colocation customers should focus on customer service issues and keep track of individuals in operations whose job may have also changed, Heiderscheidt said. For example, after a deal is completed, a phone call might be routed to a support person who no longer has the same job before the call ends up at the correct person. That won't last for long, though, he said.
If a company depends on remote hands from a data center operator, at first it may be harder to get answers to routine questions following a merger or sale, he said.
The smooth integration of data centers from multiple colocation providers is the most significant challenge, said Jabez Tan, research director of data center and cloud market intelligence at Structure Research in Toronto.
You are their best friend until you sign the SLA and lease and then you are just a number.

John Heiderscheidtchief compliance officer, MDI Access
The one advantage to all the deals? Enterprises will find it easier to expand data center capacity to new markets, he said. For example, a company in a former Verizon data center, now owned by Equinix, can get new space in Europe and Asia from Equinix with the same customer experience and consistent SLAs.
Customers in any former telco-operated data centers should watch for any changes with connections to cloud providers and other carriers, Tan said.
"There is some education that may need to take place for the legacy [telco] customers," he said. For example, the Equinix platform is more mature compared to Verizon's "old-school bandwidth contract," he said.
After a buyout or merger, each of the data center companies has attempted to differentiate its business. For example, Equinix emphasizes interconnection, while Cyxtera -- which bought CenturyLink's data centers -- pushes managed security.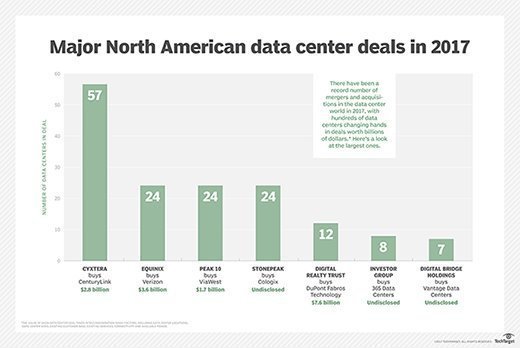 Prepare for support changes, one colo customer says
The roller coaster of data center sales has played out twice for Pierce Fortin at two different companies.
First he was a systems administrator at an ambulance company, which had colocation space in an Access Northeast data center before that provider merged with Xand Corp. in 2012. Two years later, Xand was bought by TierPoint LLC, which helped catapult TierPoint to become one of the largest data center operators in so-called Tier II cities.
"They did a pretty good job consolidating all of it," he said.
Fortin is now systems administrator at SmashFly Technologies, a provider of recruiting software, which has colocation space in a data center formerly owned by Windstream, which merged with EarthLink. Separately, EarthLink's IT services business was bought by Synoptek in 2016.
"We saw a pretty big cut when they changed hands because they consolidated down to the global network operations center," he said.
The two different data centers where Fortin managed space, while he worked at several different companies, were all in Marlborough, Mass., about 30 miles west of Boston. In all, those two sites changed hands four times in as many years, he said.
At his most recent data center, Fortin would reach out to a local contact who would respond quickly. Now, a problem with a routing issue starts with a support ticket that often goes through several hoops, which are not necessarily local.
As a tenant, the most important thing to Fortin is that he sees minimal changes to the staff.
"There is something to be said when they know you and they are familiar with everything," he said.
Robert Gates covers data centers, data center strategies, server technologies, converged and hyper-converged infrastructure and open source operating systems for SearchDataCenter. Follow him on Twitter @RBGatesTT or email him at [email protected].
Dig Deeper on Colocation, hosting and outsourcing management