Sergey Nivens - Fotolia
Server market share shows enterprise buyers aren't forgotten
If there was concern that interest in the server market was waning among IT pros in a software-dominated world, the latest batch of analyst reports should ease those worries.
Spending on infrastructure hardware and software by enterprises still outpaces that of cloud service providers...
Continue Reading This Article
Enjoy this article as well as all of our content, including E-Guides, news, tips and more.
by two to one -- but the gap is narrowing rapidly.
Server vendors won't be ignoring enterprise IT buyers anytime soon, according to the most recent data from several analyst firms, with server market share data showing they still hold a majority of the infrastructure buying power even as cloud spending makes significant gains.
The entire data center infrastructure market is worth $120 billion and growing at about 3% annually, led by virtualization software, blade servers and security, according to John Dinsdale, chief analyst and managing director at Synergy Research Group in Reno, Nevada.
The largest single product segment of the data center infrastructure market is rack servers with 34%.
The enterprise hardware market is $80 billion, and in the third quarter Hewlett Packard Enterprise (HPE) had 24% of the market share, according to Synergy.
Cisco owns a third of the enterprise data center infrastructure market and leads in six out of the seven categories that Synergy tracks in the report: Ethernet switches, voice systems, wireless LAN, unified communications, routers and telepresence.
HPE is the leader in server sales with Dell close behind. Cisco is ranked fifth and Lenovo and Cisco have both seen steady market share growth, according to Synergy. In its most recent quarter, Cisco saw revenue of $859 million from its server business, an increase of 24% year over year, to make it the company's fastest growing division.
The momentum of the enterprise server market share and top suppliers is good to know, says Jeff Blessing, a planning and analysis analyst at State Farm Insurance Co. in Bloomington, Ill.
Cloud providers chew up the server market
The rise of the original design manufacturer (ODM) or so-called white box market has eaten into the server market that was once the exclusive domain of original equipment manufacturer vendors.
The way people choose servers and the kinds of servers they use are pretty different depending on the category of organization they are.

Carl Claunchanalyst, Gartner
ODM-produced servers have seen strong growth, Dinsdale said, with most of the purchases coming from service providers rather than enterprises.
Blessing is in the process of determining whether State Farm has the resources to buy an ODM or Open Compute Project server and whether he should do a proof of concept.
Even with enterprise spending still comprising the largest server market share, the top four customers in the server market are cloud service providers, buying a fifth of all servers shipped, according to research firm IDC. By 2019, IDC forecasts infrastructure purchases by service providers will total $32.6 billion annually.
Vendor revenue in the worldwide server market increased 5.1% year over year from the third quarter of 2014 to the third quarter of 2015 to $13.4 billion, the most recent time period for which data is available. It is the sixth consecutive quarter of year-over-year revenue growth, according to IDC.
The x86 server market grew 5.6% in 2014 and 4.5% in 2015, according to Christian Perry, principal analyst and practice manager at Technology Business Research (TBR) in Hampton, N.H.
"This is a market that is challenged as it becomes more and more commoditized and unit prices drop and everything is standardized on Intel platforms ... and it gets more difficult to maintain high margins in that business," he said.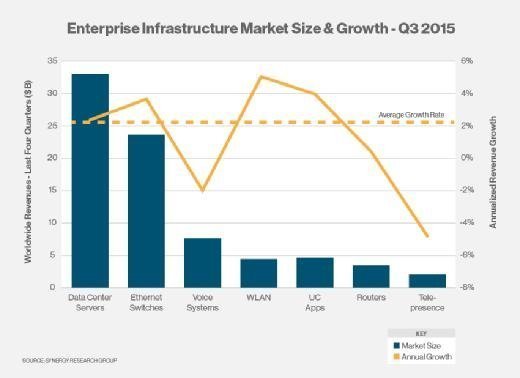 The x86-based server hardware segment is still meaningful, Perry said, at about $40 billion annually worldwide. Keeping this market afloat are hyperscale buyers -- primarily service providers -- which made up about 20% of the overall x86 market for 2015, with 41% year-over-year growth, according to Perry. He projects it will rise to 25% of the overall x86 market in 2016, and "will go up beyond 30% moving out into 2018."
TBR forecasts year-over-year growth "moving in a downward pattern" starting in 2016, but there will continue to be some growth because servers are a core infrastructure where there is not a replacement core infrastructure, Perry said.
"The way people choose servers and the kinds of servers they use are pretty different depending on the category of organization they are," said Carl Claunch, analyst at Gartner. Among these factors are the size of the business, and whether the servers are used for internal-facing applications or for customer-facing uses.
For internal use, the focus is often on simplicity and typically involves integrated products, which has led to the growth of converged and hyper-converged systems.
Servers running externally facing applications for businesses such as hosting companies, service providers and other companies, such as PayPal Holdings and Twitter, typically use rack-based x86 servers.
Separating cloud and virtualization from hardware decisions
Server buying habits have changed since the introduction of server virtualization, Claunch said. Virtualization used to be tied to a hardware box and "that decision was a single decision." Now, virtualization decisions are independent from hardware decisions.
Microsoft's Windows Server licensing is another way to look at who is buying servers. For Microsoft, the focus is on cloud service providers, according to Carl Brooks, analyst at 451 Research.
"The growth opportunity for Microsoft to sell Windows Server is in the providers," he said.
For example, the company's revenue from on-premises licenses was down 2% last year while licensing on Microsoft's cloud platform Azure was up 7%. Across all cloud providers, Microsoft has seen an "explosive rise" in revenue from Windows Server -- up 46%, Brooks said.
"Enterprises are not going to Microsoft and saying, 'Give me 10 more licenses,'" Brooks said. Instead, they are moving to cloud computing where they can pay two to three cents an hour for a license, versus hundreds of thousands of dollars to on-premises licenses across the board.
In 2015, enterprise infrastructure spending increased 2% over flat spending a year earlier, according to Synergy. Through the first three quarters of 2015, $60 billion went toward infrastructure hardware and software to build cloud services including private clouds, which accounted for more than half. But the big increases have come from public cloud purchases, according to Synergy's data.
Hardware is the backbone of cloud services, and Cisco and HPE are the leaders in supplying the infrastructure for both private and public clouds.
Beyond the public cloud, hybrid cloud is still the primary way to deploy the cloud. And the on-premises side of the hybrid cloud means enterprises are still buying hardware and installing it to build the hybrid cloud.
Robert Gates covers data centers, data center strategies, server technologies, converged and hyper-converged infrastructure and open source operating systems for SearchDataCenter. Follow him on Twitter @RBGatesTT or email him at [email protected].