shyshka - Fotolia
Floating data center reduces cost, power use
A new data center provider promises big benefits from its novel floating data center, but the idea of running IT equipment on a barge is enough to make some IT watchers seasick.
The newest data center design to hit the market will involve lots of water, but not in the usual way -- it is a floating data center.
Water is the most important ingredient in the recipe to keep the data center cool, which led one company to build a new floating data center.
Nautilus Data Technologies Inc. recently unveiled a waterborne data center. The Pleasanton, Calif.-based company completed a proof-of-concept earlier this year on a data center aboard a 110-foot long barge at Mare Island Naval Shipyard in California.
The production data center is under construction on a 230-foot long barge that will have 30,000 square feet of white space on multiple floors with the ability to mix and match rack power up to 60 kilowatts per rack. It is expected to be up and running within six months.
The Nautilus data center pumps in water through a giant self-cleaning barrel to cool the IT equipment. On discharge, the water will be up to five degrees warmer, but in the proof-of-concept it was typically heated by about two degrees, Nautilus CEO and co-founder Arnold Magcale said. There aren't any environmental or regulatory concerns about the heated water, which would only draw scrutiny from agencies such as the U.S. Environmental Protection Agency if it was heated by 20 degrees Fahrenheit or more.
"We're moving water, we're not moving air," Magcale said, noting Nautilus' floating data center will not have any computer room air conditioning (CRAC) or air handlers. The company estimates its data center reduces energy consumption by 30% compared to a land-based data center.
Initially, Nautilus officials calculated the floating data center could theoretically achieve a power usage effectiveness (PUE) of 1.066. With 10 kilowatts per rack, Magcale said the proof-of-concept achieves a 1.045 PUE. At one point, the proof-of-concept went to 38 kilowatts for 48 hours and it got to a PUE of 1.02, he said.
There's just an aversion to water and electronics.

Jason dePreauxanalyst, IHS Inc.
While a typical data center may use 130 million gallons of water per year, the floating data center from Nautilus won't use any -- it will all be returned to the ocean.
"It's an interesting approach and it is just in the early stages," said Jason dePreaux, a data centers cloud and IT infrastructure analyst at IHS Inc., based in Englewood, Colo.
For the next few years, dePreaux said the floating data center will likely have niche interest. A measureable amount of data center load is unlikely to move off land for at least three to five years, said dePreaux, who was not briefed by Nautilus on the project.
"In my experience, change in the data center takes a very long time," he said.
New concepts, such as the waterborne data center, may be "too radical" for most of the major colocation providers, he added. Projects like these need to show a return on investment much greater than a traditional, land-based data center to get customers on board, dePreaux said.
Newly built data centers have been drawn to areas where free cooling is available, and the elimination of CRAC cooling can save a lot of money, he said. He sees the Nautilus project as a subset of the container data center market, which is 1% to 2% of the total market.
IT equipment and water don't mix
Initial questions about the Nautilus project from prospective customers would likely center around their concern about the relationship between IT hardware and water.
"There's just an aversion to water and electronics," dePreaux said, even though most data centers use chilled water for cooling and there's also chip-level liquid cooling.
A likely customer seems to be the U.S. military, dePreaux said.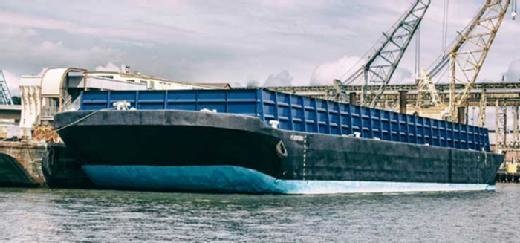 Floating data centers have not been widely used because few companies have the combination of data center and marine expertise, Magcale said.
"It takes a perfect recipe to make it work," said Magcale, a former special forces member who is still a diver.
Nautilus' patented data center isn't similar to plans for a floating data center by Google, where the web giant's patented plan involves harnessing the power of ocean waves to power a data center. The company also had a floating platform for marketing activities that some people had speculated was a floating data center.
"What they are doing is completely different," Magcale said.
The waterborne data center runs Nautilus' proprietary cloud orchestration software and a predictive data center infrastructure management software that will use artificial intelligence and allow for a "truly lights-out facility."
More floating data centers to come
There's no shortage of barges to support future Nautilus data centers, Magcale said. Its supplier has 42 barges in its inventory -- many of them were used to bring steel across the Pacific Ocean to rebuild the Bay Bridge between Oakland and San Francisco. There are also barges available in Texas and Louisiana, he said.
The greatest advantage that the Nautilus data center offers is the elimination of CRAC cooling, according to Clive Longbottom, co-founder and service director at analyst firm Quocirca Ltd.
"Then again, any data center still being built with full-time CRAC units is so behind the curve that it will have been designed wrongly in the first place anyhow," he said.
But there's a flip side to the benefits of a floating data center. Securing a water perimeter is trickier than securing land. Additionally, running power and data connections in multiple directions is far harder and maintaining the "building," particularly the part below water, is also difficult, he said.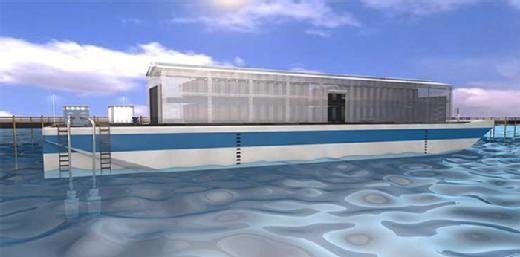 "It's a neat idea -- but not one I'd like to bet my business on," Longbottom said.
Industry watchers imagine damaged facilities and IT equipment from natural disasters, including earthquakes and tsunami.
"This would struggle against a 3-foot tsunami, bearing in mind that a tsunami is not a wave, but an unstoppable wall of water," he said.
But Magcale said the new data center will be 70 miles inland and east of two mountain ranges, where the impact of a tidal wave will not be felt. The barge includes 13 compartments and half of those would need to be flooded to take down the data center, he said.
"We're inland, we're not in an open body of water," Magcale said.
The data center will also be tied to spuds, which will allow it movement with rising or lowering water levels. The data center has been built to withstand F3 tornadoes and hurricanes, Magcale said.
For example, last December a storm with extreme wind gusts struck the company's proof-of-concept data center, causing swells up to 7 feet high, Magcale said. The engineers on board became slightly seasick -- but that was it.
"We never had any issues [with the storm]," Magcale said.
An earthquake also struck about 15 miles away and the water helped diffuse the seismic impact, he said.
The Nautilus data center will offer connections to AT&T, Comcast, CenturyLink and Verizon, and negotiations are underway to bring Dark fiber to the data center and create an Internet exchange. If the barge must be moved, Magcale said customers can keep a connection via VSAT Satellite.
Nautilus officials declined to discuss specific pricing, but said the base rate per kilowatt hour in Silicon Valley –-- currently pegged at $120 to $145 -- is "far north" of Nautilus' rates, plus metered electricity. The new Nautilus data center will be served by Pacific Gas and Electric Co. The reduced PUE will also contribute to "significant savings," Magcale said.
Nautilus hasn't finalized the location for the production facility, but Magcale said it will likely be about 70 miles from Silicon Valley. Nautilus is also eyeing locations in Texas and Virginia as well as international locations, including Ireland and Taiwan.
The company said it has commitments from customers that were involved in the proof-of-concept and is "actively prospecting" for others. The floating data center will include 200 self-contained cabinets totaling 8 megawatts.
"It is designed to be multi-tenant or single customer," Magcale said, adding Nautilus won't rent single cabinets or racks.
Dig Deeper on Data center design and facilities