3dmentat - Fotolia
'Rolling data center' inspires GE Industrial Internet
General Electric CEO Jeff Immelt is taking on his biggest challenge yet to reinvent the company on the idea that its new platform will unite the Industrial Internet of Things.
ORLANDO, Fla. -- The company that has made millions of light bulbs and clothes dryers is now hedging its bets on the Industrial Internet, based on a new reality that there's essentially a data center on every locomotive.
General Electric (GE) recently launched its Industrial Internet platform, Predix, to connect the "things" of industry. It will be an open, cloud-based industrial analytics platform.
Under GE's plan, a rail CIO with the correct security could take fuel performance data, wheel measurements, emissions data and ongoing maintenance checks from a locomotive -- what GE CEO Jeffrey Immelt calls a "rolling data center" -- and continuously and remotely structure the fleet through a movement plan and computer-aided dispatch.
GE was founded by Thomas Edison in 1892, before airplanes and computers -- and long before Google, said Mark Raskino, vice president at Gartner Inc., based in Stamford, Conn., who interviewed Immelt here this week at Gartner Symposium/ITxpo.
"Most traditional companies have yet to overcome their own inertia, but GE has already taken enormous strides toward becoming a digital business, with digital products and services," Raskino said.
The company's new strategy is "at the heavy end" of the Internet of Things (IoT) and is set to be part of the Industrial Internet, according to Raskino.
Immelt is a 33-year veteran of GE, who has been the CEO for the past 14 years. His goal is for it to become a top 10 software company by 2020.
"The digitization of this industrial company is the single most important initiative that I have been engaged in at this company," he said.
The company has $6 billion in annual revenue, but Immelt said he wants it to grow to $10 billion behind the GE Industrial Internet platform and applications.
The digitization of this industrial company is the single most important initiative that I have been engaged in at this company.

Jeff ImmeltCEO, General Electric
"I want to be at the intersection of physical and analytic information -- that is the future of technology," Immelt said.
The platform will be open, interchangeable and ubiquitous, and work just as well with GE locomotives as John Deere tractors, he said.
IoT and Industrial Internet are just marketing terms, Immelt said, but both are about increasing operational efficiency with no downtime.
It has yet to be determined how far connections will go for the GE Industrial Internet. But the operational efficiencies are worth tens of millions of dollars.
"People are going to set up their own boundaries," Immelt said.
Nancy Bailey, vice president of IT business partners at Boeing Co. in Seattle, wondered how GE's ambitious goals will match up with the many competitors in the same area, including some that are dealing with it internally -- and how GE will differentiate itself.
"IBM has the same pirate map and they have set sail toward the same machine data business trend," Raskino said, alluding to IBM's new cognitive business unit.
GE plans to have a better combination of material science and data, Immelt said, compared to companies such as Siemens, Hitachi and Komatsu, which all have similar services or platforms in various forms of development.
IT pros like Larry Orrel, global director of business applications at EnPro Industries Inc., in Charlotte, N.C., are taking a close look at the Industrial Internet to gain a deeper understanding of how it could be applied to business.
"It's in the future, [but] it is not too far out," he said.
As a maker of products and services provider for critical systems, he sees "tons of opportunities" for his business. He was interested to see that GE plans to have Predix as a platform across industries and across companies using common standards.
How GE moved from a legacy culture to IoT
GE was a "massive outsourcer" in the 1990s that moved a lot of work to India and needed help with software through the 1990s and into the early 2000s, Immelt said.
"Then, you wake up one day and realize the locomotive you used to sell is a mobile data center," he said.
"Then, you have to change," he added.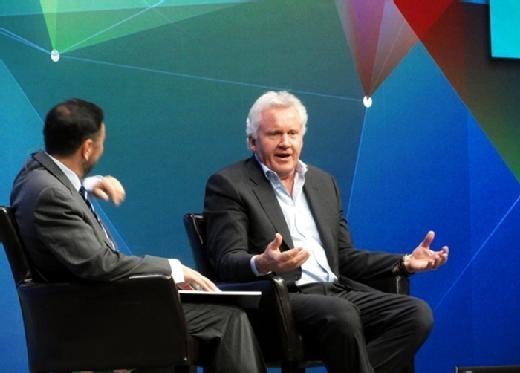 Immelt's aspiration for GE is to be good at software and analytics, while applying it to industries he said GE understands better than any other company. "We made the investment, we reallocated resources and we're playing to win," he said.
However, GE will not do everything on its own and expects to rely on partners, too, he said.
"When it comes to science and technology, if we said we are not good enough with analytics and operating software on our own, Thomas Edison would kill me," he said.
Raskino wondered why the GE Industrial Internet is being built largely around new hires versus "techquisitions" -- a Gartner term meaning a company buys the technology it needs.
"If you're in the space and trying to pivot, you don't know what you don't know about doing acquisitions," Immelt said.
There's been more value destroyed in technology mergers and acquisitions than gained, and one big acquisition to build the company's future may come across as arrogant, he said. Instead, the company has accumulated industry talent.
GE's Industrial Internet will be comprised of an equal bit of knowledge about of how locomotives work, as well as knowledge about applications and a platform.
As a maker of jet engines for 75 years, GE can add to the design information and analytics that makes it "formidable against anybody," Immelt said.
Predix could help reshape GE into a company ready for the next generation, said Dwayne Palmer, director of international support for the office of IT at Georgia Institute of Technology in Atlanta.
Industrial Internet is a logical next step for the legacy technology company. He thinks there is an opportunity for it in the marketplace, calling it "something different and new."
Robert Gates covers data centers, data center strategies, server technologies, converged and hyper-converged infrastructure and open source operating systems for SearchDataCenter. Follow him on Twitter @RBGatesTT or Email him at [email protected]
Dig Deeper on Emerging IT workload types