olly - Fotolia
HP's Machine has a long road from hype to reality
HP promises a prototype for its memory-driven computing architecture 'The Machine' next year as enterprise IT questions how it will be put to use.
HP's Machine is still a work in progress as its developers grapple with the question of which workloads will run on the supercomputer. So IT pros who have heard about it for over a year with nary a glimpse of the system wonder if The Machine will live up to the hype.
The Machine -- a memory-based supercomputer under development by HP Labs -- will, at first, run on dynamic random-access memory (DRAM) before later versions include memristors, which are a non-volatile memory type.
HP's Machine will allow anything to be attached to its pool of memory, whether it is a graphics card or a network interface. Rather than CPU-based computing, it uses an architecture that HP has dubbed memory-driven computing, according to Martin Fink, HP's CTO and director of HP Labs.
"We make memory a first class citizen," Fink said.
It was unveiled at HP Discover last year and at this year's conference, the company provided further updates about The Machine's architecture, OS and security.
In 2016, HP plans to have a prototype demonstration of The Machine up and running. It may be on display at Discover 2016 but Fink said he couldn't promise that "because [HP is] working at the upper end of the risk curve."
The prototype will have one rack with 320 TB of main memory with 2,500 CPU cores and 10,000 threads. Eventually, the goal is to have 1 petabyte on The Machine. In the prototype, all of its memory will boot up and after it is fully booted, the processors boot up.
"You can reboot all of the processors and not even impact the memory," Fink said, adding that data pools would not be affected. That highlights how The Machine changes the architectural paradigm, he said.
Once The Machine prototype is available, HP will seek software partners. The Machine is "still very much on track" to be on the market by the end of the decade, Fink said.
"This thing is coming; it is real," said Julio Guijarro, research director for manageability and cloud at HP Labs. "It is not going to happen in 10 years."
What will The Machine do for you?
While IT pros at HP Discover 2015 can imagine the possible real-world scenarios where The Machine would be most productively utilized, its usefulness at this time is hard to determine.
"I investigated The Machine again, and while some of the tech and the lab coats are cool, it does not yet have a practical application to my line of business," said Tom Kunkel, technical architect at West Fraser, a wood products company in Quesnel, British Columbia. "Once it becomes a platform, it'll make more sense."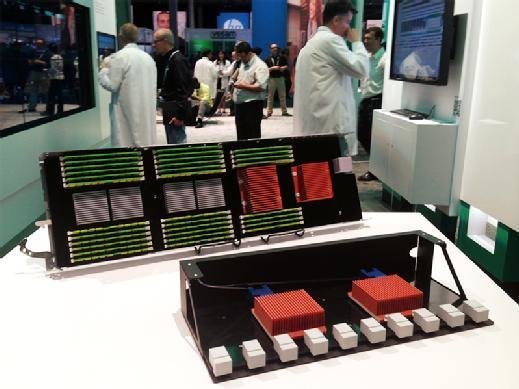 Matt Martin, a principal staff engineer at Motorola Solutions Inc. in Schaumburg, Ill., said the new algorithms The Machine will run, all based around memory, piqued his interest.
In his organization, which works closely with law enforcement, he sees possible practical uses for license plate tracking and facial recognition software. The Machine holds the possibility of offering "super-fast recognition to the officer," Martin said.
But it still seems far from reality.
"I'm trying to figure out how much of this is hype and when it will be real," Martin said after hearing a presentation that offered a peek under the hood of The Machine, adding that last year at HP Discover he saw a plastic mock-up. This year, The Machine mock-up was also not operational.
"It does [sound useful], but the devil is in the details," Martin said.
HP claims The Machine will provide functions not performed today to solve industry-wide problems in financial services and telecommunications industries, for example.
One real life application will involve the airline industry, according to Fink. For instance, when a flight lands early but does not have a gate to pull up to, there may be several open gates, but the plane can't just pull up to any one of them; it must coordinate with baggage crews, ground crews, gate crews and passengers who will take the plane on its next flight.
"It is actually a very, very complicated problem," Fink said.
The Machine's large memory pool could be used to create a graph of every aircraft, pilot, flight attendant, ground crew and gate for each airport.
I'm trying to figure out how much of this is hype and when it will be real.

Matt Martin, principal staff engineer, Motorola Solutions Inc.
"Whenever an event occurs -- whether it is a weather event, a mechanical event or an 'early event,' you will be able to now reoptimize your graph and optimize the response to that," Fink said.
The Machine could also be used as an alternative to cloud, according to Pratyusa Manadhata, a principal research scientist for security at HP Labs.
The Machine will make use of algorithms abandoned 10 years ago because there was not enough compute power to run them, said Rich Friedrich, director of systems software for The Machine at HP Labs.
Machine components
So far, work has focused on The Machine's architecture with processors surrounding memory. The OS under development is open source, and will be called "Linux for the Machine," according to Friedrich.
The Machine will at first be built around DRAM because it is plentiful and available, but HP Labs continues to research all non-volatile memory, including memristors and will likely include phase-change memory followed by resistive RAM with memristors.
While The Machine's memory will eventually be built on memristors, its communication will be via photonics.
"We are putting a lot of research energy into making photonics the core of the fabric that drives all of the communication within The Machine," Fink said.
Researchers at HP Labs are in the midst of a debate about which workloads will run on The Machine. However, HP is working at the kernel level to allow existing workloads to be moved over to it.
"What is really interesting is when you can take new workloads, new applications and start to do things you couldn't do before," Fink said.
HP plans to have all of its partners move their software over to The Machine and later, to move beyond in order to run workloads that can't be run today.
Robert Gates is a news writer with TechTarget. Contact him at [email protected].
Dig Deeper on Server hardware strategy