zhu difeng - Fotolia
Are you prepared for the future of data centers?
Data center managers can expect major changes in the future, whether they run an in-house facility, outsource or do a mix of both.
BOSTON -- With growing workloads, shrinking energy usage and evolving operations models, data center managers have...
Continue Reading This Article
Enjoy this article as well as all of our content, including E-Guides, news, tips and more.
a full plate.
Data center operations, facilities and IT infrastructure are changing rapidly. While the amount of high-end internal data center space will remain mostly flat for the next three years, mega data centers used by service providers will grow rapidly, according to research firm IDC in Framingham, Mass. As data centers change in scale, so too do the workloads within them, as well as technologies that keep them running.
Data centers are consolidating into mega-sized spaces to achieve efficiencies that are afforded by scale, said Jennifer Koppy, research director for data center trends and strategy at IDC, during her presentation at the AFCOM Symposium here this week. This is evidenced by the growth in white-box, also called ODM or custom, servers used by large-scale cloud providers and Internet companies, Koppy said.
As more companies move to a hybrid data center model, making use of internal and colocation facilities as well as cloud infrastructure and software as a service, data center managers must ask what the organizations are doing to prepare for this shift. This might involve updating data centers to handle more flexible, growing workloads as well as considering outsourced space and resource options, said Meredith Courtemanche, senior site editor for SearchDataCenter, who co-presented with Koppy.
Energy use has become a major internal and external data center development driver, Courtemanche added. Even if the data center manager has no vested interest in the power bill, regulations and corporate initiatives will push for greener IT operations.
One such example is ASHRAE 90.1-2013 Section 6.5.1, which states that some but not all data centers must use economizers for less energy-intensive cooling. The data center needs an air mixing area, smart building management system controls to stage conversion between free and chiller-based cooling, and a design that accounts for air pressurization and particulate filtration from outside air. This can be a very expensive if not impossible upgrade to an existing building. Some notable large-scale enterprises such as Target have declined to add economizers to their data center facilities citing poor payback. A resolution clarifying and possibly adjusting requirements is due via ASHRAE 90.4 later in 2015.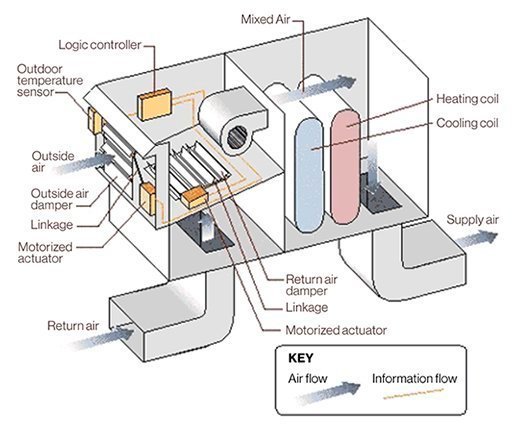 Another cooling system energy drain is created inadvertently by virtualization. As virtualization shrinks server deployment and increases rack density, Courtemanche said, the data center operators have a few options. They can add physical containment -- within fire and safety regulations -- to minimize the cooled space in the data center; add rack- and row-based cooling to target the smaller deployment; spread servers out to fill less space in more racks throughout the data center; or, consider migrating to denser power, strategically cooled colocation space. IDC predicts a quarter of all businesses will run into this problem by 2017, restricting operations to less than 75% of data centers' physical space.
Colocation requires a shift in data center skillsets, Koppy noted, not handing the data center over to a third party. Ask questions -- specifics about the colocation provider's network and power paths and so on -- and if the colocation provider is unwilling to share information your own facilities team would know, consider that a red flag, Courtemanche said. Also, talk to the provider's long-term customers to gauge how your own experience might be.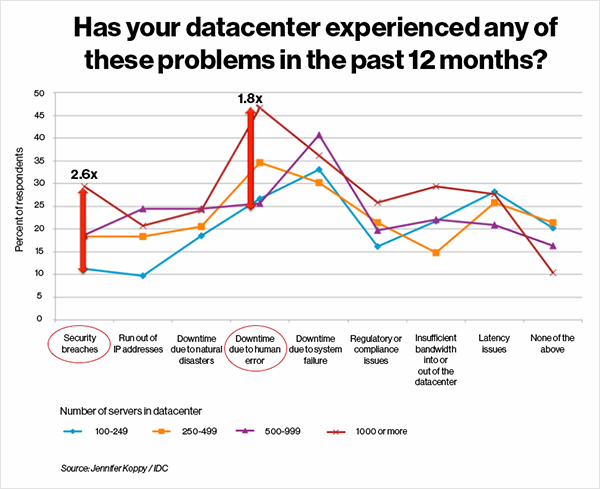 If you choose to outsource all or a portion of IT operations to a colocation provider, approach the service level agreement not just as a penalty for when things go devastatingly wrong, but also as a statement that guides your partnership. There are two problem areas data centers with more than 1,000 servers experience at a much higher rate than smaller ones, according to survey results from IDC: downtime due to human error and security breaches (see Figure 2). As one AFCOM Symposium attendee put it, when you outsource, your job goes from managing the data center to managing the colocation provider.
Dig Deeper on Colocation, hosting and outsourcing management