News
Stay informed about the latest enterprise technology news and product updates.
NSA issues highlight need for renewable data center power planning
With on-site energy generation -- and a heliport -- Niobrara is designed to never lose data center power.
Bluffdale, the National Security Agency's $1.5 billion data center in Utah -- its largest in the U.S. -- has been plagued by electrical problems, which delayed its opening in 2013.
The National Security Agency (NSA) reportedly built its 1 million square foot data center in Bluffdale, Utah mainly because of the abundance of cheap electricity.* But the data center has been plagued by major electrical surges, due to internal electrical systems issues that damaged equipment and delayed its opening, according to reports.
Power issues have caused some major companies to make renewable energy sources part of their data center power supply. One such facility is the Niobrara Data Center Energy Park, where there is so much power redundancy built in, it's hard to imagine how it would ever go dark.
The ultimate redundant data center
Niobrara, zoned for energy generation and consumption in the same spot, is "a 662-acre blank canvas" located near Fort Collins, Colo. and Cheyenne, Wyo., in a remote but accessible area. The region is home to Hewlett-Packard Co. data centers, a green 300,000 square foot IBM data center, Intel Corp. labs, IBM's Yellowstone supercomputer and a 650,000 square foot data center campus that Microsoft is opening.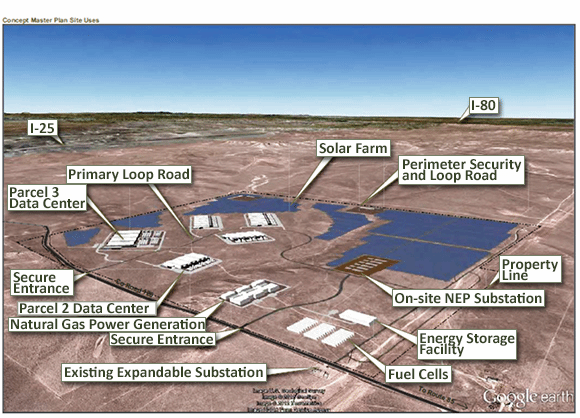 The location was key, said Craig Harrison, Niobrara's founder, adding that they future-proofed zoning at the site so "whatever computing future there is, we ... create a site that will support it."
Niobrara's on-site power set up, described by Harrison as "perpetual motion" or "military-grade," relies on natural gas mixed with renewable sources. There are three gas lines fed to the site with three internal tap locations, and it sits on feeder lines to and from the Cheyenne gas hub.
"A lot of people question natural gas because they believe natural gas power plants have to be shut down, and a data center can't shut down," Harrison said.
But this gas plant is not like a standard utility operation. Its reciprocating engine design networks a series of roughly 10 megawatt gas plants with spares and emergency plants to prevent outages. Niobrara's 200 megawatt microgrid design also calls for solar photovoltaics, fuel cells and connection to a nearby wind farm and the local power grid for power redundancy, with zoning for future energy storage.
Data center folks know redundant means as many options as possible, Harrison said.
"The use of multiple, different energy generation approaches with some of them being renewables … should help to keep the overall costs down," said Clive Longbottom, founder of the U.K.-based analyst firm Quocirca.
Traditionally, data center builds assumed reliable, high-quality power from the grid, but electrical grid infrastructure is aging and power demand is growing.
"This microgrid approach is more in-tune with data center needs," said Eric Woods, research director at Boulder, Colo.-based Navigant Research.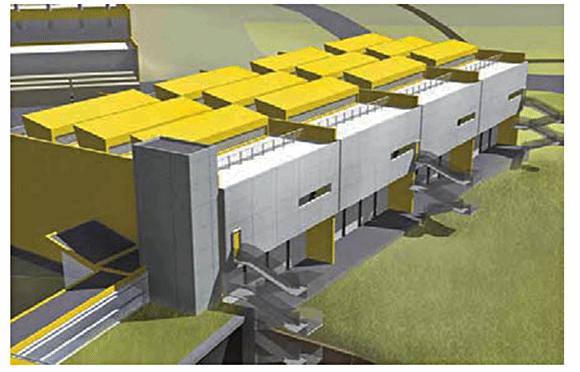 But data center operators are conservative. The power plan may technically work, but you still have to win over the business side. And the more critical the data, the more conservatively it's housed.
"The self-powered proposition requires future thinking. It's for data center operators that understand energy costs are rising and supply is becoming less certain," Woods said.
Energy storage is a key part of self-powering a data center. The 10 megawatt micro-generators will have to balance the variable output of renewable sources, Longbottom noted, adding that local grid power is a good backup for Niobrara.
By contrast, the NSA's Bluffdale data center is supported by an electric substation and 60 diesel-fueled emergency standby generators and a fuel facility for a three-day, 100% power backup capability. This traditional approach doesn't reap the benefits of distributing power generation and backup among several technologies, many of which are renewable and managed on-site.
With the perpetual motion microgrid, the data center design can omit uninterruptible power supplies (UPSes) or backup generators. Renewables replicate the role of traditional backups, but that doesn't mean you should get rid of the UPS.
"Modern UPSes do far more than step in when the power goes down; they also deal with energy spikes and fades [and] can make sure the energy feed is smoothed and matched with needs and can also ensure that power is distributed effectively within the data center," according to Longbottom.
Data center design firm CH2M HILL created two master plan options for computing at Niobrara: a 1.1 million square foot data center with a 200 megawatt load, or a 1.5 million square foot data center with a 300 megawatt load, each with either traditional or containerized data center concepts.

With Colorado's climate, Niobrara's data center could use free cooling technology and forgo chillers, which are used in the NSA's Utah campus. For connectivity, the location accesses two large fiber pipes with more than 20 carriers to choose from. It meets TIA-942 data center network design specifications.
Compared to a traditional data center, Niobrara's site designs offer 35% to 42% Capex savings and 35% to 50% Opex savings, conservatively. But not many enterprises in the world could take full advantage of its combination of on-site power generation, computing options and security -- which is just fine with the site's planners.
"Probably only 30 companies in the world can execute the plan here," Harrison said.
Harrison envisions a single owner of the secure, self-sufficient complex, either an industry titan like Google or Facebook, or a giant private enterprise hosting a multitude of federal clouds. With the outrage fomented by HealthCare.gov's glitches and failures, Harrison's remote, highly connected site is one option to consider for can't-fail applications.
Nearby military bases could offer federal protection if government projects moved in. It is also zoned for a heliport, antennae and satellite-receiving stations for wireless communications. But as of yet, Harrison isn't telling who is interested in moving in.
"It's an interesting project, part of a broader theme of rethinking how data centers fit into the power grid," Woods said.
*This article originally stated that the NSA's low-cost power supply "has proven to be unreliable" inferring an issue caused by the power supplier. It was amended following an editor's note from Rocky Mountain Power stating that it "cooperated extensively with Utah Data Center NSA officials regarding power problems at the center. It conducted detailed studies to confirm, with NSA's concurrence, that Rocky Mountain Power's system was not the source of any of the problems."