News
Stay informed about the latest enterprise technology news and product updates.
Windows on a mainframe: Hypervisor on top of hypervisor
Mantissa's bid to run Windows on IBM System z looks like a hypervisor running on top of a hypervisor. But end users are skeptical.
An Alabama company is building Windows on a mainframe, apparently by putting a hypervisor on top of a hypervisor.
Gary Dennis, the CEO of Mantissa Corp., did not return phone calls over the past few weeks, and the company has been vague about what its product will do. But information from his presentation at the Share user group conference and discussions with attendees of the session indicate Mantissa's plans more clearly. The Windows-on-mainframe concept is built on the z/VOS product, which appears to act as an x86 hypervisor running atop z/VM, the mainframe's hypervisor-based virtualization operating system
Mantissa's presentation at Share shows how it would work (see image below).
While intrigued by the idea, end users will wait to see what transpires. Nationwide Insurance has hundreds of Linux instances running in z/VM on multiple mainframes, so they're familiar with mainframe virtualization. But Jim Vincent, the company's systems engineering consultant, said Windows is a different issue.
"We are a big VMware shop with Windows, so [Windows on a mainframe] would have to compete in that arena and do very well compared to what VMware has to offer," he said. "VMware is a "pretty solid solution for Windows."
Running Windows on a mainframe might also pose legal and licensing issues that could hinder development. "We're going to stand by and watch the dust settle," Vincent said. "We don't want to be in the middle of a lawsuit."
Even if Mantissa's product is viable, it will still be a tough sell for many companies. Alan Field, a mainframe programmer at SuperValu Inc., said resistance to Windows on System z will be just as strong – if not stronger – than resistance to running Linux on System z.
SuperValu was going to run zLinux but changed course and abandoned it in favor of running "many little servers."
"As attractive as the Mantissa solution sounds, I can't see it finding favor in our organization for all the same reasons zLinux hasn't been successful," he said. "There seems to be a mentality that a zSeries upgrade costs, for example, $500,000. So it has to go all the way up the chain for approval and everyone says the mainframe is too expensive. However, 25 upgrades of $20,000 each fly under the radar and happens with very little attention being drawn."
Vincent attended Mantissa's session at Share, and said it left many wanting: "Pretty much the entire audience was disappointed. We thought we would see product."
Apparently during the development of z/VOS, Mantissa changed gears. At first, it started down the path of z/VOS being a CMS application capable of running x86 Windows code. But issues with managing memory and CPU caused it to change course. Mantissa started to build its own hypervisor on top of z/VM. That led to obvious questions about performance of a Windows operating system nested inside two layers of hypervisors. According to Vincent and others at the session, Dennis claimed it's running better than on bare Intel metal in tests thus far.
Founded in 1980, the company historically sold tools to automate mainframe report distribution and management. Since the show, Mantissa has started a z/VOS development blog, which has revealed additional details on how it would work.
"It's enticing and exciting to hear what they had to say," Vincent said. "It seemed that they have the passion to make it work. But until they have something to show for it, there isn't a lot of business value for us in digging into it."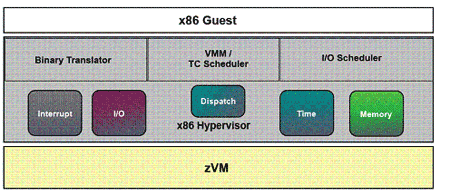 Let us know what you think about the story; email Mark Fontecchio, News Writer. You can also check out our Mainframe blog.
Dig Deeper on IBM system z and mainframe systems