News
Stay informed about the latest enterprise technology news and product updates.
Making the case for the mainframe: Book author touts z/OS
David Stephens wrote a book to introduce beginners to mainframe computers. Stephens, a mainframe evangelist, argues that mainframe systems aren't dead and companies that have jettisoned the z/OS miss their high performance and reliability. A reference for those new to mainframes (including managers), the book provides a working definition of what a mainframe computer is, and information to work with and understand mainframe operators, vendors, and reports.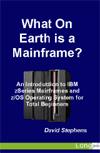 Systems programmer David Stephens introduces mainframes in clear, easy-to-understand language for mainframe beginners and explains the IBM zSeries platform and z/OS in his book What on Earth is a Mainframe? Stephens wrote the book to fill the void he saw in the mainframe literature market.

To help you determine if What on Earth is a Mainframe? is the right book for you, we asked Stephens a few questions about the focus of the book and the hardware, systems and terminology it covers. In addition, the publisher has provided a free download of Chapter 1, "But Aren't Mainframes Dead? An Introduction to the Mainframe".

You write that there are lots of computing systems and software that can help businesses that want to use computers commercially. Why did you choose to write a book specifically about mainframes? Why are they important?
David Stephens: I guess I consider mainframes to be misunderstood. There are a lot of businesses that use zSeries mainframes for their core business functionality, but don't have many people that understand what their mainframe does and why they need it -- particularly in management circles. So I wanted to write a book that people could digest in a few hours and get a basic introduction to mainframes.



You say there aren't many organizations that will install a mainframe from scratch, and that the number of mainframes being used has dropped over the past years. Does this mean mainframes will eventually die out because no one is installing them?
David Stephens: That's a really good question, and one that's being talked about a lot at the moment. Existing mainframe users will have a hard time moving their processing to something else, and IBM is getting way too much revenue from mainframes to let them go without a fight. So I can't see them dying out.

What I can see is the "gap" between mainframes and other platforms getting smaller and smaller. IBM has already moved down this path, with things like Unix, TCPIP and Java now available on z/OS. IBM zSeries mainframes are also becoming an option for Linux users with zLinux now available.

What audience did you have in mind while writing this book? What do you hope your audience walks away with after reading this book?
David Stephens: I really wrote the book for two kinds of people: managers with mainframes somewhere in their life and technical people just starting with mainframes or mainframe-related projects. The idea was that after reading the book, they'd walk away with enough knowledge to deal with mainframe people, vendors and reports and to be able to find out more information as they needed it.

How do businesses evolve around mainframe programs and how do mainframe programs evolve to suit businesses?
David Stephens: I believe this happens for any computer system, not just a mainframe. Take a bank that introduces Internet banking for example. As customers start using Internet banking, the bank begins to offer more services -- you can pay bills online, email the bank with questions, transfer money to friends. The banks also realize that they can save money when customers use the Internet, so they start reducing branch staff. You can see that Internet banking has affected the bank's business.

Mainframe systems are like this, though they've had a couple of decades to become more entrenched.

With backward compatibility, you say it is more difficult for IBM to move to newer technology, but is it impossible?
David Stephens: Not at all -- just harder. In fact zSeries mainframes are evolving quite fast, and I've seen some radical changes over the past few years. If you look at the latest z10 processor family, you can see several significant technological changes.

Mainframes are a system based on older technology. Why does no one come up with a new system based on newer technology?
David Stephens: That's a good question, and I'd have to say backward compatibility. Mainframes today certainly do incorporate new technology, but still have to run programs that can be decades old.

If there weren't so many complications involved with moving away from mainframes, do you believe businesses would still use them today?
David Stephens: I think some businesses definitely would keep their mainframes. They still do a lot of things better than anything else. But I believe that if it was easy to move to other platforms, many more businesses would have made the change.

You write that two reasons people still use mainframes are that they do certain things better and they are hard to move away from. Which reason outweighs the other?
David Stephens: That's difficult to say. It really depends on the individual business and the people involved. However, I do believe that many businesses that have moved from the mainframe now miss some of the mainframe advantages they used to enjoy-- particularly reliability and performance.

ABOUT THE AUTHOR: Erin Kelly is an editorial assistant at TechTarget. Erin is a Northeastern coop student who will be working at the company until the end of June. She supports the Data Center and Virtualization and Storage media groups through a variety of editorial duties. Erin studies journalism and writes for the Huntington News, an independent print and online paper produced by Northeastern students. You can contact her at ekelly@techtarget.com.
Dig Deeper on IBM system z and mainframe systems