News
Stay informed about the latest enterprise technology news and product updates.
Data center cooling: Air-side and water-side economizers
Air-side and water-side economizers can provide cost savings for data centers feeling the heat from rising energy bills.
Air- and water-side economizers can provide energy savings in data centers. SearchDataCenter.com has been following...
Continue Reading This Article
Enjoy this article as well as all of our content, including E-Guides, news, tips and more.
the evolution of this technology that was once seen as infeasible for data centers to its acceptance, implementation, and optimization. By definition an economizer is a mechanical device used to reduce energy consumption. With rising energy costs, data center managers are increasingly focused on efficient cooling options for data centers.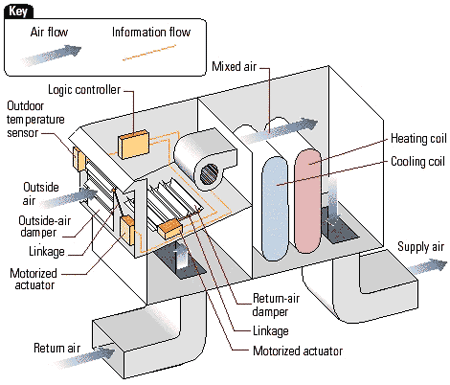 Used with permission, © 2008 E Source Companies LLC.

TABLE OF CONTENTS
I. The evolution of data center air-side and water-side economizers
II. Data center air-side and water-side economizer case studies
III. Improving economics and performance of data center economizers


I. The evolution of data center air-side and water-side economizers
Amazon data center facility engineer touts radical cooling tactics
James Hamilton of Amazon Web Services recommends replacing archaic server cooling methods with airflow containment systems and air-side economizers to boost data center cooling efficiency.
Will liquid cooling work for high-heat producing hardware?
Innovation is paving the way for technologies that may enable the IT market to finally deliver true liquid-cooled solutions that are both energy efficient and cost effective.
Fears of cooling with outside air may be unfounded
The fears of contaminants in outside air and the impact of humidity on equipment were the focus of a study by the Lawrence Berkely National Laboratory in 2006.
ASHRAE expands recommended server temperature and humidity range
Setting the ground work for air-side economizer cooling systems, in the fall of 2007 the American Society of Heating Refrigerating and Air-Conditioning Engineers (ASHRAE) announced that it was expanding its recommended specifications for server temperature and humidity ranges.
Cooling data centers with outside air gets the go-ahead
The Lawrence Berkley National Laboratory study found that using air-side economizers to cool the data center is safe for IT equipment and lowers the overall power costs.
The green data center 2.0: Beyond best practices
Incremental data center energy-efficiency improvement will not meet increasing demand for power. The cooling challenge requires IT professionals to move beyond standard data center design memes of raised floors and hot aisle/cold aisle containment.
Data center energy a concern, but metrics lacking
Data centers managers are concerned about energy efficiency and taking steps to fix it, according to the 2008 SearchDataCenter.com Purchasing Intentions Survey. But many are unclear on how much these efforts have actually reduced costs.
The Google pirates, corporate tax, and ice-side economizers
Google file a patent for a water-based data center, taking the concept of liquid cooling to its extreme.
II. Data center air-side and water-side economizer case studies
Intel recently released a video, "Reducing Data Center Cost with an Air Economizer: An Intel Prooof of Concept" hosted by Don Atwood, Regional Data Center Manager in Intel Information Technology. Don walks you through an Intel facility in New Mexico that has tested the effectiveness of air-side econmizers side-by-side with traditional cooling systems. The 10 month test yielded pretty powerful results, including a 74% reduction in power consumption in a 10 megawatt high density (90% CPU utilization) facility.
Data center saves big with better airflow monitoring
Colocation company RagingWire cuts $600,000 per year from cooling costs through data center airflow monitoring and water-side economizers.
Air-side economizers reduce energy use at NetApp data center
A NetApp data center in North Carolina uses outside air and air-side economizers to reduce data center energy consumption and costs.
At colo data center, air mixing happens up high
Fortune Data Centers' San Jose data center combines water-side and air-side economizing, hot-aisle/cold-aisle containment and evaporative cooling towers to bolster energy efficiency.
Green UPS Tier IV data center water-side economizers
United Parcel Service's data center facilities team in Alpharetta, Ga., have green data center operations down to a science. Learn how they did it.
Data center cooling economizers save energy costs, says Equinix
By using economizers, data center colocation company Equinix says it saves up to 80% in annual cooling costs in the eight of 19 U.S. facilities that house them.
Companies reuse data center waste heat to improve energy efficiency
Quebecor and IBM have developed innovative ways of reusing data center waste heat in an effort to lower overall energy costs. Quebecor installed air-side economizers to bring in cool air from outside, and uses the waste heat from the data center to heat adjoining rooms. IBM Switzerland is piping the waste heat to a swimming pool that formerly had formerly used heating oil.
ADC data center aiming for 1.1 PUE, LEED Platinum
Advanced Data Centers is building a data center with a power usage effectiveness value of 1.1, head and shoulders above industry standard. The company is combining technologies including air-side economizers, rotary uninterruptible power supplies (UPSes) and hot-aisle containment in their effort for data center energy efficiency.
IBM building super-efficient data center in Colorado
IBM planned a data center in Colorado with a projected power usage effectiveness value of 1.25, twice as efficient as the industry standard. The facility will take advantage of free cooling for 75% of the year using a water-side economizer.
Video of IBM's new green data center in Boulder, Colorado
A video featuring IBM's Boulder, Colorado data center released on the opening day of the facility. The data center is twice as efficient as the industry standard and uses a water-side economizer for cooling.
III. Improving economics and performance of data center economizers
Green Grid tool assesses free cooling potential
An online tool from the Green Grid can save data centers a lot of money with free cooling through air-side and water-side economizers.
Economizer performance: Applying CFD modeling to the data center's exterior
CFD modeling isn't only useful for modeling airflow within a data center, it can also improve air economizer performance external to a building. CFD modelling can visually show airflow and prevent unwanted contaminants from entering the system and your data center.
Customize data center cooling design for increased energy efficiency
According to one expert, customizing data center cooling for the specifics of your data center, rather than selecting cookie-cutter products designed for any and all data centers, will result in energy-efficiency improvements.
Matt Stansberry is SearchDataCenter.com's senior site editor. Write to him about your data center concerns at [email protected]. And check out our Data center facilities pro blog.

ADDITIONAL RESOURCES ON AIR-SIDE and WATER-SIDE ECONOMIZERS:
Section I appendix

Section II appendix

Section III appendix
Dig Deeper on Data center design and facilities