News
Stay informed about the latest enterprise technology news and product updates.
Data center energy a concern, but metrics lacking
Data centers are concerned about energy efficiency and taking steps to fix it, according to the 2008 Purchasing Intentions Survey. But many have no way to measure whether their tactics work.
Data center managers want to be more power efficient. And in some cases, they've taken measures to get there. But in the end, it appears, they're unsure whether their efforts have borne fruit.
Those are the conclusions from the Data Center Decisions 2008 Purchasing Intentions Survey of more than 600 IT practitioners.
First, the basics: Only 16% of respondents said that reducing power consumption in the data center was "not a priority." That's a good start, but how do you figure out whether you're reducing power or not? Not even 40% said that their business unit pays the power bill.
As a result, more than one-third said they didn't know how their 2008 power bills compared with their 2007 power bills.
Figure 1: Percentage of data centers responsible for power bill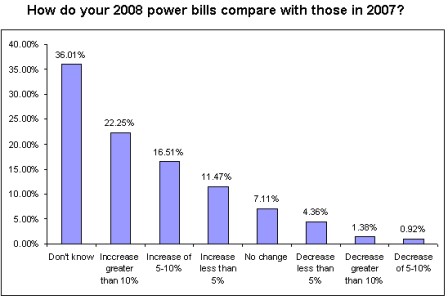 N= 436

"Typically, the utility bill does not go to the data center," said Ken Brill, the executive director of the Uptime Institute. "So they would have no way of knowing. This points out a fundamental dysfunctional problem."

Many of the industry leaders have touted the concept of power consumption measurement: You can't know what you don't measure. And if reducing power consumption is a priority, then you should measure whether you've reduced it. As Charles King, an analyst at Pund-IT, put it, the figures could be "an indication of the disconnection" between IT staff and those who actually pay the bills.

"If that's the case, you have to wonder how such companies can possibly capture the full value of their IT investments," King said.

Energy efficiency projects gains steam
That said, all indications are that data centers out there have used new techniques to improve energy efficiency.

Compared with last year's survey, data centers have implemented all of the following in greater numbers: direct current (DC) power, hydrogen fuel cells, liquid cooling, powering down unused servers, improving air conditioning efficiency and server virtualization. The biggest increases among these techniques are in DC power, power-down features on servers, and air-conditioning efficiency.

Figure 2: Power-saving strategies in use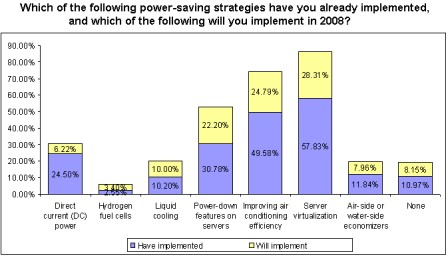 N=648

In addition, more than one in 10 data centers have implemented air-side or water-side economizers, which has gained momentum over the past year as a means for facilities to use outside temperatures to essentially help cool their data centers for free.

Gordon Haff, an analyst at Illuminata Inc., said that "as your survey shows, there's certainly an increased level of awareness, and at least the beginnings of power-efficiency initiatives – albeit rarely as radical as a wholesale move to water cooling or anything along those lines."

Liquid cooling still far-flung idea
Yes, more people have implemented liquid cooling and plan to do so in the future, but the numbers remain small: 36% in 2008, compared with 34% in 2007. So liquid cooling remains a hands-off technology at the moment. Almost 64% said they would never use it. Figure 3: Liquid cooling adoption remains largely future tense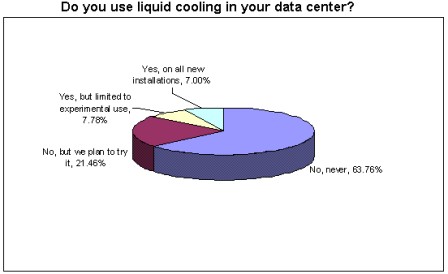 N=643

But according to analysts, data centers should consider liquid cooling more seriously.

"Water is something like 4,000% better at heat dissipation than air," said Joe Clabby, the president of Clabby Analytics. Brill, for his part, said that liquid cooling is 3,400 times more effective than is air. Either way, it's a factor of thousands.

"They will eventually adopt it in enterprise-class systems," Clabby added, but he cautioned that it will take longer with x86 hardware.

Brill said that if heat densities in the data center continue to rise, liquid cooling's popularity will rise alongside the power problem.

"As densities go up, people will have no choice but to go to water," he said, adding that virtually every site today has water in the computer room, but because it is flowing inside water pipes for the air-cooling units, people almost forget about it.

For SearchDataCenter.com's entire survey report, click here.

Let us know what you think about the story; email Mark Fontecchio, News Writer. You can also check out our Data Center Facilities Pro blog.
Dig Deeper on Data center design and facilities