News
Stay informed about the latest enterprise technology news and product updates.
HP's POD: The newest containerized data center
HP will soon offer POD, a containerized data center. But unlike Sun's Project Blackbox, Rackable's Ice Cube and other data centers in a box , HP's will support servers from any vendor.
Hewlett-Packard Co. has announced plans to offer container-based data centers similar to those offered by Sun Microsystems Inc., Rackable Systems, Inc. American Power Conversion and IBM.

Interest in containerized data centers stems from companies with significant data center footprints that have run out of space and/or power capacity.

"As we talk to customers, we hear more and more concerns over power and space limitations, and [the time it takes] to build out brick-and-mortar space -- it is costly and can take anywhere from 12 to 18 months to complete," said Steve Cummings, the director of scalable computing infrastructure at HP.

Enter the POD, formally known as the HP Performance Optimized Data Center.. The 40-foot POD will comprise 22 taller-than-average 50U racks that can support up to 3,500 compute nodes, or 12,000 large form-factor hard drives. The servers will be accessible from the front of the rack and cooled with HP modular cooling system components using chilled water, Cummings said. HP will also offer a 20-foot container option for smaller environments.

Figure 1: HP's container-based data center, which it calls the Performance Optimized Data Center (POD).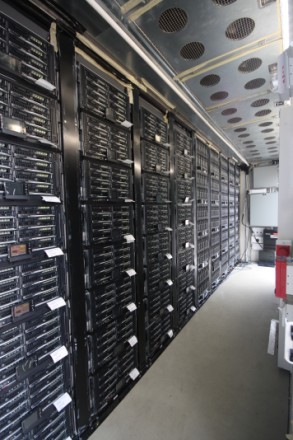 But unlike containerized data centers from other vendors, the POD can be outfitted and delivered with servers from any vendor, Cummings said.

"Customers don't want a container that only supports HP equipment. Customers want to be able to mimic their own [heterogeneous] data centers, so we've designed the POD to support any vendor's hardware," Cummings said.

Examples of containerized data centers that support only proprietary hardware are Rackable Systems' Integrated Concentro Environment (ICE) Cube and Sun Microsystems' Sun Modular Datacenter S20. There are some vendor neutral containerized data centers, like American Power Conversion (APC)'s InfraStruXure Express and Verari Systems Inc.'s Forest, though Verari does push customers to use its proprietary blade servers, a spokesperson said.

Reporters note: In Sun's Modular Data Center, customers can use servers and gear from other vendors. Sun can factory install all the Sun gear and third party network gear, like Cisco, but customers who want servers from IBM or HP, for instance, would have to buy those direct, and Sun or a certified reseller can help install on the customer's site.

Customers that want to outfit the HP POD with blade or rack servers from Sun, Dell and IBM, for example, can have HP do so when orders are placed through HP Factory Express, Cummings said.

A stopgap solution?
As previously reported on SearchDataCenter.com, containerized data centers have drawn skepticism regarding integrity and long-term use.

Chuck Goolsbee, the vice president of Digital Forest Inc., a Seattle, Wash.-based Web hosting and collocation provider, said they shouldn't be considered a long-term solution.

"They are fine as short-term Band-Aids for disaster, event-based service, and remote area use," he said, but "I just don't see any reason to build long-term solutions around them. They are just too risky, especially if left unattended."

HP's POD will be available by the end of the third quarter this year, and delivery will typically take about six weeks from the order date, Cummings said. Pricing will be announced closer to the release date.

Other containerized data centers cost more than $500,000. The 20-foot-long S20 data center from Sun, equipped with all the necessary data center amenities (cooling, power distribution, external hookups for water, air-conditioning equipment and network connectivity) lists at $559,000, not including professional services.

An HP POD virtual video tour is available at www.hp.com/go/pod.

Let us know what you think about the story; email Bridget Botelho, News Writer. And check out our news blog at serverspecs.blogs.techtarget.com.
Dig Deeper on Data center design and construction