News
Stay informed about the latest enterprise technology news and product updates.
Systems management: Spending tepid, ITIL and CMDB gain credence
In 2007, only 40% of IT managers plan to spend more on systems management tools. Those making investments are interested in software support for ITIL initiatives and CMDB tools.
| | |
| --- | --- |
| Survey results table of contents | |
Overview
Part 1--Platform choices: Is Unix a legacy platform?
Part 2--Server virtualization: Virtual disaster recovery takes hold
Part 3--Server hardware: HP scrapping for scale-out dominance
Part 4--Systems management: Spending tepid, ITIL and CMDB gain credence
Part 5--Data center infrastructure: Too soon for liquid cooling
---
According to our 2007 data center purchasing survey, systems management software is helping IT operations teams cope with change and increasing demand for computing and uptime. The IT Infrastructure Library (ITIL) and configuration management database (CMDB) tools are gaining acceptance.

The main driver for systems management investment is boosting staff productivity. Cost containment, virtualization implementation and compliance are also major motivating factors.

By far the most significant criterion for choosing a systems management software vendor was functionality, outweighing market leadership and existing vendor relationships. Price was a distant second.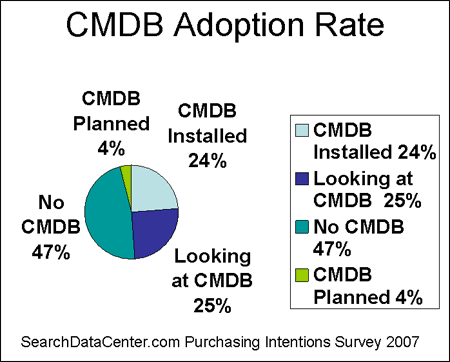 Systems management software spending accounted for an average 11.9% of survey respondents' IT budgets. But spending on systems management software is pretty tepid: In 2007, only 40% of respondents plan to increase systems management spending. Respondents cited "No budget" as the primary reason for not investing in systems management software, followed by a perceived lack in value in buying additional software.
What takes priority, according to Joe Clabby of Clabby Analytics, is reducing management costs and integrating databases -- or managing existing systems, lowering data center costs, and adding new applications. "CMDBs and ITIL are nice-to-haves," he said, "but there's still a lot of pragmatic stuff that needs to be dealt with before focusing on data federation and IT best practices."
Performance management tools were the largest area of investment, followed by configuration management software. CMDB software had a surprisingly large showing among respondents:
Nearly 25% of respondents had already implemented a CMDB.
4% planned to buy one in the next year.
One-quarter of respondents planned to evaluate a CMDB in the coming year.
47% of respondents said they had no plans to buy CMDB software.
These numbers seem to support the trend that CMDB tools are catching on in the data center, but experts are quick to note that CMDB adoption can mean many things.

"How many IT shops are there where 'doing' CMDB means Fred has been told to come up with something in his spare time with no budget? Or where 'doing' means we bought a tool that says 'CMDB' on the brochure, but we haven't got past implementing network alerting or incident tickets yet?" asks ITSM blogger the IT Skeptic in a recent post about CMDB growth.

Thirty-five percent of respondents said they are implementing ITIL in their data centers -- a significant portion -- but many are implementing ITIL in a limited way. Of the eight ITIL disciplines, service support and service delivery were the most popular starting points for data center pros adopting best practices.

Of the respondents implementing ITIL, 65% said that ITIL support was a criterion in their systems management software purchases.

ABOUT THIS SURVEY: In the spring of 2007, SearchDataCenter.com conducted its first annual data center purchasing survey. Subscribers were contacted by email and invited to participate. For this survey, we had a total of 374 respondents in North America. Thanks to everyone who participated in the survey.

Let us know what you think about the data center purchasing survey; e-mail Matt Stansberry, Site Editor.
Dig Deeper on IT compliance and governance strategies