News
Stay informed about the latest enterprise technology news and product updates.
Server hardware: HP scrapping for scale-out dominance
What server hardware form factors are people buying, and which vendors are offering the most server for the money? Find out in this survey.
| | |
| --- | --- |
| Survey results table of contents | |
Overview
Part 1--Platform choices: Is Unix a legacy platform?
Part 2--Server virtualization: Virtual disaster recovery takes hold
Part 3--Server hardware: HP scrapping for scale-out dominance
Part 4--Systems management: Spending tepid, ITIL and CMDB gain credence
Part 5--Data center infrastructure: Too soon for liquid cooling
---
What server hardware form factors are people buying, and which vendors are offering the most bang for the buck? The "scale out" computing trend -- that is, adding capacity by adding servers to the application architecture-- continues, and HP had a particularly strong showing in our data center purchasing survey. This year the biggest driver for server purchases is new applications, followed by normal capacity demand growth and server turnover.

Scale-out computing is dominating the server form factor. Commodity one and-two-processor rack servers carved out the largest growth area. Small symmetric multiprocessing (SMP) servers (with 4 to 12 core machines) are also experiencing significant growth, followed by blade servers. Large SMP servers (with more than 12 cores per machine) experienced far less growth than commodity machines, and it's a safe bet to say the tower server form factor is dead.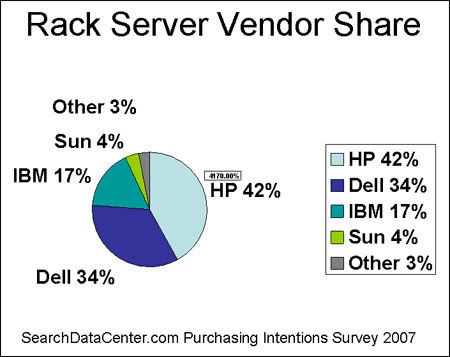 Intel Xeon processors were the most popular choice for commodity servers, followed by AMD's Opteron and then Intel Itanium. More than one-quarter of respondents did not know or care about specifying processors, indicating that they would use whatever processor shipped with the server that met their needs. Of the respondents that specified processors, performance was the No. 1 priority.
Respondents were asked to pick a primary server vendor in each form factor. While these numbers don't match up exactly with the latest Gartner Inc. and IDC figures, we have gleaned some trends.
In the vendor landscape, HP dominates as the primary server vendor across multiple categories:
Blade servers:
HP led with 40.1%;
IBM garnered 25.5%;
Dell, 24.1%;
Sun, 5.1%.
Rack servers:
HP led with 41.7%;
Dell garnered 34.2%;
IBM, 17.1%;
Sun, 3.5%.
Small SMP machines:
HP led with 41.5%;
Dell garnered 27.8%;
IBM, 19.9%;
Sun, 8%.
Large SMP machines:
IBM led with 39.8%;
HP garnered 36.7%;
Sun, 17%.
Gordon Haff, a senior analyst at Nashua, N.H.-based Illuminata Inc.was not surprised by HP's success. "HP ProLiant is in a good place right now," he said. "It seems to be hitting the market with just about the right balance between low prices and technological innovation. It's also been devoting a lot of energy to optimizing products for the channel worldwide, which doesn't hurt either."

Joe Clabby of Clabby Analytics said he believes that scale-out is fading. His take is that people are gravitating instead toward "scale up" systems -- that is, increasing the capacity of the underlying hardware -- and blades (where HP is facing much stronger competitors). "The market sweet spot [in the range of four to 12 processors] will eventually move out toward blades or up toward larger, scalable systems," he said.

ABOUT THIS SURVEY: In the spring of 2007, SearchDataCenter.com conducted its first annual data center purchasing survey. Subscribers were contacted by email and invited to participate. For this survey, we had a total of 374 respondents in North America. Thanks to everyone who participated in the survey.

Let us know what you think about the data center purchasing survey; e-mail Matt Stansberry, Site Editor.