News
Stay informed about the latest enterprise technology news and product updates.
Platform choices: Is Unix a legacy platform?
Windows and Linux show strong growth as the data center operating systems of choice, while Unix is stagnant. Does the 1990s workhorse OS deserve the legacy label?
| | |
| --- | --- |
| Survey results table of contents | |
Overview
Part 1--Platform choices: Is Unix a legacy platform?
Part 2--Server virtualization: Virtual disaster recovery takes hold
Part 3--Server hardware: HP scrapping for scale-out dominance
Part 4--Systems management: Spending tepid, ITIL and CMDB gain credence
Part 5--Data center infrastructure: Too soon for liquid cooling
---
In our 2007 data center purchasing intentions survey, we asked users to cite the largest applications and operating systems in their data centers. Accounting, Web server, and human resources software were the top three business applications running in survey respondents' data centers.

Windows and Linux are the primary data center growth areas. Data center spending increased annually as follows:
| | | |
| --- | --- | --- |
| | Windows: | 6.3% |
| | Linux: | 4.8% |
| | Mainframe: | 2.6% |
| | IBM AIX: | 1.6% |
| | Solaris: | 1.6% |
| | HP Unix: | 1.3% |
| | IBM iSeries: | 1.3% |
The Unix platforms are tracking along the lines of the mainframe and IBM's iSeries, raising the question of whether Unix should now be considered a legacy platform.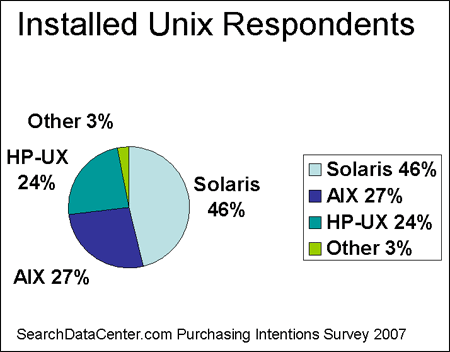 "It brings up an interesting question on how you define 'legacy,'" said Charles King, principal analyst with Hayward, Calif.-based research firm Pund-IT Inc. Growth in applications or business processes in the Unix environment has been relatively static. You can get screaming transaction and database performance out of Unix with new processors like Power6 or Itanium, but I don't hear people talking about Unix driving any new business processes."
Some analysts are skeptical of the legacy label. Joe Clabby, for example, said it's too early to categorize Unix as outmoded. "Although Unix growth has been stagnant, it is still strategic. When I think 'legacy,' I think old applications that aren't going anywhere -- and that's definitely not the case with Unix."
Others oppose the legacy term even more vehemently. "It seems an epithet more than a useful description," said Gordon Haff, a senior analyst at Nashua, N.H.-based Illuminata Inc.
King also noted that in the Unix market, purchasing tends to be generational. While sales may seem slow now, he expects a surge in purchasing activity in the nine- or10-month period that will follow the launch of new Unix platform processors.
As for Unix market share, Solaris dominated in this survey, with 46% of respondents indicating that Solaris was their main Unix platform. AIX and HP-UIX trailed by a wide margin, at 27% and 24%, respectively; and 3% of respondents chose other Unix variants.
ABOUT THIS SURVEY: In the spring of 2007, SearchDataCenter.com conducted its first annual data center purchasing survey. Subscribers were contacted by email and invited to participate. For this survey, we had a total of 374 respondents in North America. Thanks to everyone who participated in the survey.
Let us know what you think about the data center purchasing survey; e-mail Matt Stansberry, Site Editor.