Evaluate
Weigh the pros and cons of technologies, products and projects you are considering.
How to manage cloud workloads and resources from the data center
Managing cloud workloads from the data center poses specific problems. Enterprises are solving these problems and managing their workloads with a combination of strategic planning and tool selection.
Introduction
A hybrid cloud can cause management complications. Hybrid environments can be unpredictable and unspecifiable because some workloads live in the public cloud, some use on-premises, and some do both. Although the hybrid approach to cloud computing provides scalability and cost-effectiveness, the spread of hardware-based, virtualized and cloud workloads makes it hard to get all your workload management information into one interface.
This guide will help data center managers make cloud computing decisions for the enterprise, suss out the costs of a hybrid cloud environment and make smart management tool choices.
1

Learn to grow in the cloud

-
Cloud computing decisions
With the introduction of a hybrid cloud come more options. Figuring out which hybrid cloud deployment is best for your data center can be stressful, but the right choice will make a big difference.
2

How much does the cloud cost?

-
Data center costs in a hybrid cloud model
Data centers rack up major costs; that's no secret. A hybrid cloud might be better for your budget, but that also might mean making sacrifices. Does a hybrid cloud model mean saving more or spending more?
Opinion
Cloud computing options allow enterprises to get away from IT's control -- but will this move be permanent? New challenges and inadequacies facing management may return power to IT teams, and these changes all affect data center costs. Continue Reading
News
Implementing cloud computing can positively affect your costs and budget, removing capital expenditures. Kris Bliesner, CEO of 2nd Watch, proposed a few tips on getting the most out of the cloud cost model at the Modern Infrastructure Decisions conference in New York. Continue Reading
Tip
It's no secret that data centers want to save money. With underutilized servers, applications can create unnecessarily higher costs. Where are the actual savings of offloading your data center infrastructure and workloads onto the cloud? Tom Nolle identifies how to raise average use levels and ultimately lower costs. Continue Reading

Download this free guide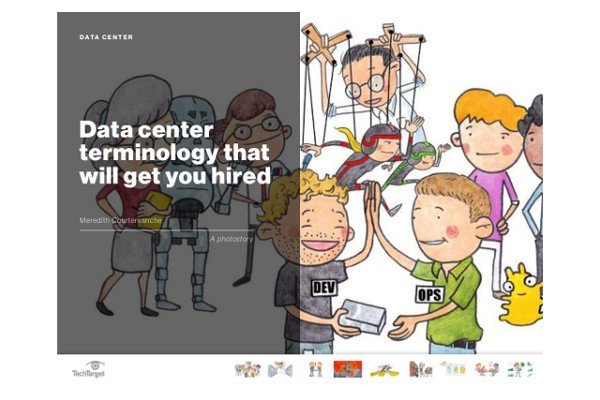 Download: Data center terminology that will get you hired
When it comes to data center job interviews, rattling off common DevOps and automation terms won't get you far – you must establish your knowledge of IT infrastructure scalability and resiliency, as well as culture and business to really impress. Download this COMPLIMENTARY Data Center Terminology guide to learn how to ace your next interview.
3

Making it all work

-
Cloud workload management choices for the data center
With the hybrid cloud model in the mix, new concerns arise in the world of data center management. New networking opportunities, choosing between IT infrastructure strategies, and syncing up service-level agreements (SLAs) across platforms keep cloud workloads running efficiently.
4

The right tools for the job

-
Hybrid cloud management tools
You've implemented hybrid cloud; so, what's next? This section covers the tools that data center managers can consider to optimize productivity. The right tools and platforms can help make hybrid cloud management transparent, eliminating frustration and confusion.