Get started
Bring yourself up to speed with our introductory content.
Get in the know about data center Ethernet
Thinking of updating your data center Ethernet cabling? Want to make sure what you install today will be compliant with future Ethernet standards? TechTarget's Stephen Bigelow has you covered with an in-depth discussion.
Introduction
Ethernet is not the coolest part of data center management. That title is held by the data center chiller. However, Ethernet is the backbone of the data center.
Advancements in data center Ethernet, such as cabling, speed increases and new standards, help IT workloads as a whole perform at a greater capacity. To make sure your data center can handle new Ethernet advancements, learn about the changes happening from the silicon level to the software layer, and everywhere in between.
1

Data center Ethernet A-Z

-
A trilogy of Ethernet articles
This data center Ethernet trifecta brings together articles that cover the changes in Ethernet technology today and in the future that will affect communications between servers and storage as well as connections to cloud providers and end users.
Feature
New Ethernet standards not only bring higher speeds, from 100 to 200 and even 400 Gigabit Ethernet in the future, but add greater versatility to existing technologies. Data centers should prepare for the changes coming to network bandwidth. Continue Reading
Feature
New Ethernet controller silicon and cabling options will bring faster, smarter networks and connections, like power over Ethernet, in the immediate future. Continue Reading
Feature
Software-defined networks and network functions virtualization aid Ethernet's progression from dumb, complex networks to flexible, speedy networks that adapt as needs change in the data center. Continue Reading
2

Glossary

-
Data center Ethernet terminology
Not only do these Ethernet terms help you better understand these articles, they go beyond the topics Stephen Bigelow covered.

Download this free guide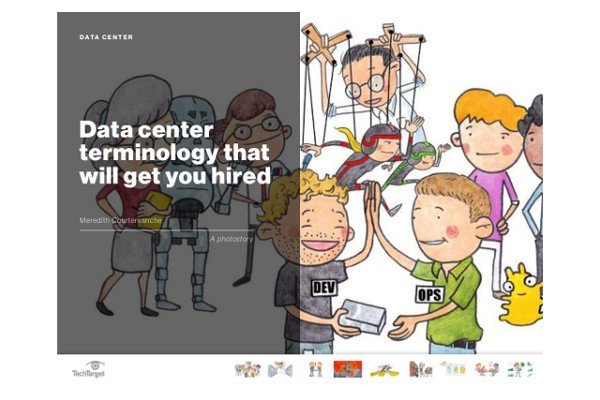 Download: Data center terminology that will get you hired
When it comes to data center job interviews, rattling off common DevOps and automation terms won't get you far – you must establish your knowledge of IT infrastructure scalability and resiliency, as well as culture and business to really impress. Download this COMPLIMENTARY Data Center Terminology guide to learn how to ace your next interview.
3

The IT renaissance man

-
Ask the expert
Want to learn more about Stephen Bigelow? Click the link to his contributor profile to learn about his background and read other articles he's written.
Senior Technology Editor

SearchDataCenter
4

Wireless updates hit Ethernet

-
How wired networks change with wireless upgrades
Now that Stephen Bigelow has given you a deeper understanding of data center Ethernet, check out this video on SearchCIO with networking expert Shamus McGillicuddy. Learn how upgrading the wireless network may lead to adjusting the wired network.
Video
Everything from switching, power, cabling and Internet circuits may feel the effects of upgrades to the wireless network.